Beachly Review Summer 2021
Beachly is a quarterly curation of beach-inspired products valued at $250 or more. They curate Beachly boxes for men and women, and they sell out fast! Reserve now to bring those #beacheveryday vibes straight to your door. Tailored to the season and your location, the Beachly tribe is rocking the best in beach style year-round. Each box contains a mix of accessories, beauty/skincare products, apparel, lifestyle products and more!
**They kindly sent us this box for review.**
I was so excited to review Beachly's Summer 2021 box as that means hot weather is officially here! It has already been very dry and warm in Alberta, so I am excited to see what Beachy items Beachly has sent to help me celebrate this hot weather and my Summer break from teaching! If you want to add some beach vibes to your summer or Summer months, then I would highly recommend a Beachly subscription. It's a seasonal subscription full of beach-inspired goodies. And while they embrace the season at hand, the box itself will always have a beachy/summery vibe. Sign me up!
Subscription Details
Beachly has subscription options for both men and women. Here are the details for the women's subscription:
Join the Tribe – Become a member for only $99 + shipping per season. 4x per year, Beachly will send you a box of premium, beach-inspired products valued at $250+ or more.
Curated Coastal Style – Each box contains 6-8 premium pieces of apparel, accessories & lifestyle products from the coastal brands you love and the hottest newcomers you haven't found yet!
Delivered to Your Door – Every 3 months, a new box arrives at your door with savings of up to 50% off the retail price – the good vibes are free.
Let's take a look inside…
Subscribers did not receive a product card this season, but that's okay as all the Beachly Summer Box details are listed on their blog and social channels! I am all about saving the trees!
"Happy Summer, Beachly Babe!
"The Beachly Summer box is like a carefree, sunshine-filled Summer day. It's filled with $260+ worth of beach day necessities! As lovers of all things beach, Summer is without a doubt our favorite time of year. When planning for this box, we knew we wanted to bring the Beachly Tribe fun, bold, and vibrant prints and colors. We partnered up with Vera Bradley, Charlie Holiday, Sun Bum, With Love From Paradise, Logan Tay, and Patchology to create a box filled with the perfect collection of Summertime essentials. From style to skincare, accessories and everything in-between – if you love the Summer season, sunshine, and beach days then this box is going to be like a dream come true!"
I adore fun, bold and vibrant prints and colours and of course, summer is one of my favourite seasons! Hot weather and sunshine mean I get to enjoy my Beachly goodies right away!
Here's a closer look at the items we received in the Summer 2021 Beachly box…
The Original SPF 30 Sunscreen Lotion – Sun Bum
"This moisturizing sunscreen formula will protect your skin from harmful UVA/UVB rays while enriching your skin with Vitamin E, an antioxidant that helps to neutralize free radicals, which are the main cause of premature skin ageing."
I love Sun Bum products and what better beauty essential for summer than sunscreen! This sunscreen goes on light and does not feel sticky. It also smells like Summer in a bottle!
The Resting Beach Face Kit – Patchology
"This kit is filled with four post-sunshine masks to reduce the impact of the seaside triple-threat – sunshine, saltwater, and sand. Your skin is going to love this one and you'll be feeling youthful, zen, and fresh-faced in no time!"
These Patchology masks are perfect to use after a day spent in the summer sun! They will reduce redness, cool and depuff your face, and will hydrate and plump your lips!
The Isle of Palms Beach Blanket – With Love From Paradise
"Part beach blanket, part towel and all kinds of tropical paradise vibes – the With Love From Paradise beach blanket is the perfect accent to any beach or pool day. It features a fun print and bold colors to bring you all those island paradise feels. Whether you're jet-setting somewhere beachy for vacation or chilling poolside this Summer, I have a feeling you're going to love this one! "
This beautifully designed beach blanket features an all-over palm print, tassels, and easy-dry towel material underneath. It's perfect for lounging by the lake or pool, or to use as a blanket by the fire. This beach blanket is another Beachly exclusive designed in collaboration with their friends at With Love From Paradise. I am so happy to have received this beach blanket as I will keep it in my vehicle to take along on my summer adventures. I adore the tassel details and the vibrant blues. Love!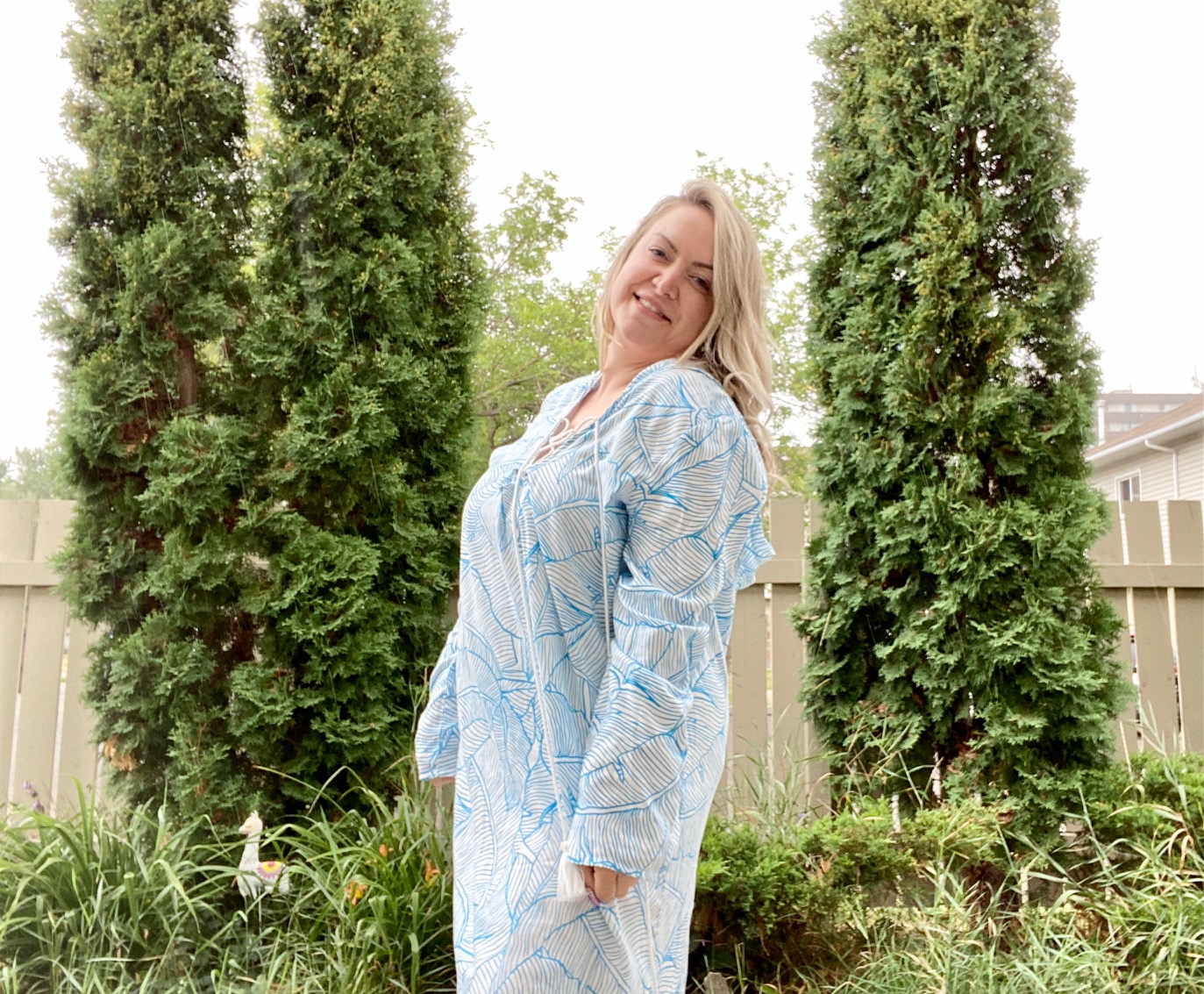 The Coco Cover Up – Charlie Holiday
"Capturing the effortlessness of long summer days, this airy day-to-night beauty will take you seamlessly from beach to bar with a feminine flair. It features an adjustable lace-up detail, slightly oversized hood, and oh-so-tropical banana leaf print. The Coco Cover Up can be worn layered over swimwear or tunic style with denim – you decide!"
I love this Coco Cover Up by Charlie Holiday and have used it as both a cover up and as loungewear for around my house. I adore the fabric and the tassel detail tie. It is quite roomy, but that is okay with me! It's another Beachly Exclusive and even has a hood!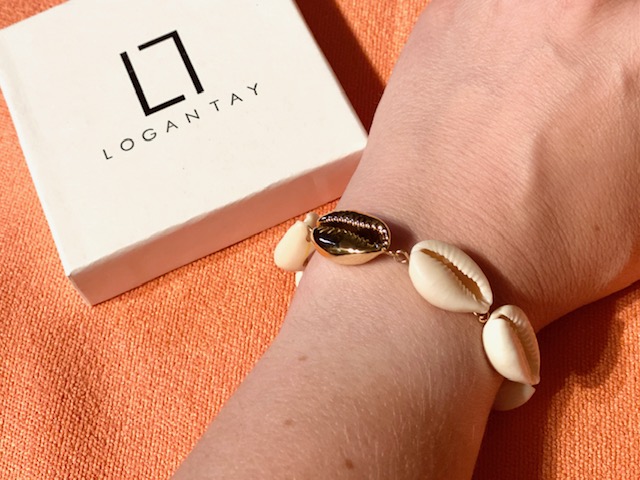 The Shell Yeah Bracelet – Logan Tay
"This statement shell bracelet is the perfect seaside arm candy to wear with every outfit, every day. With a gold accent, fun wrap-around shell design, and self-adjuster – this beach day accessory has the perfect pop of coastal vibes to accentuate your style. The Shell Yeah Bracelet was designed for the bold beach lover and adds that touch of femininity we all love."
This bracelet is stunning! I am in love with the gold shell detail and will layer it with other bracelets, or wear it on its own. This shell bracelet definitely makes a statement and could be worn for a variety of looks and occasions.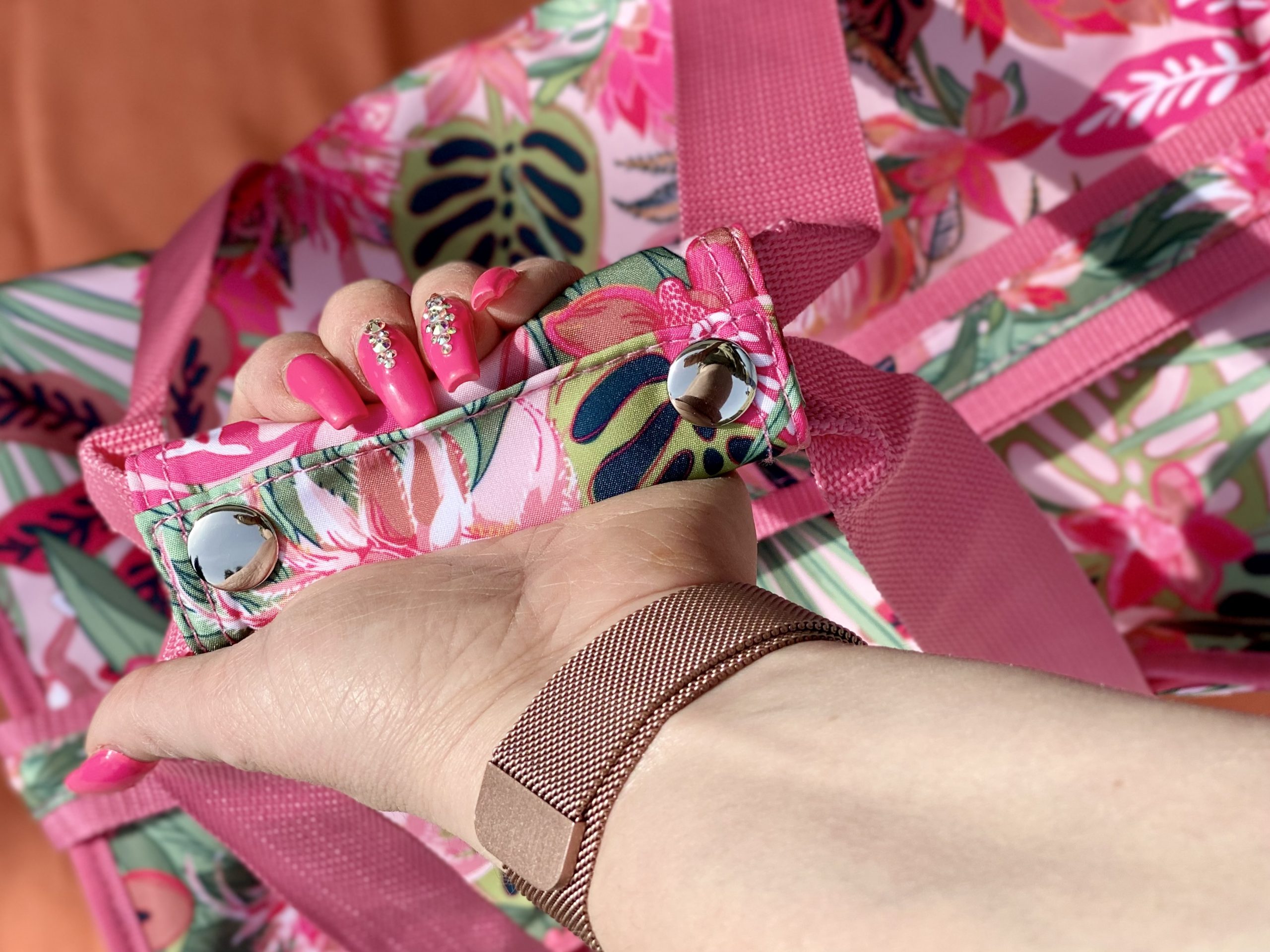 The Rainforest Canopy Cooler – Vera Bradley
"Carry your cold drinks and snacks in style with this cooler made of recycled plastic water bottles (17 go into each one!). The innovative water-repellent material is durable, lightweight, and soft-sided for comfort. Not to mention the fun, bold, and oh-so vibrant print to hold all your beach essentials."
Is this rainforest design not the most summery vibes you have ever seen?! I love the greens and pink and how they complement one another. I cannot wait to stuff this cooler full of snacks and cold beverages to enjoy a picnic or day at the lake. I also appreciate that this cooler has many pockets, nooks and crannies for all of your things!
Beachly Review Summer 2021 – Final Thoughts
Beachly, you've done it again! This is a fabulous box to receive from Beachly and I am so impressed, just like I was last season! They have curated a fantastic box to hype us up for hot weather and sunshine. Every item in this box pairs well with one another yet they can stand strong as single items too. The Shell Yeah Bracelet is so stunning, the Coco Cover Up is stylish, light and comfortable, and the Rainforest Canopy Cooler (and its design) is everything! The Patchology masks are a nice reminder to catch some R&R, and the Beach Blanket and Sun Bum Sunscreen are also super useful to have. What an incredible selection of products! Be sure to subscribe to get your own dose of sunshine and #Beacheveryday vibes!
Hayley Savanna – https://www.instagram.com/hayleysavanna/
Explore.
Save.
Enjoy!
Sign up for a free account on A Year of Boxes to receive exclusive offers, be added to our monthly mailing list, and much more! We are always adding features to improve the experience for our users, from their valuable feedback!
Join Today!