Earthlove Review Winter 2020
Earthlove is an eco-friendly lifestyle subscription box full of clean and safe food, beauty, wellness, and home products that aims to make living sustainably and healing the planet easier. They kindly sent us this box for review.
Earthlove sources products that are ethically and environmentally responsible, including zero waste packaging, natural ingredients, organic and non-GMO, gluten-free, cruelty-free, beegan/vegan, and fair-trade. Earthlove also supports artisans, makers, and small businesses in the US & Canada as well as companies making a difference around the world.
Each seasonal Earthlove box is packed with 6-8 full-sized sustainable + eco-friendly products by the world's best eco-conscious makers. Boxes may include one book, apothecary & botanical wellness, tea & healthy snacks, beauty & skincare, plastic-free swaps and other earth-friendly items along with a magazine with tips and ideas to live more mindfully with the earth.
Their packaging is mindful and sustainable too! The boxes, stickers, and packaging materials are 100% post-consumer, biodegradable, and created with environmentally-friendly algae-based inks—the most non-harmful inks available.
Also, every box supports a cause! Every season they partner with environmental non-profits who protect, restore, conserve the natural world and protect our ecosystems.
Subscription Details
Earthlove is $59.99 per quarter for quarterly or annual subscriptions. Shipping is a flat rate of $4.95 ($20USD to Canada, $35USD for international) or free US shipping with all annual subscriptions. New boxes are shipped on the 15th of each month at the beginning of the quarter (March, June, September & December). and will arrive to subscribers within 10 business days after shipping.
Winter Box Details
""The future of life on Earth depends on our ability to see the sacred where others see only the common" -John Denver What does it mean to be a good steward of the Earth? Living sustainably by developing better habits and being more conscious about what we use is certainly a big part of it, but there's another side that doesn't receive as much discussion among sustainability circles: treating the Earth as a sacred space.
As ecological writer Lleywlleyn Vaughan-Lee writes, "[u]ntil we go to the root of our image of separateness, there can be no healing." Following the climate crisis and calls for change, creating a more sustainable tomorrow also means rekindling our connection with the lands and ecosystems that nourish us. We are not separate from our environments – the problems are not "out there."
Connecting with the soul of the Earth enables us to be more in tune with the devastating changes that are taking place and feeling them at a more fundamental level: "Only when we remember what is sacred can we bring any real awareness to our present predicament." From the beginning, I envisioned Earthlove as a curation that speaks to living more sustainably and mindfully with the Earth and hope it helps you cultivate your own relationship with Nature as we head into the New Year."
Here's a look at what's in this quarter's Earthlove box ($224.89 total value):
Box Insert
Each quarterly Earthlove box includes a box magazine that is filled with tips, DIY, inspiration, and stories to help you live more mindfully with the Earth. It's really nicely designed and it's even eco-friendly as it's printed on FSC-certified paper using waterless printing technology. This quarter the magazine includes a seasonal eco challenge for reducing your carbon footprint; a look at the featured cause for helping to regenerate lost lands through One Tree Planted; a meet the maker feature from the founder of Owl in a Towel; a closer look at how Earth Harbor began; information on Conscious Step socks; how Koa + Roy launched a zero waste CBD brand; how Human Design makes sustainable jewelry; an article titled how eco-friendly is your toothpaste?; a What's in a Straw highlight; a recipe for vegan chocolate chip cookies; Earth Wisdom: Lessons from a deer; and lastly a winter meditation. Tons and tons of great info this month!
Book of the Season: The Truth About Animals ($28)
"In The Truth About Animals, Lucy Cooke takes us on a worldwide journey to meet everyone from a Colombian hippo castrator to a Chinese panda porn peddler, all to lay bare the secret — and often hilarious — habits of the animal kingdom. Charming and at times downright weird, this modern bestiary is perfect for anyone who has ever suspected that virtue might be unnatural."
I love that there is a book included in each seasonal box! The book is always a community choice item, meaning it was voted on by subscribers & other community members which is a fun way to help play a part in what arrives in the box. I don't think this was the book I voted on, but it looks really interesting regardless. I love animals and learning about really anything, so this is likely to be a great read for me. I like books that have different topics for each chapter like a collection of mini stories. This one takes a look at 13 different animals, so 13 different mini stories. It says it's funny, though-provoking and bizarre so it should be a fun and light read. I've been looking for a read like this and also contemplating doing a book challenge for this year so this could be the perfect one to get me started.
Conscious Step Socks ($14.95)
"Conscious Step is on a mission to create impactful social and environmental change through their organic, fair trade, and sustainably-sourced cotton socks. Every sock supports a different cause and this season members got to vote on which cause they wanted to support: Conscious Step will be donating $1 per Earthlove box to either breast cancer prevention through the nonprofit Keep a Breast or sending relief kits to areas struck by disaster with Oxfam (this donation is in addition to Earthlove's support to our featured cause and 1% for the Planet!)."
I had eyed this brand of socks before and even included them in my recent holiday gift guide for him on my blog this past season so I was excited that this product was in this month's box! It was another community choice item so I wasn't sure which cause the socks would support and I love that the chosen cause was breast cancer prevention by supporting early detection. I know a small handful of people affected by the disease so they'll be a good reminder to think of them and also to practice monitoring myself for early detection too. They are really nice socks that are thicker than I expected and more cozy feeling, plus are really cute too.
Earthlove Lunar Calendar ($xx)
"Back for another year! We featured our lunar calendar last year and Earthlovers overwhlemingly voted to include it again this year! Keep track of the phases of the moon using our beautiful lunar calendar designed by the Earthlove team! Printed on 100% postconsumer recycled paper, this print is a useful tool for gardening, biodynamic farming, surfing, night photography, full moon hikes & bike rides, new moon manifestations, and interior design. Frame it, stick it on the fridge, or put it beside your bed. Let the moon guide you!"
I love this lunar calendar! I've been trying to learn more about the lunar cycles recently so this is a great (and beautiful) tool to hang up and reference. I wasn't a subscriber last year when this was sent so when I voted yes (this was another community pick item) to have this included in the box I wasn't sure what would arrive. It was such a great surprise! Can't wait to hang this up in my office!
Koa+Roy CBD Massage Cube ($55)
"Now this is a special cube! Handcrafted with nine different organic, all-natural oils and butters and infused with a hemp isolate, this solid cube delivers the most relaxing and luxurious massage to aching muscles or areas that need a little TLC. We love how it glides smoothly and can feel tension just melt away after a long day on the farm! The cube comes in a plastic-free compostable hemp box (including the plant-based stickers!)."
I saw this item in the spoilers before the box arrived and I was so intrigued and excited to try it out. This product is such a cool concept and has really innovative packaging. I love that it's completely plastic free and that the product is just part of the packaging – or I guess what I'm trying to say is that there is no excess packaging other than what is holding the massage cube. You just take the lid off, hold the base and rub the cube directly on skin. It smells so good – it's like a refreshing and grounding herbal tea with a hint of citrus. I have tons of achey random body pains so I cannot wait to try this one out! I'm hopeful it brings some relief.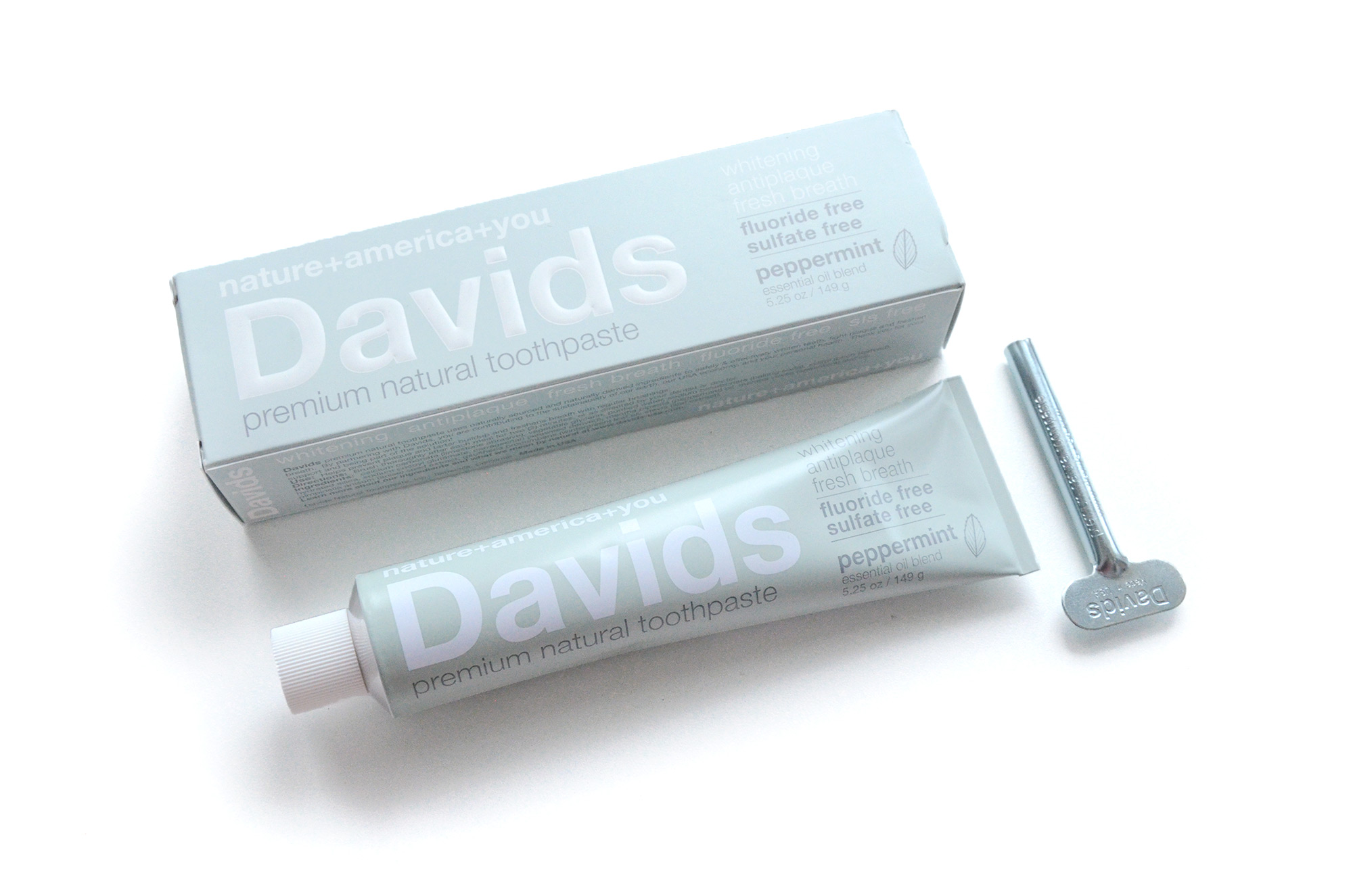 Davids Toothpaste All-Natural Toothpaste ($9.95)
"What's in your toothpaste? Most toothpastes contain synthetics and additives that may be good at cleaning teeth, but are not necessarily good for the environment (worse, tubes aren't recyclable and end up in landfills). Davids aims to change that: their toothpaste is 100% all natural, EWG-certified, vegan, cruelty-free, and encased in a recyclable metal tube, making it THE most sustainable tube toothpaste available!"
I love this toothpaste! It's one I use regularly so it's awesome to add a back-up to my stash for when I run out. If you're used to traditional toothpastes, it could take a little bit used to the less foamy consistency, but it has such a great minty fresh flavor and leaves my teeth feeling fresh and clean. What I love the most is the nearly plastic-free packaging with the metal tube, plus the key is an awesome tool that helps squeeze every last drop of the product out and feels like a fun retro throwback.
Earth Harbor Anit-Pollution Ampoule ($48)
"Named after the powerful Greek deity of the sun, Helios Anti-pollution Youth Ampoule is an almighty all-natural, organic, and vegan ambrosia brimming with ultra-reparative plant oils and a fountain of youth-preserving Red Algae Astaxanthin. Unparalleled in strength for combating pollutants, fine lines, and daily skin stressors, this liquid gold ampoule is a godsend for skin in need of replenishment and bold defense against the elements."
This is such a beautiful face serum, not only in the way it looks with it's ombre sunset tones, but also the ingredients and aroma. It's made with neroli, which I love, to give it a light, sweet, floral citrus scent. The timing of when this was sent is perfect since the winter elements can be harsh on skin. This serum is said to help protect against skin stressors and replenish the barrier function. I've actually received this before in another subscription box, but I don't mind because it's such a lovely serum. You can never have too much of a good thing!
Human Design Hammered Silver Cuff ($22)
"This stylish adjustable hammered wave cuff is handmade from reclaimed and corrosion resistant alloy and finished with 0.925 sterling silver plating. It's a lovely accessory for a favorite winter outfit! Based in Hawaii, Human Design sources materials to upcycle for their jewelry and aim for low impact, sustainable packaging. The sleeve is also 100% compostable!"
What a beautiful bracelet! I love the ocean and always want to be there, so this is a nice little reminder of visits past. It's lightweight and it's subtle design would go with most any outfit. I don't often wear cuff style bracelets because my wrists are small and they don't always fit right, but I like this one so I'll definitely make an exception. It doesn't seem to be that adjustable to me, but is nice that it will fit most wrists.
Elements Truffles Drinking Chocolate ($12)
"When its chilly outside, cozying up with a warm mug of hot chocolate is simply then Elements Truffles' organic vegan drinking chocolate mix is infused with Ashwagandh the ancient adaptogenic superfood known its stress relieving properties. Sweetened with organic coconut palm sugar and handmade small batches using Ayurvedic practices, this drinking chocolate is smooth and creamy and emphasizes the rich taste of Ecuadorian Coco (fair trade, of course!)"
There's nothing better on a cold and snowy day than a warm cup of hot chocolate so this item is the perfect winter companion. I've tried this before and really like it so I was happy to find it in this month's box. It's definitely not super sweet, but you can remedy that by adding some honey or something. I really like the Ayurvedic element this beverage has too. A sweet treat with a health benefit – so good! Plus, the recipe for chocolate chip cookies included in the insert uses this beverage which is so creative. I can't wait to bake them up and try them out.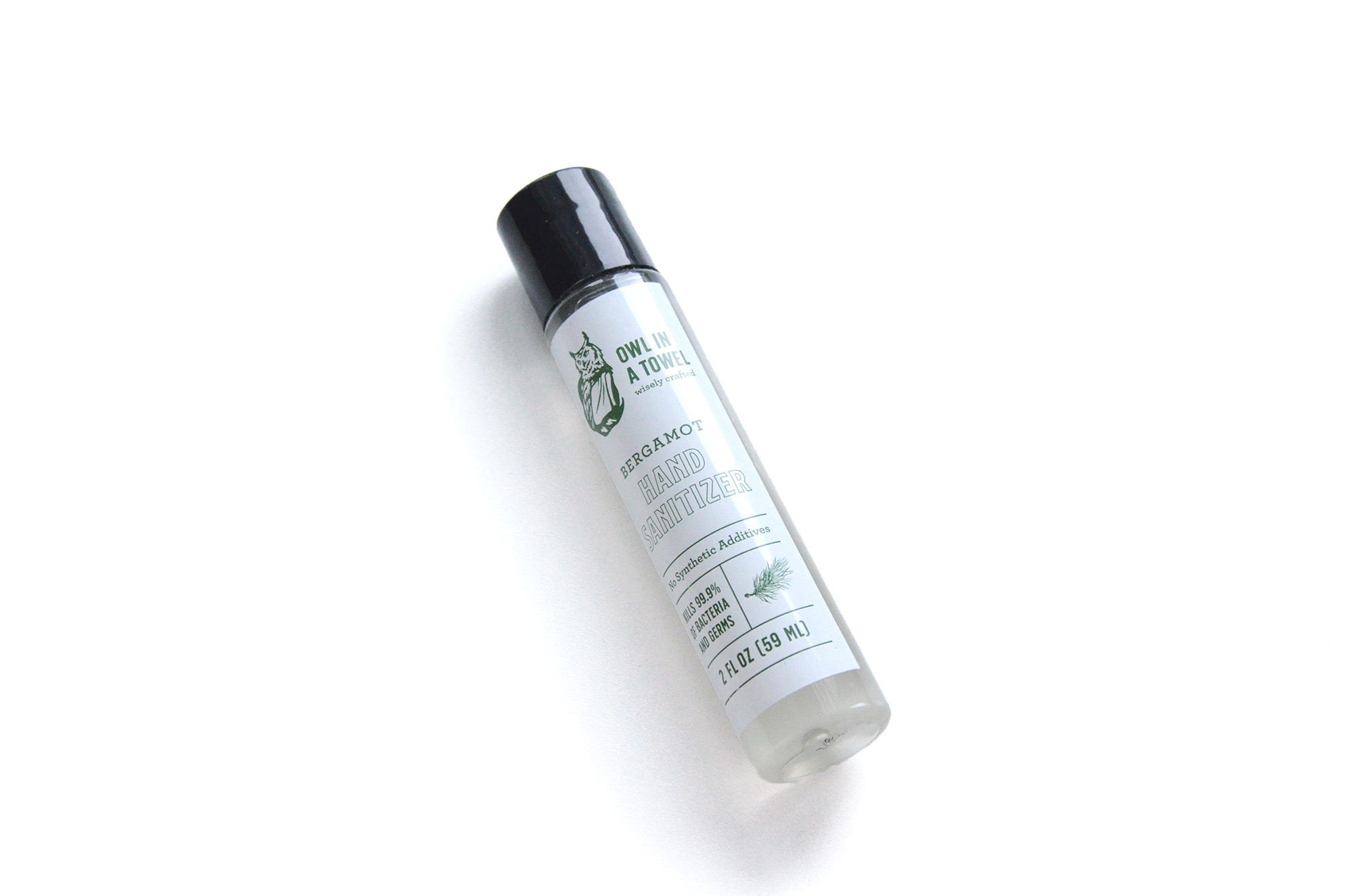 Owl in a Towel Bergamot Hand Sanitizer ($5)
"For cold and flu season, hand sanitizer is a must! Most hand sanitizers are full of synthetic chemicals and additives. Yuck! Enter Owl in a Towel: a fully all-natural gel hand sanitizer that kills 99.9% of bacteria and germs. Perfect for travel or on-the-go, this hand sanitizer is made with bergaptenefree bergamot essential oil and is completely free from artificial fragrance and toxins. Plus, it comes conveniently packaged in a bottle made out of post-consumer recycled plastic."
Hand sanitizer is a must-have these days so this item is perfect too. It smells really nice and not at all overpowering. It's important to me that my hand sanitizer isn't over-drying as my skin does not like the winter dryness, so this one is great. It doesn't feel extra drying, if anything maybe a bit moisturizing since it's made with aloe. The bottle is a great size for a purse or bag so it will be easy to take on the go.
Truly Eco Friendly Bamboo Toothbrush ($5)
"Here's a dirty secret about so-called "sustainable" toothbrushes: only the bamboo can break down since the bristles are made of nylon-4 or nylon-6 bristles (a synthetic petrochemical polymer), which don't biodegrade. Truly Eco-Friendly's bamboo toothbrush remains the *only* vegan toothbrush that is 100% nylon-free and biodegradable since the bristles are made from a plant-based starch and charcoal rather than nylon. They also recently changed to lower impact compostable packaging!"
This is a great partner for the included toothpaste! I only use bamboo toothbrushes currently so this is another item that's great to add to my stash as a back up for when it's time to swap to a new brush. It's awesome that this one is completely biodegradable since many I've used have bristles that can't be. I like getting useful items like this in subscription boxes since it's something I use everyday and replace relatively often.
Restore Regenerative Straws ($9.99)
"The words "regenerative straws" almost seems like a contradiction, but not for the visionaries at Restore! Using an organic ocean degradable material called AirCarbon, these straws are actually carbon-negative and capture greenhouses gasses out of the air. Good for hot or cold drinks, they are reusable for up to six uses and 100% compostable, breaking down after use. Use one at a safe family gathering or in your next smoothie or cocktail!"
This is a cool product that I've not heard of before. I don't really use straws ever, but they are good to have on hand anyway. They'd be great for keeping in the car for when ever you get takeout or are eating on the go since they are packaged individually to stay clean before use.
Earthlove Box Review Winter 2020 – Final Thoughts
I feel like I always gush about Earthlove box, but it's hard not to talk about how awesome it is each time it arrives! This season's box, once again, did not disappoint. It's full of fun and useful items that span so many different categories – from beauty finds and good reads, to wellness items, jewelry and apparel – it's got it all. I can't really pick a favorite item as everything is just so wonderful. I really like everything included, but the wide variety of items makes it easy to appeal to those with different interests.I also appreciate all the information included about each item and the further reading on many of the brands so you can really understand about each brand's sustainability commitment and materials used along with a personal touch about the item. I'm sure a lot goes into coordinating all the items and the information insert so I really appreciate the thoughtfulness. This winter Earthlove box was just so good! It was the best way to end my year of subscription box reviews!
The Botanic Gal – http://www.botanicgal.com
Explore.
Save.
Enjoy!
Sign up for a free account on A Year of Boxes to receive exclusive offers, be added to our monthly mailing list, and much more! We are always adding features to improve the experience for our users, from their valuable feedback!
Join Today!