Escape the Crate Review: Escape From Camelot
Escape the Crate is a subscription box providing a fun puzzle solving experience of an escape room right in your own home. Every other month, this box delivers a new adventure to your doorstep, and you will solve the puzzles in challenging scenarios such as escaping from a pirate ship, solving a murder mystery, defusing a bomb, and more.
They kindly sent us this box for review.
Subscription Details
Escape the Crate ships every other month for $29.99 plus shipping. Each box contains letters, ciphers, puzzles, tools, and other objects that may help you in your adventure.
As players, you take on the role of an agent working for E.M.I.T. or Emergency Mediation In Time, a time-traveling organization that goes back in time to fix issues. Each mission is a self-contained adventure with a beginning, middle, and end. Older "retired" boxes are available for a one-time purchase at $39.99 plus shipping.
Escape the Crate also provides the option to download and print the clues again if you want to replay the game. If you are a player who likes to scribble on the clues, this allows you to do so!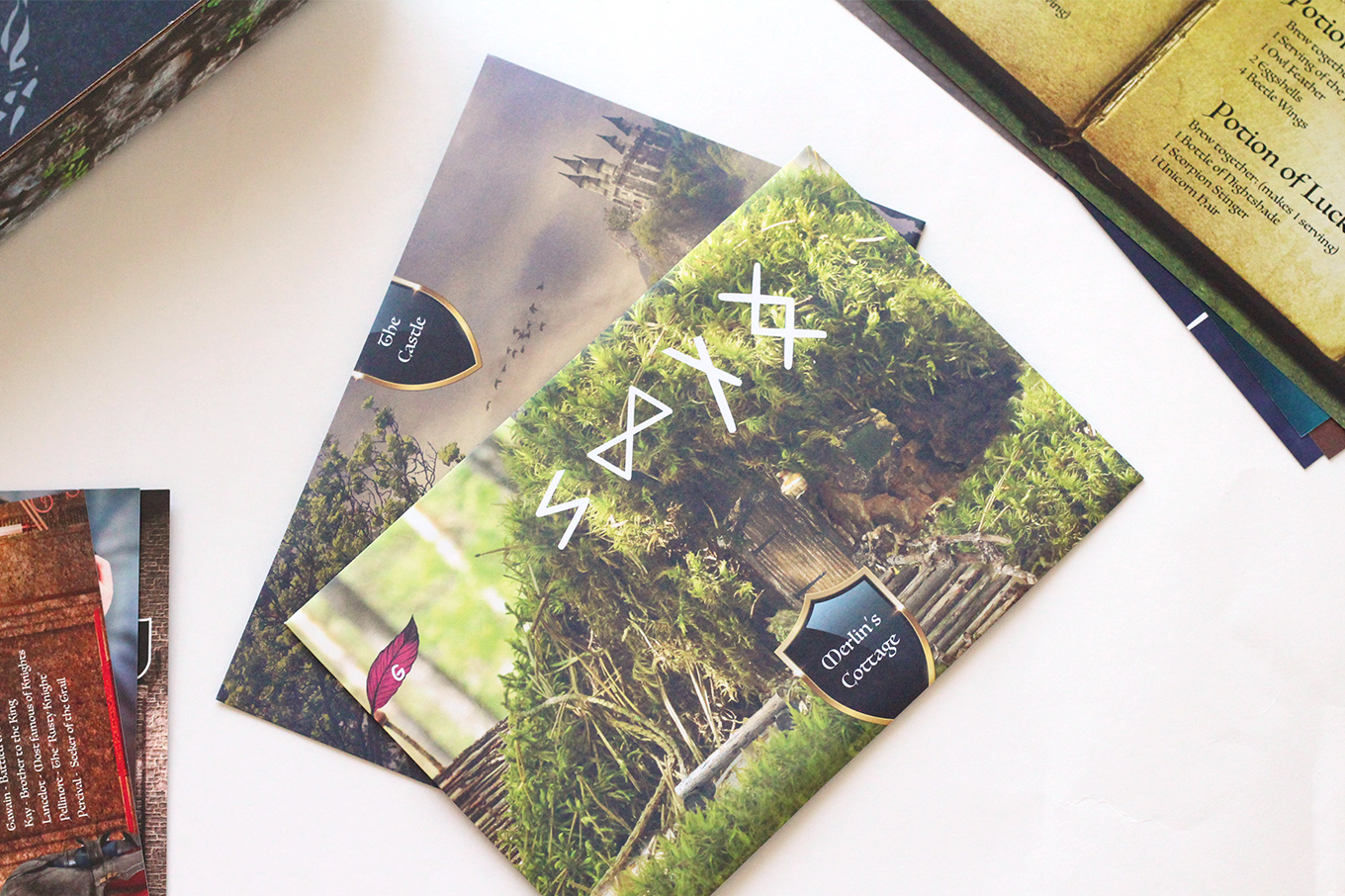 Escape From Camelot
"FOUR SMALLER QUESTS await in this legendary adventure. You have been invited to a grand tournament in the legendary Camelot to compete against Sir Lancelot. When you arrive, however, you discover that the kingdom is in chaos. King Arthur has gone missing and the mythical "round table" has been broken into 4 pieces. It is up to you to take on 4 quests to reassemble the table and to restore Camelot to glory. Can you pull the sword from the stone, vanquish a dragon, match wits with Merlin, or battle your way to victory? Encounter characters like Merlin, Guinevere, Mordred, Lancelot, and Morgan Le Fay as you attempt to figure out what is real and what is legend. Be careful though…. with every passing minute, the darkness around Camelot grows."
This month, the adventure sends us back in time to Camelot. I loved the tales about King Arthur and Merlin as a child, and am so excited to see this being the backdrop for the puzzles this time! Players have to take on four separate quests to solve the mysteries in the kingdom and restore it to glory. Each of the chapters should take around 30-45 minutes and must be played in the order presented as your choices may influence future chapters.
Box Contents
The box includes an information sheet with instructions. It has a link to the Escape the Crate website that will guide your team on your mission. You will need an internet connection to enjoy the game, so be sure to have your computer or smartphone ready.
The box also contains papers, cards, and physical props containing all the puzzles and clues that you will need to play the game. Be sure to study all the included pieces carefully, there are clues everywhere, including on and inside the mailing box.
As you progress through the story, the game will give you instructions on which clue pieces are needed. You will find a couple of envelopes with the instructions "Do not open until instructed" that you will open when the game tells you to.
How to Play
Before settling in to play, my husband and I prepared the clues according the the website's instructions. You will need a pair of scissors to cut out some of the clues as instructed.
The instructions are really clear with pictures showing what to do and the pieces to lay out. You have the option to set a timer for yourself, a step which we usually skip because we like to take our time to solve the puzzles.
Each section of the adventure has information laying out the problem. You can choose to either read or listen to an audio recording of each section. I love the effort to cater to different preferences. We played by first listening to the audio recording, and then reading through the written version to look for additional clues we may have missed.
Solving the puzzles provides you with a code that you can key in to move on in the story. This will either be a number or word. If needed, you have the option of using a series of hints. There is no penalty for using hints and completely up to the players how much they want to depend on them. Each hint will reveal a little more of the solution. We usually try our best to not use hints unless we are really stumped by a puzzle.
Escape the Crate Review – Final Thoughts
Escape the Crate boxes are always a fun weekend or date night activity for my husband and I. It is such a great alternative to just sitting around and binging Netflix, which we end up doing way too much since this pandemic started. I am really loving the separation of the game into shorter chapters, giving us the option of either playing through in shorter sessions or spending an entire weekend afternoon on it. We found the puzzles to be a good mix of difficulty levels. All the work and creativity the Escape the Crate team puts into creating each adventure really shows. If you are looking for a fun game-night activity with your family or friends, I highly recommend giving this box a try.
Toby & Rocket – http://www.tobyandrocket.com
Explore.
Save.
Enjoy!
Sign up for a free account on A Year of Boxes to receive exclusive offers, be added to our monthly mailing list, and much more! We are always adding features to improve the experience for our users, from their valuable feedback!
Join Today!