Nourish Beauty Box Review January 2021
Nourish Beauty Box is a monthly, cruelty-free, ingredient-conscious subscription box for beauty enthusiasts! They believe in making conscious choices, of being mindful of what's put in and on our bodies. Living well starts with loving yourself, and what better way to cultivate personal compassion than a consistent box of bliss filled with beautifully crafted, organic, cruelty-free products. They kindly sent us this box for review.
Each monthly Nourish Beauty Box contains 4-5 full size earth activated, ingredient-conscious beauty products that are 100% cruelty-free, gluten-free and vegan. Boxes have free shipping and are shipped so subscribers received around the 15th of the month. There are 3 subscription options:
Monthly: $29.95/month
3 Month: $86.95 prepaid, or $28.98/month
6 Month: $159.90 prepaid, or $26.65/month
January Box Details
I didn't receive a product card this month so I don't have the intro text (or any of the product text and values below), but I did peep the Nourish Beauty Box blog to see which company was featured in their monthly interview write up. This month's highlighted brand is Midnight Paloma, a brand I'm actually not familiar with so I was really excited to find it and be able to read more about them on the blog. You can check out the interview here: nourishbeautybox.com/blogs/article
Here's a look at what was in this month's Nourish Beauty Box:
Midnight Paloma – Detox Mask
I love face masks and am always excited to find them in subscription boxes. They are definitely one of my favorite items to receive since they work so for many different skin types. Dry masks are especially great as they have a longer shelf life and you can mix in whatever liquid you prefer. I usually use water but might try this one with honey. This mask sounds so nice and although detoxing, still a gentle option. It's made with just 4 simple ingredients: white clay, rolled oats, charcoal, and rose petals. I can't wait to give this one a try!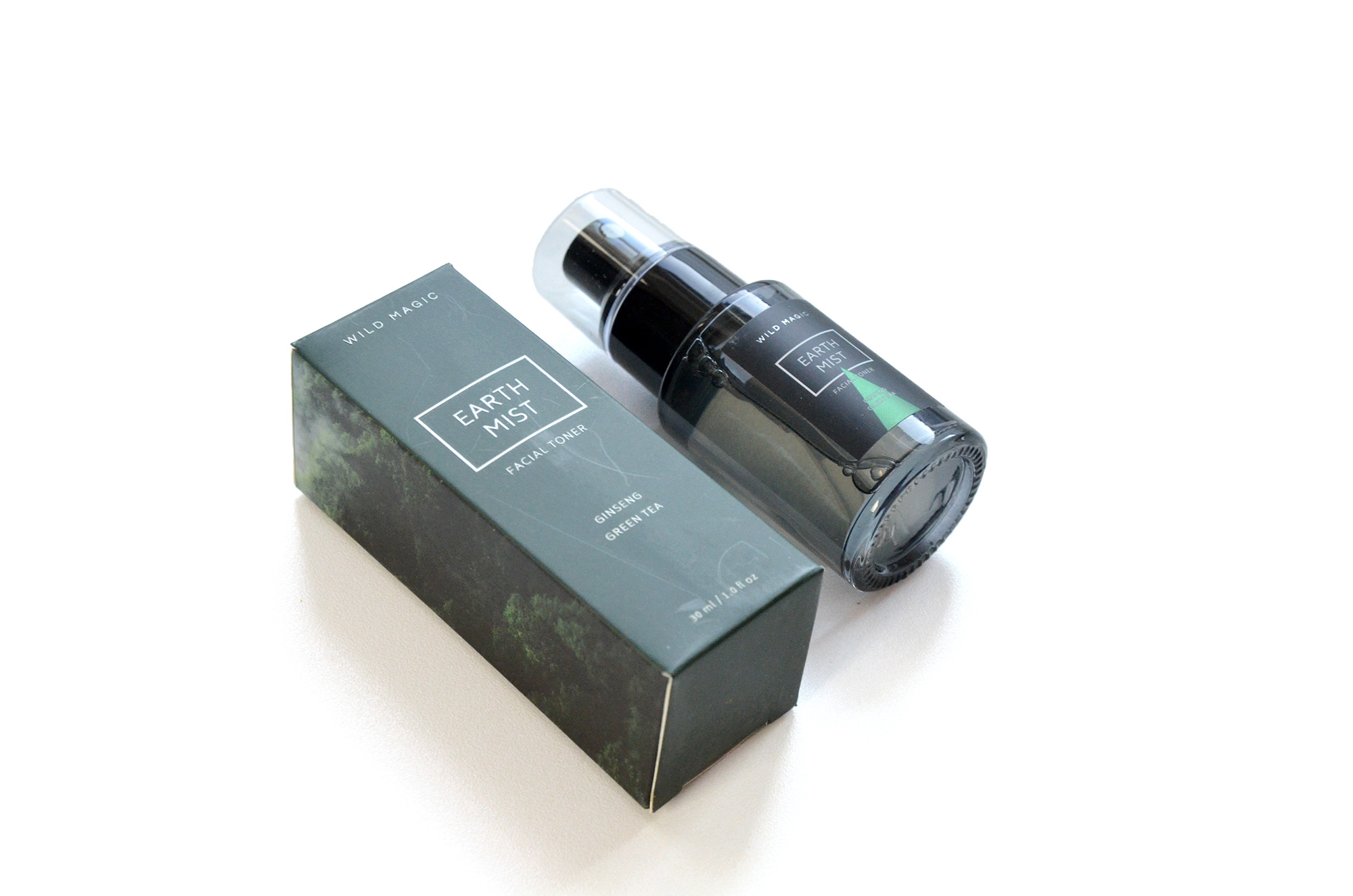 Wild Magic – Earth Mist Facial Toner
This is another brand I've not heard of before and am really glad to find it in this month's box. I love the look of this toner, so chic, and the benefits sound so wonderful too. It's a protective and soothing toner made with ginseng (said to be restorative and anti-aging), green tea, rose water, aloe and calendula to help balance skin. It smells incredible too, like a sweet forest scent. It's woodsy and herbal and refreshing. I will definitely be trying this one out right away.
Lilly Be – Be Refreshed Essential Oil Perfume
What a cute little aroma roller! This perfume is made with just essential oils and a carrier oil. It smells so lovely. It says on the box that it's intended to be a Caribbean blend that transports you to warm locals. It's made with lime, bergamot and lavender essential oils so it's uplifting and relaxing at the same time. I get the lavender notes up front and the citrus notes linger after. I really like that it's packaged in a glass roller encased in bamboo that can be refilled making it really eco-frienldy. This is great for wearing everyday or especially for rolling on when you need to calm your nerves.
Seraphine Botanicals Palmeto + Pillow Hydrating Matte Lip Stain
This lip stain is such a pretty rosy neutral color. It's made with saw palmetto (like the name suggests) which hydrates and helps keeps lips healthy. The pillow reference is because the ingredients included are intended to make lips look soft and pillowy. I don't actually have any matte lip products so this will be really fun to try out.
Nourish Beauty Box Review January 2021 – Final Thoughts
I love this month's Nourish Beauty Box! It's a great way to start out the new year of boxes with a whole bunch of new to me products and brands. I appreciate that since a handful of the last boxes included a face serum or moisturizer that this month's box didn't and rather included some other face products that could complement products sent previously. The mask sounds so soothing and so does the face mist. It's great to have gentle skincare for the dry winter months as to not cause more aggravation that the cold air. I will for sure be wearing the essential oil all the time as I dream of being on a beach somewhere and I'm really intrigued to see how the matte lippie performs. I can't pick a favorite and can't wait to try it all!
The Botanic Gal – http://www.botanicgal.com