Oceanista Review Spring 2019
"Get ready to experience the excitement of receiving our signature box delivered to your door every season, and uncovering the hidden treasures that await you inside. You'll be awash in whimsical beach inspired essentials from brands we love that are sure to compliment your beach lifestyle and wardrobe. Featured artisan pieces, luxury skin care products, mid-season surprises, and the chance to win a free gift every season guarantees our box will be one you look forward to again and again!"
Oceanista is $85 a season, BUT if you use my code "Courtagonist" you'll get 10% off your first box! How awesome is that?!?!
Plus, the value of the box is always worth $175 or more! The spring box had a retail value of over $205 dollars! Now, let's get into the goodies, shall we?
The amount of thought and kindness that J.J puts into the wrapping and the items inside this box blows me away every season. I love how everything ties together and it really seems cohesive.
Woven Raffia Fringe with Tropical Print ($30)
This is a stunning and perfectly sized clutch! I love the bright colors and the feel of it in my hand. This is perfect to throw in your suit case for a weekend trip. It is perfect for date night or a day trip with your girl friends!
Salt Water OCeanista Exclusive Bracelet ($16)
I love that Oceanista tries to showcase a featured artisan every season. They really are a small business lifting other small businesses up. This makes my heart so happy! I love this bracelet, the tassel, and the adjustable sizing for all. It is a beautiful teal color and I feel like it will go perfectly with the Spring and Summer colors coming out!
Salt Water Taffy Gold Triangle Earrings ($18)
J.J seriously knocks it out of the park EVERY TIME when it comes to jewelry in her boxes. I am IN LOVE with these salt water taffy earrings. I have gotten so many compliments on them. They are so elegant and light weight! I love that they are unique and different compared to other cookie cutter jewelry that you can get in a box.
The Original Coconut Bowl ($25)
These are probably one of my most favorite items from the Spring Box! I don't know about you but I have been loving making acai bowls! I have been playing with all different kinds of smoothie bowls and these are just PERFECT to use! They are all unique from different coconuts and they come with handmade spoons as well! These are wonderful!
QuickTan Sunless Tanning Sleep Gel Mask ($20)
This is something that is new to me! I have never heard of sleep gel tanning mask but this is something that would be very cool to try out. I am a very pale person and I don't like staying in the sun too much. However, I do like to look pretty golden in the summer and this might be just the ticket!
Oceanista Exfoliating Body Wash ($15)
Another item that is a must-have for the Spring season to get ready for the Summer season is a great exfoliate! I am not the best at getting all of the dead skin off of my legs that tend to get there due to the dry weather. This smelled like summer! I loved the citric smell!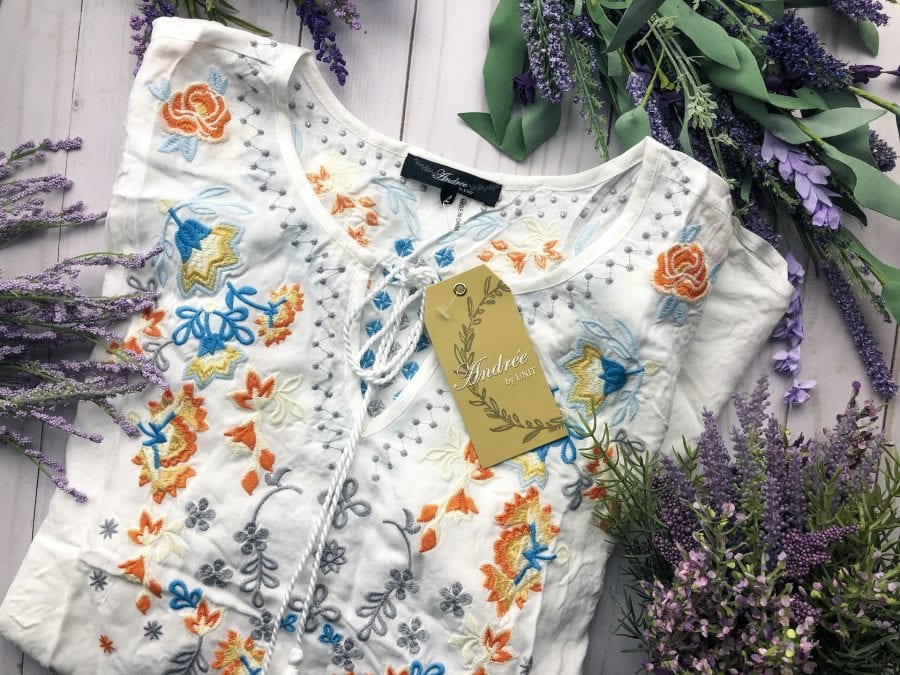 The White Embroidered Tunic ($49)
This is one of the most colorful and vibrant tunics that I have had the pleasure of being sent. It is super soft and light weight. This is perfect for those days on the beach or on the lake. It will be wonderful as a swim suit cover as well! I love this!
The "Bottoms Up" Pillow! ($32)
And last, but certainly not least, lets head outside to my patio to showcase this beautiful comfy pillow! I love that the print is on either side. This was created by Besty Drake and was influenced by a day out on the beach with her daughters. This pillow can be used inside or out. I love it!
Oceanista Review Spring 2019 – Final Thoughts
Oceanista is one of my absolute favorite seasonal boxes. I love how much detail, care, and love goes into curating every inch of the box. I love that they stick to the theme and keep striving for better and more luxurious products. $85 is an amazing price for everything that you receive every season. It is like a small gift to yourself or someone you love. I can't wait to see what Summer 2019 holds for us.
Until next time.
XOXO
Courtny – https://courtagonist.wordpress.com