Beyond the Box: Laundry Room Simple Swaps with Clean Crate
Clean Crate is a Subscription Box for Everyday Green Cleaning Essentials. A curated selection of top-quality daily cleaning products sourced exclusively from Canadian brands. All eco-friendly, non-toxic and free of harsh chemicals so they are safe for your children & pets.
Today we are sharing 4 Laundry Room Simple Swaps for a happier planet & healthier home:
Note: Your first Clean Crate order is curated for you, all subsequent deliveries can be customized. So…..add these 4 products to your second box and feel good about having a "clean" laundry routine!
1. Swap Commercial Laundry Detergent for Elva's Lovely Laundry Wash
Laundry detergent is a complicated mix of dozens of cleaning agents, enzymes, proteins, perfumes and is much more harmful than you can imagine. It contains 1,4-Dioxane (which is found in paints and varnishes), synthetic fragrances (which trigger skin sensitivities and asthma attacks), nonylphenol ethoxylates (affects fetal development), and so many more.Elva's Lovely Laundry Wash is biodegradable, fragrance free, vegan and ultra-concentrated.
2. Swap Dryer Sheets for Dryer Balls or Reusable Dryer Cloths
Dryer sheets are woven sheets of fibers coated with stearic acid or fatty acids, scents and a cocktail of various chemicals. In the dryer, the steric acid melts from the heat, coating the clothes to make them soft and reduce static. The chemicals in the dryer sheets can cause health problems because they can mimic estrogen and trigger asthma.
The Unscented Co.'s Dryer Balls are biodegradable, zero waste, long-lasting and unscented.
Attitude's Reusable Dryer Cloths are hypoallergenic, cruelty-free, vegan and zero waste.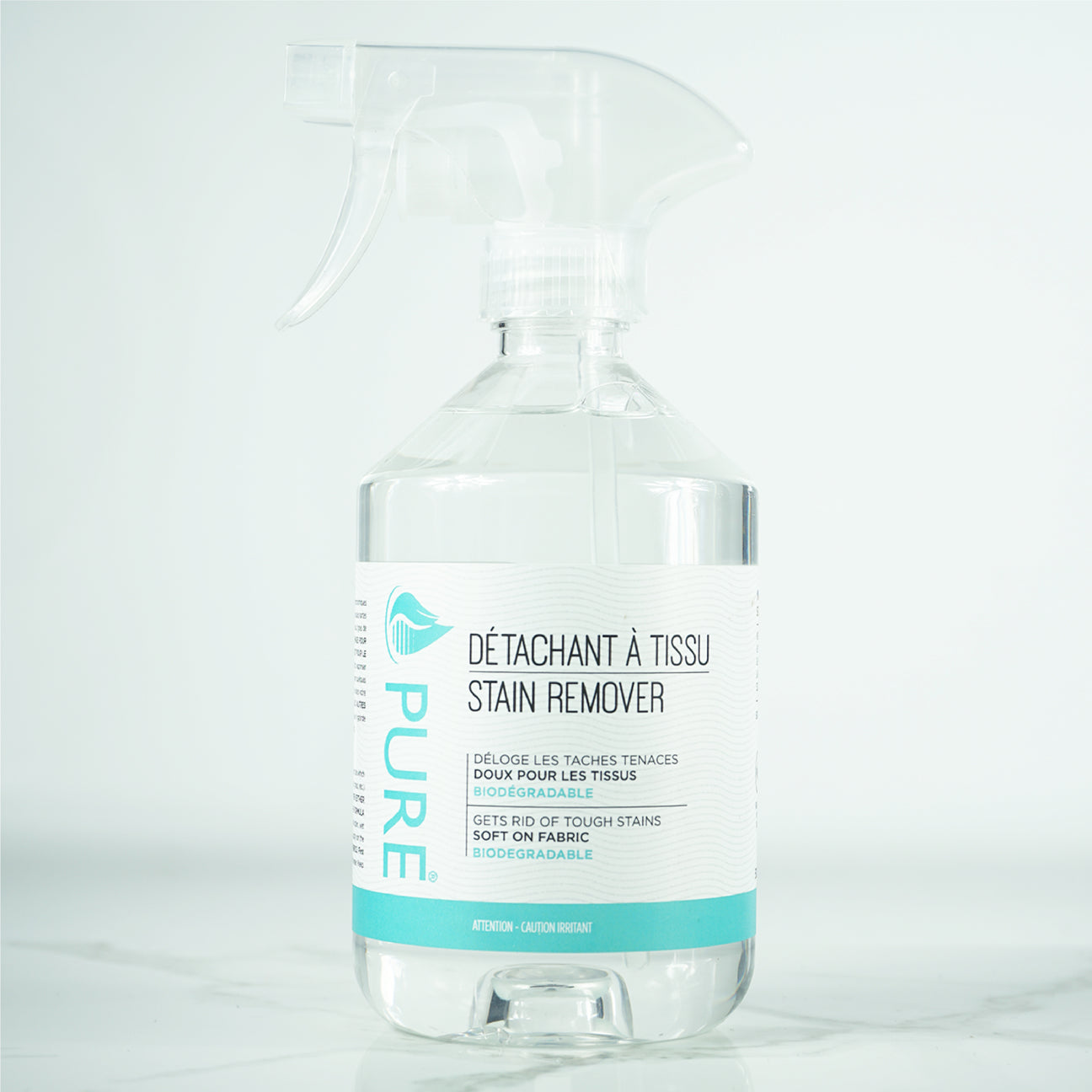 3. Swap Stain Remover for Pure Stain Remover
Have you read the ingredients in your stain remover lately? Most commercial stain removers contain stuff like methylisothiazolinone, PPG-3 methyl ether, kerosene (petroleum) and C14-15 Pareth-7. Most of these chemicals can irritate your skin, eyes and respiratory system.
Pure's Stain Remover is vegan, biodegradable, sensitive skin safe and cruelty-free.
4. Swap Scent Enhancers for Nature Clean Stink Bombs
The laundry aisles are flooded with artificial, toxin heavy 'scent enhancers' claiming to leave your clothes smelling like you've just walked through a spring time flower garden, but at what cost?  There is nothing natural about these products and the harmful chemical ingredients have been linked to a variety of health concerns including asthma, development & reproductive toxicity and even cancer. 
Our natural solution?  Nature Clean Stink bombs!  Just pop one in the wash and these little packs naturally destroys foul odors and unwanted smells by using mineral zinc and trapping and neutralizing odor without the use of enzymes, alcohols, masking agents like perfumes and fragrances. They are biodegradable too!
For Bonus reading, take a look at this article The University of Washington released regarding the chemicals found in top-selling laundry products and air fresheners! Spoiler Alert: You'll be shocked!!
At The Clean Crate Company, our goal is to help our fellow Canadian incorporate simple changes into their lifestyle that will help to create a healthy home, and a happier planet. Learn more about the Canadian brands we support and the services we offer here & follow along on Instagram for weekly Simple Swaps.
-Clean Crate