Cozey Sofa-In-A-Box Review & Room Refresh
Meet Cozey. Canada's first sofa-in-a-box! Assembled quickly, tool-free and shipped directly to doors across the country! It all started with the idea to simplify Canadians' lives. And then they created the perfect sofa for modern living. Cozey kindly sent us these products for review.
I'm sure you have all heard of bed-in-a-box, and have maybe even purchased one of your own, but have you heard of sofa-in-a-box?! It's the newest addition to the "In A Box" family and I am pretty darn excited about it.
Cozey is a new Canadian company and they offer Canada's first sofa-in-a-box! I personally think this is a genius idea and jumped at the chance to review a couple of their products. Ordering furniture online and having it shipped directly to your door is not only convenient, but it saves you time, and in this case – money! What's not to love?!
Cozy Details
"Sofas and furniture are a hassle to move around and get through doors and tight stairways. Cozey wants to create something simpler and better when it comes to moving furniture. By coming up with Canada's first sofa-in-a-box that is assembled quickly, tool-free and shipped directly to doors across the country, we are helping Canadians solve this problem by creating an effortless customer experience.
By focusing on creating the perfect sofa for modern living, we elegantly designed ours to be marvelously comfortable.
A marvelous sofa designed for modern living that's simple to move around and magically comfortable."
Choose from the following:
1 – 4 seats
add an ottoman
light grey, dark grey, ivory, navy blue
Shipping
For this review I received a 4-seat sofa, ottoman and chair. I chose dark grey but would have been happy with any of the color choices. I honestly love them all. Shipping is free and quick with my pieces arriving approximately 7 days after they were shipped.
Packaging
My Cozey sofa arrived at my door in these easy-to-carry boxes, thanks to the handles on the sides. Each box is labeled so you know exactly what pieces you have received. It also allows you to arrange the boxes in the right order for a more organized unboxing/assembly process.
Product
Here's a closer look at the main pieces for my new Cozey sofa. I have the arm on the far left, the seat on the bottom and the back of the seat resting on top. This is how they suggest organizing the pieces prior to assembly.
Here's a peek at the cushions. I received seat cushions and back cushions. I stacked them to one side as they are the last step in the assembly process.
Assembly
The assembly process is actually very easy once you have all the pieces unboxed and organized. I assembled the sofa and chair on my own. You basically start from one side, attach the arm, then the first seat, the second seat and so on.
No tools are required, which is pretty darn awesome. The first step is to attached the back pieces. They slide in to the seat and it took me no time at all.
The next step is to attach the arms to the seats. There are connectors on the inside of the arm and the seat basically just slides into place. Once you have the first seat attached to the arm you then attach the second seat to the first and so on.
Once you have all the pieces attached you flip the sofa on it's back and secure the latches. I love this feature as it ensures the sofa seats stay together.
Once the latches are secure you simply screw the legs on. Each leg has 2 screws. It was very easy to do and again no tools were needed.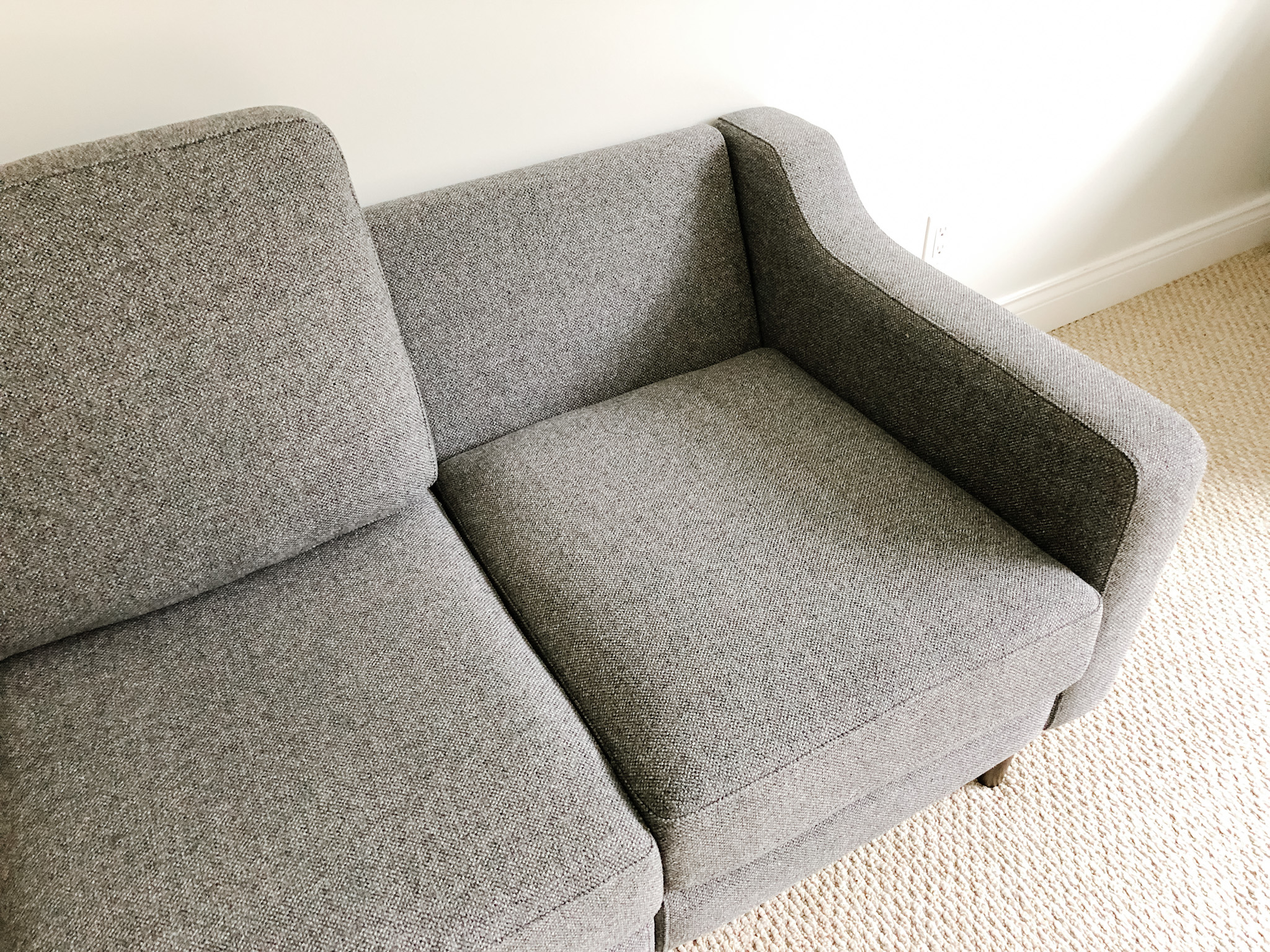 The last step is to place the cushions on your new sofa – seat and back cushions are included. And here you will also see the ottoman.
Before
My new Cozey sofa and chair delivery was the perfect excuse to update our downstairs TV room. It's a room in our house that has been neglected since we moved in and I have been dying to give it an update. Here's a quick look at the before photos.
After
And here is the after! Oh my goodness, I am so unbelievably happy with the way the room refresh turned out. I owe a big thank you to Cozey because the sofa and chair really do make the room so much more inviting. Prior to the room refresh we never used this room, and since completing the refresh we have been using it non-stop.
Cozey – Final Thoughts
Ok, time to get real. Let's talk about my overall experience with Cozey and what I think of the final product. Long story short, I am extremely happy with every aspect of the process.
I absolutely love the idea of a sofa-in-box and I love how easy it was to order/purchase. From the easy-to-navigate website, the reasonably priced product, the quick shipping times, and the simple assembly. The fact that I was able to complete the process on my own (including assembly) makes it a win in my books. My husband works out of town which means I do a lot (if not all) of the shopping, home updates, larger purchases on my own. If I would have had to actually go out and shop for a couch it probably would have been put off for another 4 years, but the fact that I was able to do everything online, get it sent directly to our house, and assemble it on my own means that I was finally able to update the room in our house that I have neglected since we moved in 4 years ago.
I am honestly so happy with the Cozey experience, and I can't wait to give you an update in a few months once we've had a chance to test out our new sofa and chair. But I'm pretty sure I will have nothing but great things to say because I am already very happy with them.
Stay tuned for my Cozey update……
-AYOB Sarah
Meet Cozey. Canada's first sofa-in-a-box! Assembled quickly, tool-free and shipped directly to doors across the country!
Learn More about Cozey »
Explore.
Save.
Enjoy!
Sign up for a free account on A Year of Boxes to receive exclusive offers, be added to our monthly mailing list, and much more! We are always adding features to improve the experience for our users, from their valuable feedback!
Join Today!