Acre75 Gathered Review Spring 2021
Acre75 Gathered is a proudly Canadian seasonal subscription box curated by online store Acre75.ca. Your Acre75 Gathered box will be a surprise each season (they don't post spoilers!) and will be filled with high quality products all locally made in small Canadian towns. They kindly sent us this box for review.
I had the pleasure of reviewing Acre75 Gathered for the first time last Fall and I absolutely LOVED my first box. This is the kind of subscription I personally love to receive. It features small businesses and focuses on quality rather than quantity. It's not a box that promotes value but rather the fact that you are supporting and helping small Canadian businesses. The items they featured in the Fall boxes were absolutely lovely and not like anything I would have found in a mainstream box. They were beautiful, unique and often handmade.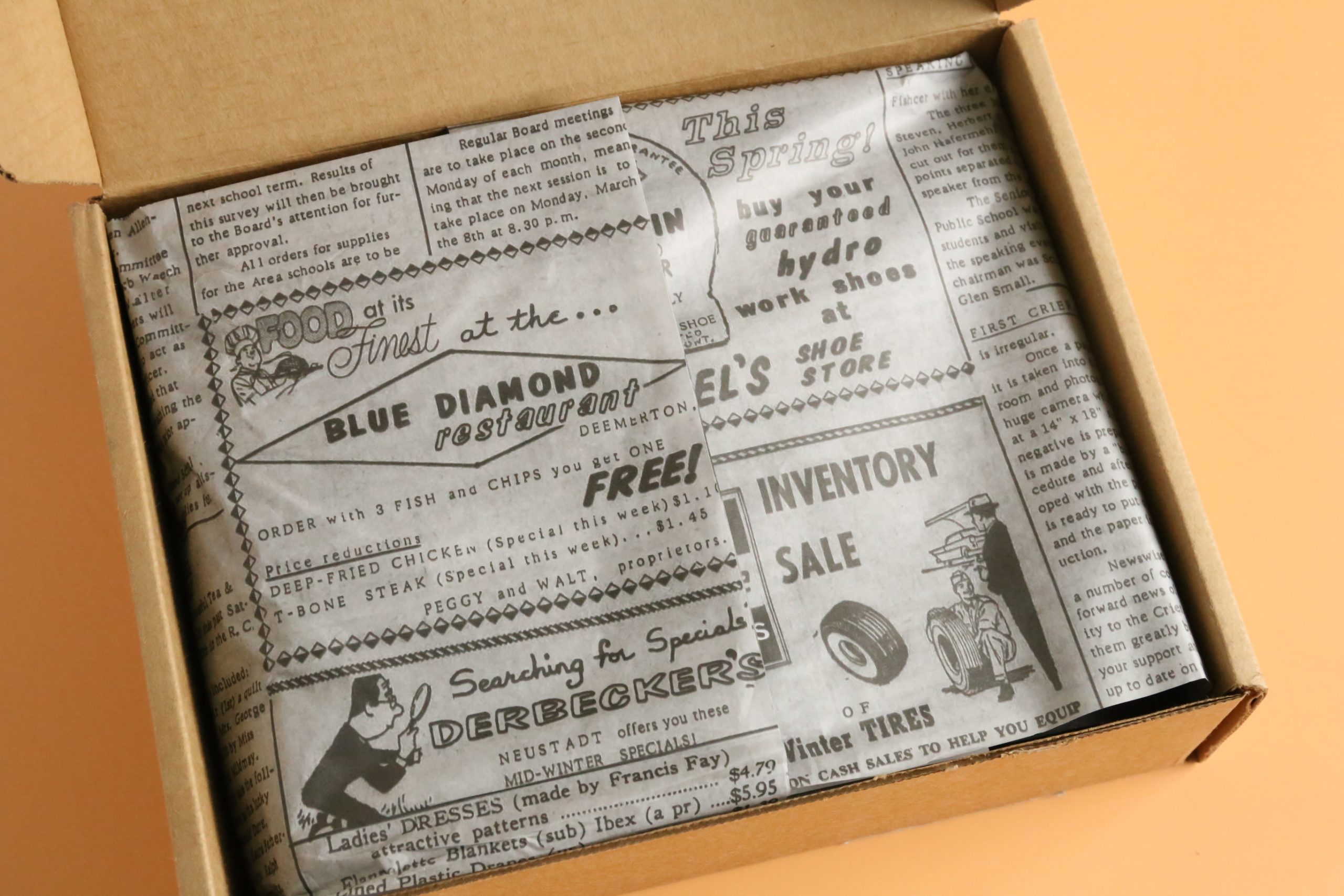 Subscription Details
Each Acre75 Gathered box will contain at least 5 high-quality and practical products, all handcrafted in small batches in small Canadian towns [pop. less than 30K]. These products range from home goods, to bath and body products to gourmet food items and more! They hand select every product featured in their boxes with careful consideration as to how their loyal subscribers will use and interact with these items every single day.
The boxes are primarily geared towards women, but will also have products that everyone can use and enjoy!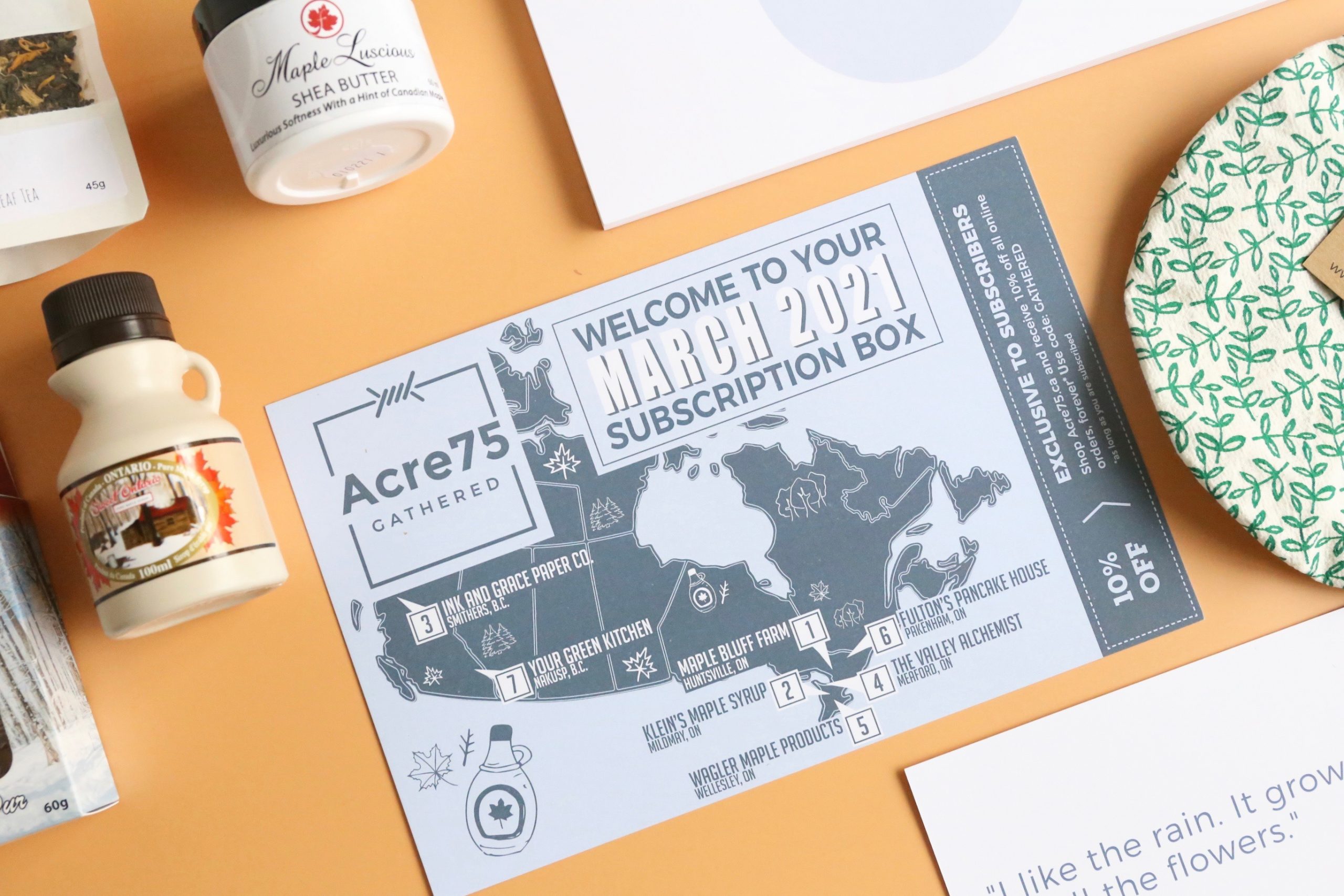 Here's a closer look at the items we received in the Spring Acre75 Gathered box….
Maple Sugar – Maple Bluff Farm
Pure maple sugar. Perfect for baking, adding to hot beverages or sprinkling on top of sweet potatoes.
Such a lovely item for my pantry. I can think of so many ways we will enjoy this, but the one that stands out the most is sprinkled on top of a warm bowl of oatmeal paired with a splash of oat milk. Oh my…..how amazing does that sound?!
Maple Syrup – Klein's Maple Syrup
Amber maple syrup by Klein's Maple Syrup, a family owned business celebrating their 40th anniversary.
I'm definitely sensing a maple theme and seeing as this is a Canadian box it couldn't be more perfect. I often use maple syrup to sweetened dressings, soups and stews. Yes, you read that right. A dash of maple syrup is the perfect addition to curry dishes and warm hearty soups. But, we also enjoy it on oatmeal and granola.
Weekly Planner – Ink and Grace Paper Co.
This is best tool to keep your world organized throughout each week. 52 pages, one for each week of the year.
This planner is absolutely perfect. I'm not really one to use a detailed planner but I do need to keep track of all our appointments, obligations and outings each week so this simplified version is actually really great. I also love that there's a spot for groceries and a list.
Vanilla Chai Tea – The Valley Alchemist
Classic chai spices meet warm vanilla and Sri Lankan black tea.
It has been forever since I enjoyed a cup of chai tea, and it's one of my faves so I'm not even sure why it has been so long since I had it last. I like that this one includes vanilla….because, well…..don't we all love vanilla? I'm thinking this would be great with some steamed oat milk.
Maple Drops – Wagler Maple Products
A delicious maple treat!
To go along with our maple theme we have some yummy little maple drops. Sometimes I just need a little something sweet and it's usually when we are out running errands so I might keep these in my purse.
Maple Shea Butter – Fulton's Pancake House
Made in small batches with love and care, Canadian Maple and Shea Butter combine to create an ultra-rich cream that protects, heals and leaves your skin nourishes.
Don't you just love the smell of maple? It's warm and sweet and oh-so comforting. And don't you just love the idea of maple scented body butter? Wear this and you will definitely get some "what frangrance are you wearing, it smells so good" kinda comments.
Set of Two Bowl Covers – Your Green Kitchen
Reusable and machine washable bowl covers. Covers a 6.5″ bowl when stretched.
I love, love, love these bowl covers. Environmentally friendly, super cute, easy to use, and easy to wash. I might need a few more of these!
Acre75 Gathered Review Spring 2021 – Final Thoughts
Acre75 Gathered is such a wonderful box. I just love the locally made products as they are items I wouldn't necessarily find on my own, like the bowl covers for example. I also love that they focus on small businesses and that they are all based in Canada. You can tell that a lot of care goes in to each box, and that is something I appreciate. The Spring box brought with it a lovely selection of maple-themed goodies, as well as a handy little planner and the bowl covers of course. They always do such a great job and I can see why Acre75 Gathered is one of the more popular Canadian boxes on our website.
-AYOB Sarah