Acre75 Gathered Review Summer 2023
Acre75 Gathered is a quarterly subscription box that delivers a seasonally inspired selection of some of the best products made in small towns and communities across Canada and donates a portion of the sales to rural mental health initiatives. The whimsical presentation and top-quality products make it a delight to give and receive but it's the commitment to give back that really won my heart. Here's a look at the latest box, the Summer '23 edition.*
*They kindly sent this box for review
I'm so, so impressed by the attention to detail in the packaging, the tissue paper especially. It's actually copies of newspapers from the the founder's hometown of Mildmay, Ontario. So neat!
"When all else fails, take a vacation."
— Betty Williams
And the product card is really well done, pairing detailed descriptions of the items with interesting facts about the communities where they were made. Did you know Flesherton, Ontario is a designated "walking village" with a 100-acre hiking area (amazing!) and St. Adolphe, Manitoba has the largest snow maze in the world? So much to discover!
The summer box features six small town businesses and their communities with a collection of products perfect for summer adventures.
First is a Hawaiian Sunrise body & foot scrub by Scrub Inspired (North Sydney, NS). It's part of my shower routine now and feels so good!
"This brightening mix of tropical fruits is the treat your skin deserves. Made with fresh pineapple puree and coconut oil to exfoliate and moisturize, this scrub will give your skin that perfect summer glow all year long."
And I love the Au Natural key lime lip balm by Pearl and Moss Botanicals (Wawa, ON). The key lime is perfect for the summer. I feel like I need one for the house and another for my purse.
"Fresh, sweet and slightly tart, this lip balm is infused with the root of Marshmallow to help condition, soften and moisturize your lips."
Oh em gee these Savoury Sunflower flaxseed crackers by Eve's Crackers (Langley, BC)!! 😋😋 Some of the most delicious crackers I've ever had. (Sadly just a few crumbs left now.) These would be delicious as a salad topper too. I'll definitely buy them again. (You can order them from Eve's Crackers or find them at a store near you.)
"Satisfyingly savoury notes of umami and garlic make this cracker ridiculously stackable. Your chips better watch out. Enjoy this plain, straight out of the bag, or dunk them into some fresh salsa."
These were really good too: Cheddar Enercheez® by Mountain Munchies Inc. (Nelson BC).
"This mouthwatering cheese snack is a convenient source of energy, protein and calcium that you can easily take along for any summer adventure. It doesn't require refrigeration and contains no additives or preservatives."
Super crunchy, nutritious, filling and no added junk. My hubby's trying to curb the carbs and these made a great snack.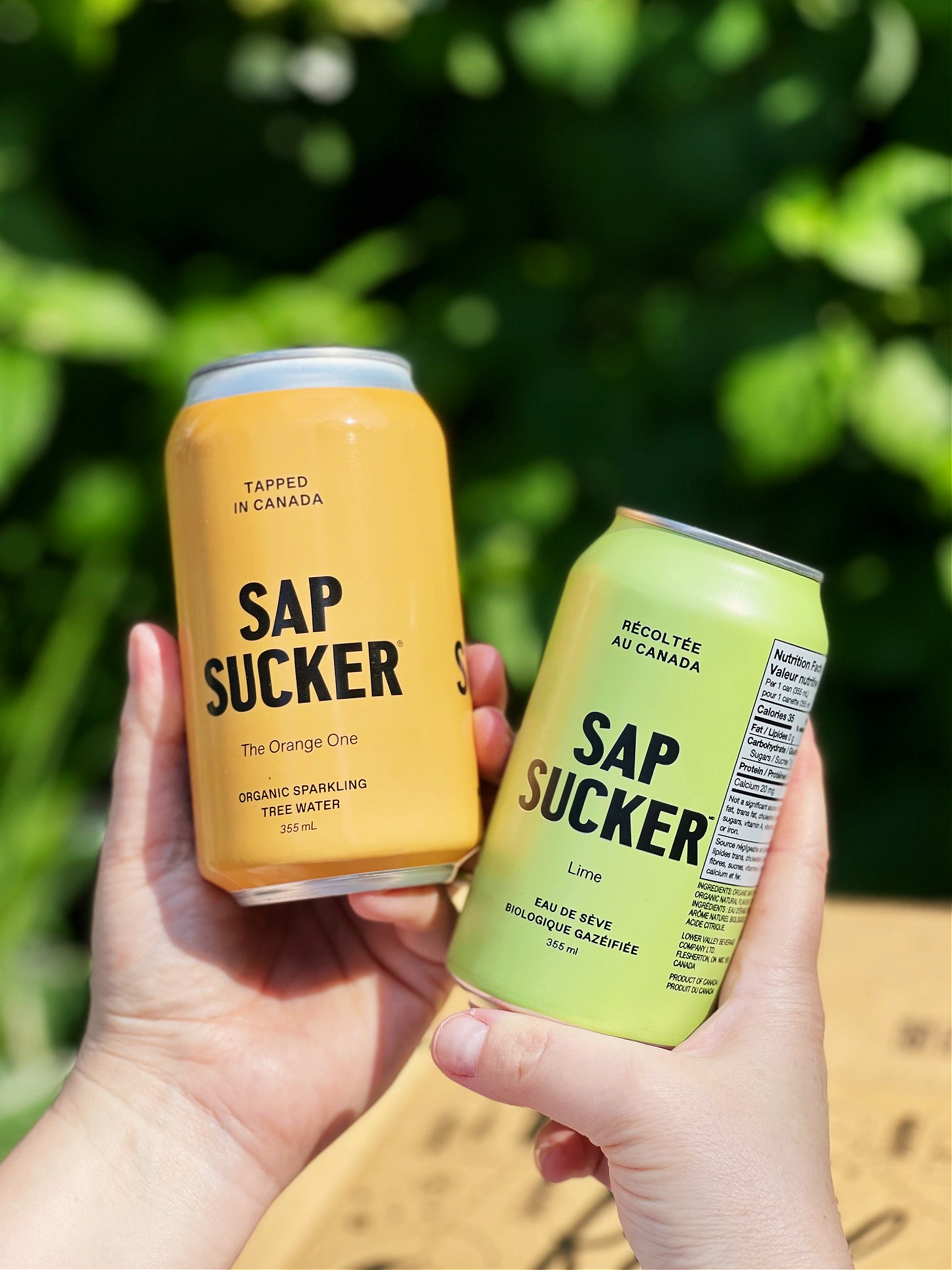 Thirst quenching and the perfect hint of sweetness: organic sparkling tree water by Sapsucker (Flesherton, ON).
"Lightly carbonated with a 'subtle bubble', Sapsucker is certified organic, ultra-hydrating, and sustainably harvested from Canadian maple trees. Sap is naturally sweet and delicious. It's a healthier alternative to pops, juices, and other carbonated beverages that rely on artificial sweeteners to make their drinks taste great. Sapsucker is now available in 6 refreshing flavours: Lime, Lemon, Grapefruit, Orange, Original and Peach."
Now I want to try all the flavours!
And this resuable wet bag by Colibri Canada (St. Adolfe, Manitoba) is really smart too. (Mine does have two straps 'tho you can only see one here.)
"So many uses for one amazing bag! This reusable wet bag is great for camping, traveling, swimming, laundry, dirty shoes, you name it! The two straps allow the bag on hand on towel rods, furniture, luggage or strollers and can also be looped together to form a handle."
We'll be using this bag for years!
I wish I'd been able to get this shot of the box outside to show you how much it really shines but I think it does that pretty well on its own. 😉 Acre75 Gathered gets great reviews for a reason (many reasons!!) and it's quickly become one of my favourites. Charming presentation ✅ delightful products ✅ and so fun to open! ✅ This one checks all the boxes.
Acre75 Gathered is available by seasonal subscription for $97.95/box. Canadian shipping is included; US shipping is $19USD. The summer '23 box is sold out but subscriptions starting with the fall box are available to order now and ship in September.
Which product from the summer box would you try first? Is there a particular product from a small town in Canada that you'd like to see?
Try Small Things – https://trysmallthings.com