AK Gold Subscription Box Review April 2022
AK Gold Subscription Box is a bi-monthly subscription which showcases unique, quality handmade items from favourite Canadian makers & creators. They kindly sent us this box for review.
I can't even tell you how excited I am to share this box with you today. AK Gold Subscription Box is a Canadian subscription that I've had on my radar for a few months now, and I am pretty darn sure it is going to be a new fave. This is one of those boxes that looks/feels like it was curated specifically for me. I can't wait for you to see it!
Subscription Details
AK Gold Subscription Box is packed with 5-9 favourite locally sourced and handcrafted items. Contents of each box will remain top secret but will include a variety of luxury, handcrafted bath and body products, jewelry, accessories, Canadian clothing, home goods, local food products, HomeGoods, etc.
You can sign up for a bimonthly subscription or purchase a one-time box.
Here's a closer look at the April AK Gold Subscription Box….
Radiate Love Top: Ivy + Joy is a Canadian clothing line and I am LOVING this top from their Rise + Thrive collection. It's is buttery soft, it hangs nicely, it has a positive message and the fact that it is black makes me very happy.
Handcrafted Earnings: These edgy/dainty earrings from Oh So Lovely are speaking to my heart. I love simple accessories but have a hidden "edgy" side when it comes to fashion. I love that they are a mix of both. I can see myself wearing these often.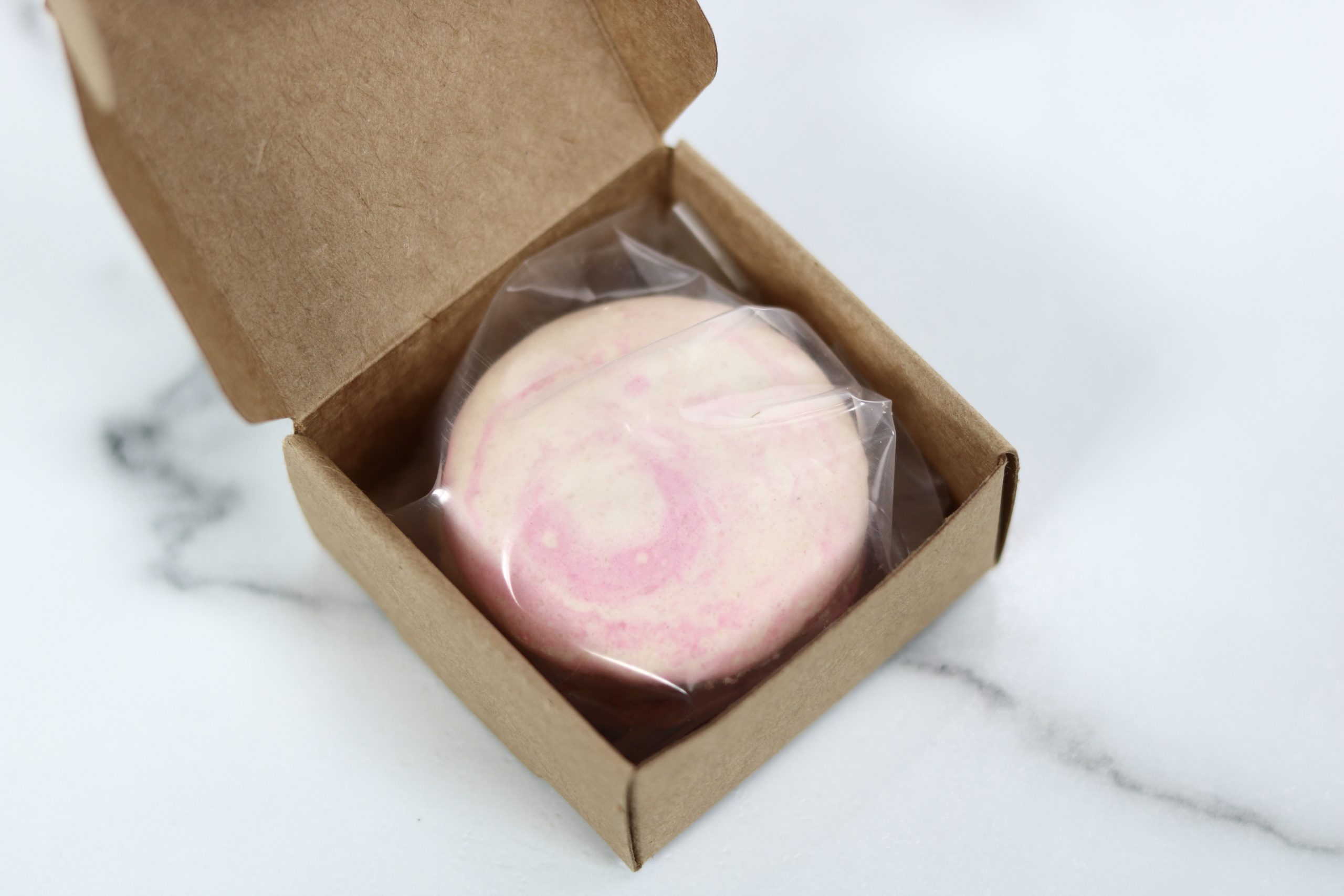 Macaroon: Belive it or not, I've never actually had a macaroon. I hear they are amazing and this one looks SO GOOD! It's almost too pretty to eat.
Personalized Glass: O.M.G! I am SO in love with this mug! This beer cup style is very popular on Instagram right now and I have been wanting to get myself one….or two. This one is extra special because it is personalized. It will be my go-to mug for iced coffee pick-me-ups mid afternoon. I can't wait!
Riot Whole Bean Coffee: Rampage Coffee Co. is a small specialty coffee company based in Saskatoon and I am SO excited to try this medium roast blend. I have become a bit of a coffee snob over the last year and I love trying new brands.
Macrame Coaster: Knotty Momma is based across the street from AK Gold and apparently she stops by the AK shop often. She handcrafted these super cute coasters just for the April box and I think she did an amazing job. It is the perfect little accessory for my office desk.
Champagne Gumdrops: The April AK Gold Subscription Box has a "Celebrate in Style" theme as it just so happens to be Kandis (one of the owners) B-Day month. And what better way to celebrate a birthday than with champagne!
Claw Clip: I LOVE that claw clips are making a comeback and I LOVE that they included one in the April box. I used to wear these in high school…..am I dating myself?
AK Gold Subscription Box Review April 2022 – Final Thoughts
I have to give it to the ladies at AK Gold Subscription Box. They have done a phenomenal job with the April Box. I am absolutely loving every single item we received. From the personalized mug (which I will use daily) to the awesome tee and the adorable coaster. This box fits my style preferences perfectly and even though this is my first time receiving it I can already tell you that this is a new fave. LOVE, LOVE, LOVE!
-AYOB Sarah