Authentic Books Review December 2021
Authentic Books is a monthly subscription box service that brings together self care with an immersive book experience.
Boxes are full of quality goodies from small US-based artisans and boutiques that are not only connected to the book but focus on each of our five senses (sight, smell, taste, sound, touch). 5% of the profits from each box supports children's education. They kindly sent us this box for review.
It has been quite a while since I shared an Authentic Books box with you so today feels like a special treat. I discovered this book subscription at the beginning of last year and fell in love with it immediately. It's definitely worth checking out if you are a book lover.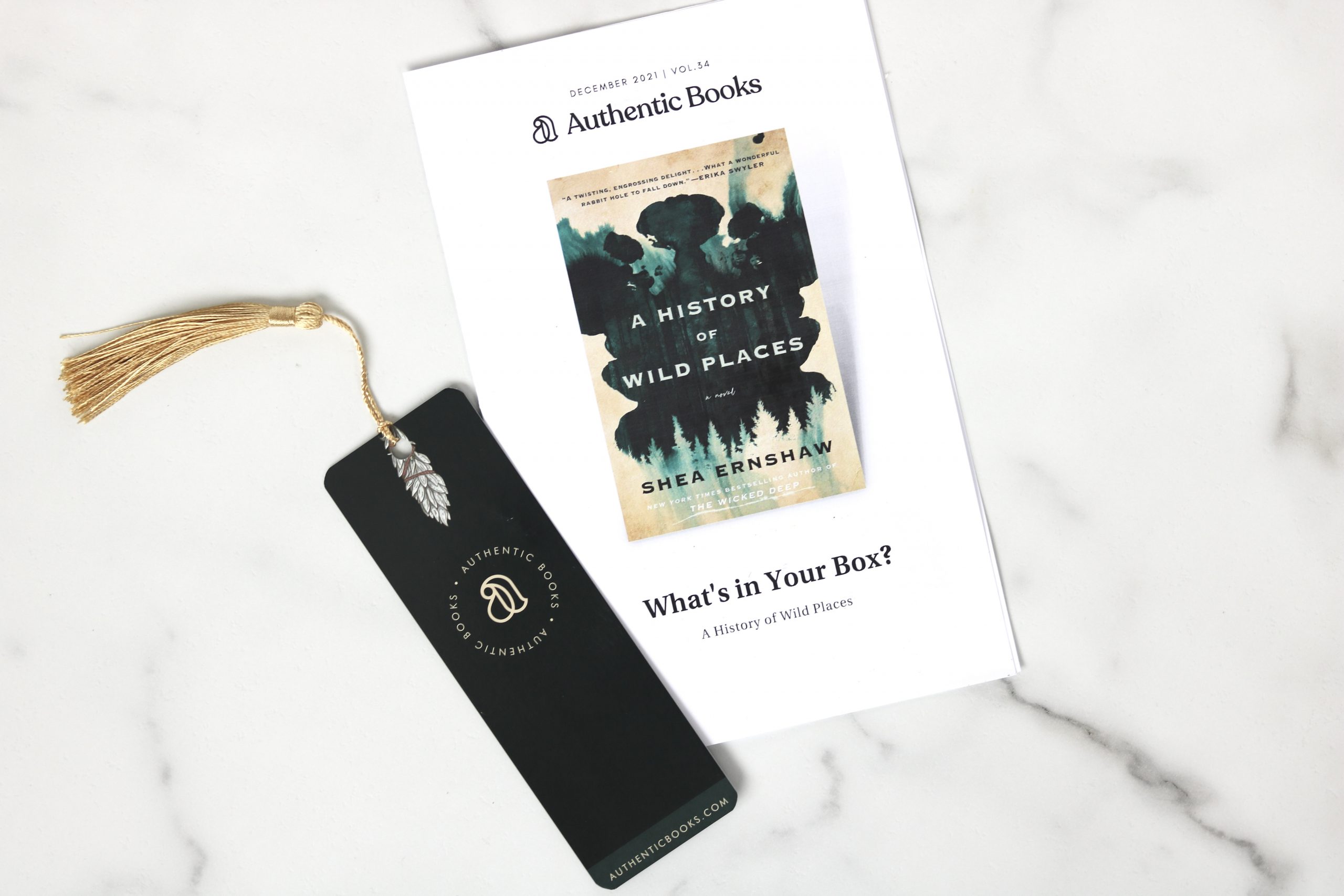 Subscription Details
Authentic Book subscribers have 3 options to choose from….
Mini Experience – A great starter membership that includes…..
Custom bookmark
Monthly booklet (discussion questions, book related recipes, interactive quizzes, and more)
Sight: Pick from two newly released hardcover books (or be surprised!)
Smell: Hand poured artisan candle
Sound: Custom music playlist
Heart: 5% of your membership will be donated to the Malala Fund
Full Experience – Everything in the Mini Experience plus….
Taste: Choice of tea or cocktail
Touch: Artisan made beauty/self-care item
Premium Experience – Everything in the mini experience plus….
2 Taste items: Choice of tea or cocktail AND chocolate
2 Touch items: Artisan made beauty/self-care items
Here's a closer look at the December Authentic Books. We are reviewing the premium experience.
A History of Wild Places
Hauntingly beautiful, hypnotic, and bewitching. A History of Wild Places is a story about fairy tales, our fear of the dark, and losing yourself within the wilderness of your mind. 
Each month subscribers get to choose 1 of 3 books. My choice for December is A History of Wild Places which is classified as mystery/fantasy/thriller. It gets 4 out of 5 stars on Goodreads and is based on Travis Wren who has an unusual talent for locating missing people. When searching for someone Wren discovers a place called "Pastoral," which is a reclusive community founded in the 1970s by like-minded people searching for a simpler way of life. I think it sounds SO good!
Book Charm Keychain
ChubbyChicoCharms has helped thousands of organizations raise millions of dollars in much needed funds for education, illness awareness, children's groups, sports teams and so many more.
Such a cute little keychain and I love that the company who makes this supports so many amazing causes.
Hand Poured Soy Candle
"Home Sweet Home" is our take on the smell of Pastoral. With notes of Musk and…..Delusion…do you think you will make it out?
Don't you just love the name and description for this candle! I can't wait to curl up on the couch one rainy morning with this candle beside and the book in my lap.
Cocktail Mixer
Rooibos tea, vanilla, and cinnamon are one of the world's great flavour trinities. In this rich, fragrant syrup, each flavour comes through clearly, easily adding layers of depth to your drink.
We always receive a cocktail mixer (or tea) and I think this is my favorite to date. I absolutely LOVE rooibos tea, vanilla, and cinnamon and am so excited to try this flavour combo in syrup form.
Tea Tree & Charcoal Soap
Tea Tree w/Charcoal soap has a distinct herbal aroma that speaks of nature and purity. The rich lather from our blend of organic oils, shea butter, and activated charcoal provides deep cleansing while moisturizing the skin and providing essential nutrients.
This bar of soap is absolutely beautiful and it smells so darn good! I almost don't want to use it…..but I will.
Crystal Infused Smudge Spray
Inspired to eliminate negative energy and create sacred space. Traditionally, people have the smudging option to either burn the bundle of herbs where it emits smoke or you can smudge spray.
I've been meaning to pick up some smudge sticks and/or bundles now that we are in the new house so this spray arrived at the perfect time. I am ALL about clearing negative energy.
Pumpkin & Spices Chocolate
Harper Macaw sources cocoa beans directly from sustainable agroforestry plots, and sales of each product contribute to the restoration and protection of threatened, degraded, or deforested land near their sources.
We always receive a chocolate bar in the box and they always manage to source the best flavours!!!
Book Playlist
As part of our "sound" experience they always include a Spotify playlist. I love this feature.
Authentic Books Review December 2021 – Final Thoughts
I am absolutely LOVING the December Authentic Books box. Its probably my favorite box from them to date so it was a really great way to end 2021. I am so excited to make a drink with my new syrup, break off a peice of chocolate, clear the negative energy from my reading space, light my candle and dive in to this book. What an amazing experience and such a wonderful box!
-AYOB Sarah