Authentic Books Review January 2022
Authentic Books is a monthly subscription box service that brings together self care with an immersive book experience.
Boxes are full of quality goodies from small US-based artisans and boutiques that are not only connected to the book but focus on each of our five senses (sight, smell, taste, sound, touch). 5% of the profits from each box supports children's education. They kindly sent us this box for review.
If you are looking for a way to treat yourself, or maybe you just need a little extra TLC/self-care time, I would highly recommend a book subscription box. There's nothing more relaxing than curling up in your favorite chair with a new book, your favorite beverage and a sweet treat. It's the perfect way to slow down and treat yourself.

Subscription Details
Authentic Book subscribers have 3 options to choose from….
Mini Experience – A great starter membership that includes…..
Custom bookmark
Monthly booklet (discussion questions, book related recipes, interactive quizzes, and more)
Sight: Pick from two newly released hardcover books (or be surprised!)
Smell: Hand poured artisan candle
Sound: Custom music playlist
Heart: 5% of your membership will be donated to the Malala Fund
Full Experience – Everything in the Mini Experience plus….
Taste: Choice of tea or cocktail
Touch: Artisan made beauty/self-care item
Premium Experience – Everything in the mini experience plus….
2 Taste items: Choice of tea or cocktail AND chocolate
2 Touch items: Artisan made beauty/self-care items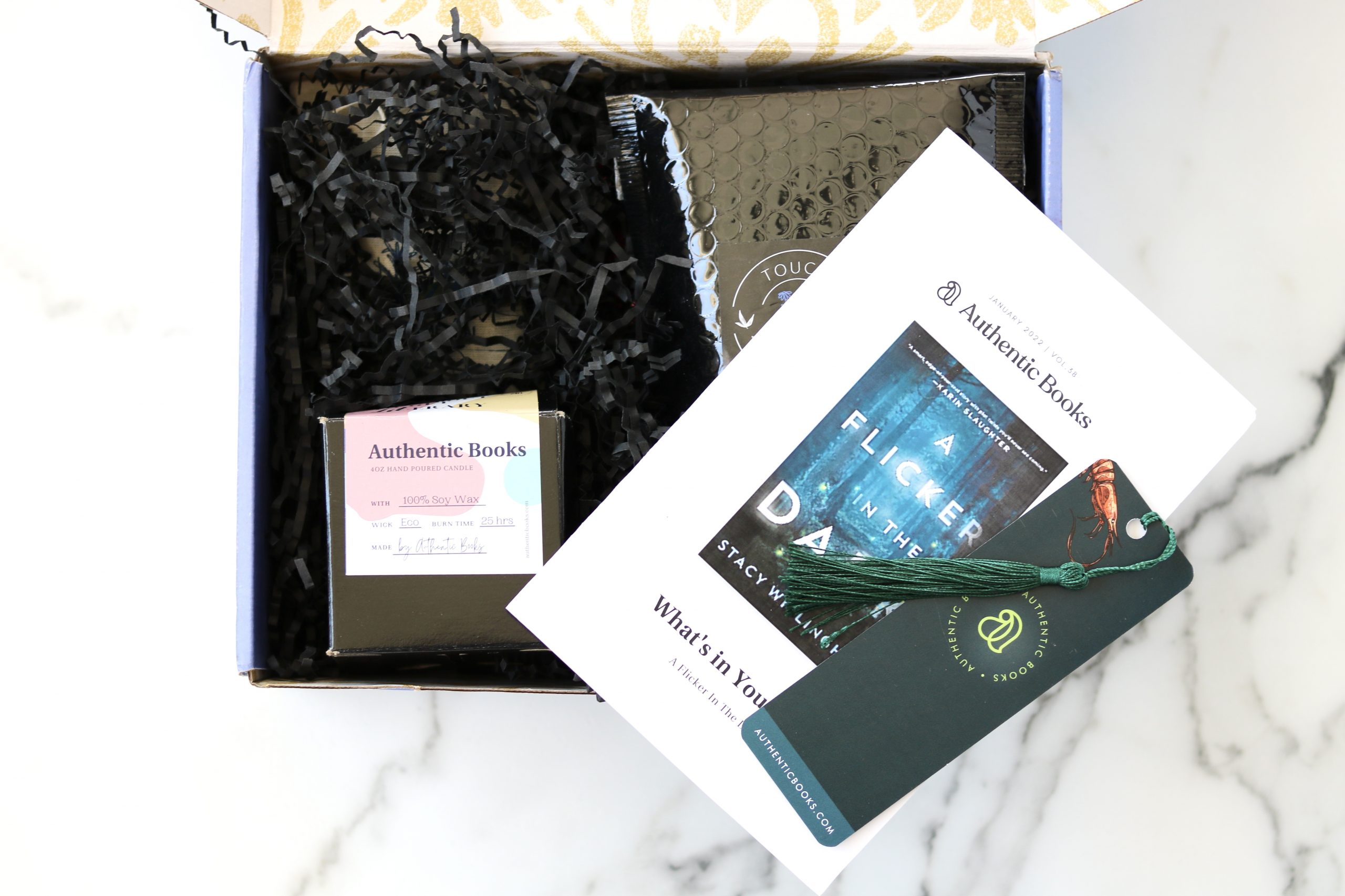 Here's a closer look at the January Authentic Books. We are reviewing the premium experience.
A Flicker In The Dark
In a debut novel that has already seen options for a limited series by actress Emma Stone and sold to a dozen countries around the world, Stacy Willingham has created an unforgettable character in a spellbinding thriller that will appeal equally to fans of Gillian Flynn and Karin Slaughter.
I am SO excited about this one. Here's a little more info……
"When Chloe Davis was twelve, six teenage girls went missing in her small Louisiana town. By the end of the summer, Chloe's father had been arrested as a serial killer and promptly put in prison. Chloe and the rest of her family were left to grapple with the truth and try to move forward while dealing with the aftermath.
Now 20 years later, Chloe is a psychologist in private practice in Baton Rouge and getting ready for her wedding. She finally has a fragile grasp on the happiness she's worked so hard to get. Sometimes, though, she feels as out of control of her own life as the troubled teens who are her patients. And then a local teenage girl goes missing, and then another, and that terrifying summer comes crashing back. Is she paranoid, and seeing parallels that aren't really there, or for the second time in her life, is she about to unmask a killer?"
Red Wine Daily Sheet Mask
Red wine isn't only soothing for mind and body, it also holds potential benefits for skin. This revitalizing mask is an antioxidant drink for your complexion that tightens and elasticizes for a firm, springy complexion.
I have officially created a "mask box" in my bathroom drawer where I keep a stash of masks on hand at all times. I'm thinking I will save this one for a special occasion…….maybe a Sunday evening, run a bath, pour a glass of wine, watch some reality shows and pamper my skin.
Hand Poured Soy Candle
"Down by the Bayou" is a soy based candle with black amber and plum notes.
We always receive a candle which is one of the features I LOVE about my Authentic Books boxes. Candles and books go together perfectly, and this one would also be great for my Sunday bath ritual.
Now I have the following for my Sunday bath – book, candle, face mask, and wine (supplied by me).
PS – The scent isn't something I would naturally gravitate towards but I'm actually really liking it. It's deep and musky.
Tea – Summertime Chai
The summertime chai breaks down all-weather barriers with its smooth spiciness.
I haven't been drinking tea as often as I used to but maybe that needs to change. I love a good chai…..maybe I will make this one into a latte.
Patchouli + Magnolia Leaf Sanitizer
Scented notes of: magnolia + earthed patchouli + lemongrass + tangerine + virginia pine. We love this scent: it gives a modernly muted clean and earthy take on traditional patchouli scent!
I am always happy to receive hand sanitizer. This is actually reminding me that I need to replenish my car essentials bag. And…..it smells SO good! But I am a huge fan of lemongrass so that comes as no surprise.
Down The Bayou Luxe Room & Linen Spray
Invite the scents of New Orleans into your home, office or vehicle with our Luxe Room and Linen Sprays.
Oh my goodness…….I sprayed this in my office (as I sit here writing the review) and I absolutely LOVE it! The notes/scents aren't listed on the label and I really wish they were because I would love to tell you what it smells like……..let's just put it this way….Down The Bayou is the perfect name!
Caramel Milk Craft Chocolate Bar
Tasting notes: caramel, milk, vanilla. Ingredients: organic cacao beans, organic cane sugar, organic cocoa butter, Canadian whole milk powder. Gluten free, ethically sourced.
Lastly we have a yummy little treat which rounds out the box nicely. The flavour is Caramel Milk and it's actually made in Calgary Alberta which is about an 8 hour drive from where I live. I LOVE that they included a Canadian company. I am going to look them up on Instagram ASAP!
Authentic Books Review January 2022 – Final Thoughts
I absolutely love the January Authentic Books! They did an amazing job and curated a collection of lovely products. I am excited to read the book and I am equally excited to use/test all of the products. I will put the sanitizer in my car, the linen spray beside my bed and I will save the other items for my Sunday bath ritual. Needles to say I can't wait for the weekend to get here!
-AYOB Sarah