Authentic Books Review July 2021
Authentic Books is a monthly subscription box service that brings together self care with an immersive book experience.
Boxes are full of quality goodies from small US-based artisans and boutiques that are not only connected to the book but focus on each of our five senses (sight, smell, taste, sound, touch). 5% of the profits from each box supports children's education. They kindly sent us this box for review.
I've shared Authentic Books over on our YouTube channel a couple of times over the last little while but this will be my first time sharing it on the blog. I'm actually quite excited about it because Authentic Books has become one of my new obsessions. I absolutely LOVE this book subscription box and I think you will too!
Subscription Details
Authentic Book subscribers have 3 options to choose from….
Mini Experience – A great starter membership that includes…..
Custom bookmark
Monthly booklet (discussion questions, book related recipes, interactive quizzes, and more)
Sight: Pick from two newly released hardcover books (or be surprised!)
Smell: Hand poured artisan candle
Sound: Custom music playlist
Heart: 5% of your membership will be donated to the Malala Fund
Full Experience – Everything in the Mini Experience plus….
Taste: Choice of tea or cocktail
Touch: Artisan made beauty/self-care item
Premium Experience – Everything in the mini experience plus….
2 Taste items: Choice of tea or cocktail AND chocolate
2 Touch items: Artisan made beauty/self-care items
Here's a closer look at the July Authentic Books. We are reviewing the premium experience.
For Your Own Good
USA Today bestselling author Samantha Downing with her latest sneaky thriller set at a prestigious private school – complete with interfering parents, overeager students, and one teacher who just wants to teach them all a lesson…..
Each month Authentic Books releases 2 books for subscribers to choose from. They always have a thriller/suspence option which is one of the reasons I LOVE this subscription so darn much!
I'm always drawn to books based around private schools, probably because I secretly wanted to go to one when I was growing up. I haven't started this one yet, but I have a feeling I am going to love it.
Honey Matcha Hand Cream
Intensive nourishing cream for noticeably smoother and luxurious hands, body and feet.
Pg. 87 – On this page one of the characters bends over and picks up a plastic bottle filled with something green…..probably tea.
Hand Poured Soy Candle
"Smells Like Teen…..Privilege" gives you the scent of juniper and cedar. A dangerous combination when in the wrong hands.
Pg. 77 – On this page one of the characters is in a garden taking photos of all the plants, weeds, bushes and trees. I'm thinking they aren't looking for something poisonous??
Cocktail Mixer
This authentically brewed whole-ingredient tonic, made with genuine cinchona bark, and rose petals, features a delicate floral layer.
Pg. 148 – On this page some of the teachers go out for drinks.
I've been holding on to all the cocktail mixes I have received in my Authentic Books as I hope to create a bar cart in our new house. I'm also holding on to all the cocktail recipes (see below).
Bath Milk
Pour our Green Tea & Cucumber Bubbling Milk Bath into your bath for relaxation, fluffy bubbles and a luxurious milk bath. This is a 1-2 time use product depending on how much water you use and/or how many bubbles you want.
Pg. 60 – On this page one of the characters is working with 3 test tubes and uses a green pen to write on them.
I'm not totally sure how this fits in with the book, but I'm sure I will find out once I start reading.
Handmade Soap
This Secret Garden Soap is made with olive oil, coconut oil, shea butter, lavender oil, rose petals and rosemary extract. Bath with this and you'll be transported to your very own deadly garden.
Pg. 77 – This is the page where one of the characters is taking photos of all the plants in the garden.
Salted Pistachio Dark Chocolate Bar
Salted Pistachio dark chocolate bar blends roasted jumbo pistachios into our signature dark chocolate, and is finished with a sprinkling of sea salt.
I have received a chocolate bar in all of my Authentic Book boxes to dates, and ALL of the flavours have been amazing!
Extras
A few little extra goodies we receive in every box….
bookmark
recipe
book cocktail
Spotify playlist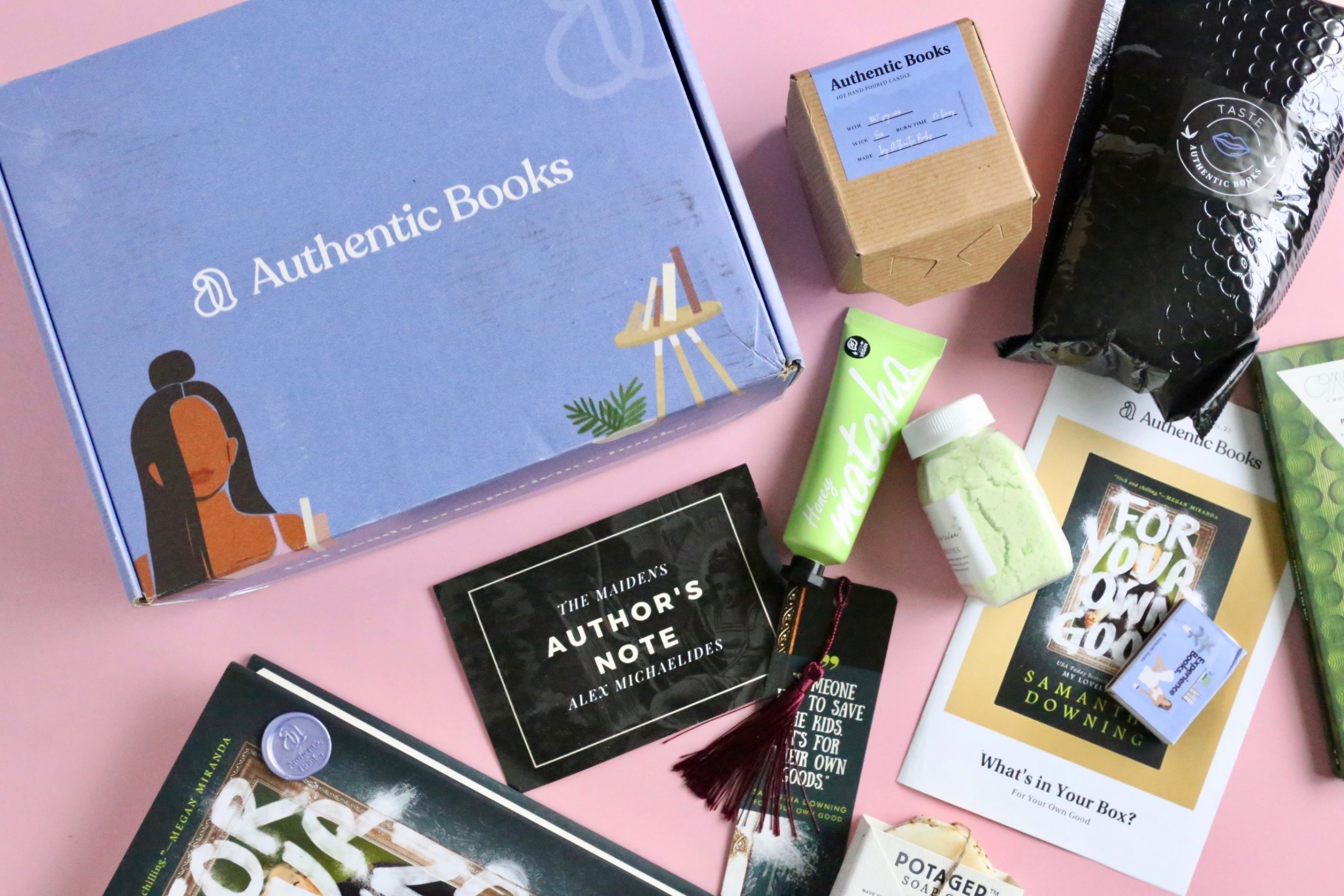 Authentic Books Review July 2021 – Final Thoughts
If you are in the market for a book subscription box you MUST check this one out. I have loved every single box to date and can safely say that Authentic Books is one of my favorite boxes to receive. Not only do they pick the best books, they also curate an amazing assortment of goodies to go along with the books. I can't say enough about this subscription and would recommend it ten times over.
-AYOB Sarah