Bath Blessing Box Review April 2019
Bath Blessing Box is a monthly surprise subscription box boasting luxury bath and body essentials. They feature and create artisan healthy and natural products for those who want to live a relaxation and renewed lifestyle. They kindly sent us this box for review.

Bath Blessing Box is a new discovery for me and I am SO excited about it. I LOVE natural bath products. In fact, I recently made myself a cute little box to hold all my favorite bath goodies. This way, when I feel like having a bath I can just open my bathroom cupboard, pull out the box, and grab one, or two, or three bath items I feel like using at that time.
Anywho……my April Bath Blessing Box is FULL of amazing little goodies….perfect for my bath box.
Subscription Details
When you sign up for a Bath Blessing Box subscription you have 2 options to choose from:
Sanctuary Bath Box: The deluxe Sanctuary Box is a premium collection of bath and body treasures. Each box will feature 5-8 items and will include:
one or more luxury bar soaps and/or body wash
one or more delicious body scrub, bath salt, bath soak, body butter or specialty item
one or more bath bomb/shower steamer
additional items can include bath inspired goodies and accessories
Babe Bath Box Sampler: The deluxe Babe Box is a smaller version of the Sanctuary Box. The same premium collection of bath and body treasures. Each box will feature 3-4 items and will include:
one or more luxury bar soaps and/or body wash
one or more bath bomb/shower steamer (you will get to tell us if you prefer just bath or just shower items)
additional items can include bath inspired goodies and accessories
Here's a closer look at the items I received in the April Bath Blessing Box…..
Ylang Apricot Orange Luxury Soap
Our Bath Blessing exclusive artisan soap will surely motivate you with this uplifting Ylang Ylang Apricot & a touch of Orange soap. Sweet Summer citrus with a touch a ylang ylang for a floral, citrus treat. The secret ingredients are ground apricot seeds for exfoliation & organic aloe for skin softening & smoothing.
I love, love, love artisan soap. I stopped purchasing regular soap over a year ago and will only use natural soap now that I know how much better it is. This one has a really love scent. It's the perfect mixture of energizing essential oils and fruit.
Silky Springtime Bath Bomb
Just add this delicious bath bomb to running water to release its silky Springtime therapeutic benefits. The delicate blend of essential oils, soothing sea salt, almond oil, and kaolin clay is a perfect bouquet to motivate relaxation. This bath bomb will leave you feeling silky smooth.
This is exactly the kind of item I wanted to add to my bath box. I like having a few bath bombs on hand at all times. This one is smaller than most of the bath bombs I use but it smells amazing.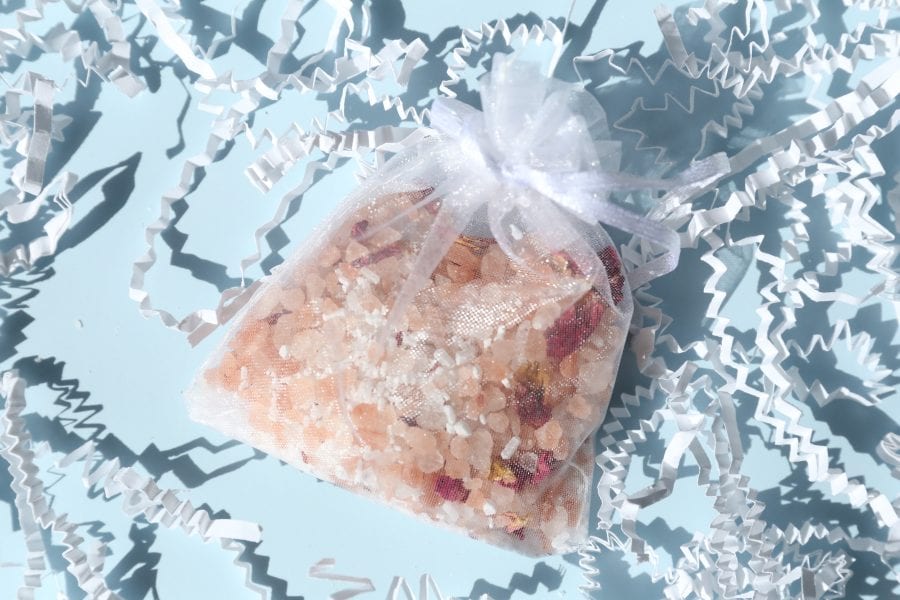 Salt Satchel
A glorious combination of sea salt, pink himalayan salt, essential oils, and touch of florals. This sweet sachet can be placed in the tub to steep like a tea bag, sprinkled in your bath water or used in the shower. To use in the shower, simply tie to the faucet and let the steam interact.
I don't typically use bath salts but I really love the idea of using this little satchel in the shower.
Grapefruit Ginger Cream Body Wash & Bubble Bath
A deluxe, cream body wash is the best of so many worlds. Emulsified like a lotion, it delivers intense moisture to your skin while washing off smooth. A little bit goes a long way. Scented with grapefruit and ginger, it is sweet and citrusy with just a tiny bit of bite.
I love citrus scents when it comes to bath products, especially for morning showers. And….I LOVE a good body wash. This one is already in my shower. It might be my favorite item in the April box.
Silent Night Salt Cake
This Epsom Salt Cake is called Silent Night because you will be so relaxed that you will rest well. Simply drop in the running bath water, sit back, relax and enjoy.
Such a great idea! I'm yet to receive a salt cake in any of my bath & body subscriptions. I will be saving this one for a weekend spa night.
Ooh LaLa Jasmine Crush Bath Truffle
This beautiful delight will create an abundance of bubbles that will lusciously love your skin with organic butters. It's a unique blend of sassy jasmine and lavender essential oils and infused with shea butter and cocoa butter to help retain your skin's natural sheen. Simply crumble the bath truffle under running water then relax in a bath of buttered jasmine bubbles to melt away anxiety away.
How good does this sound – buttered jasmine bubbles. This is another item that will be perfect for an evening bath.
Nourishing Body Oil
Moni's handmade, plant-based, nourishing body oil softens and moistens the skin with a nutrient-rich blend of hydrating grape seed, argan, pomegranate, and jojoba oils suitable for all skin types. Soak it up after a bath or shower.
Eeek! After the body wash, this is definitely my next favorite item. I LOVE a good body oil. I stopped using lotion a while ago as body oil provides so much more moisture for my skin. I was extremely happy to see this in the box.
4 Piece Deluxe Shower Steamer Set
Just drop one of these little steamers onto the floor of your shower and breather in these high-vibe essential oils. One step in the direction of self-care each day. The four delightful blends are: peppermint, lemongrass, lavender, and orange.
Lastly we have a wonderful little set of shower steamers. As much as I love bath bombs, I almost prefer shower steamers as I have a shower every day and only have baths every few weeks. If I had my way I would have a lifetime supply of shower steamers. I love them THAT much.
Bath Blessing Box Review April 2019 – Final Thoughts
I am SO in love with my April Bath Blessing Box. It's a new subscription for me, but I had a feeling I was going to love it and I was right. My April goodies arrived in the cutest box, complete with product card and the perfect amount of packaging to ensure nothing was damaged. As soon as I opened the box I could smell all the products inside and everything smells absolutely wonderful. I love the variety of items we received and if this is what we can expect to see in each Bath Blessing Box then I am officially one of their biggest fans.
-AYOB
Bath Blessing Box is the premier Spa Subscription box for Bath and Shower Lovers. Perfect for those who prioritize their selfcare or as gift subscription for those who deserve pampering!
Learn More about Bath Blessing Box »