Bath & Spa Gift Box Review July 2019
Bath & Spa Gift Box is the perfect subscription for collecting premium bath and body items for your self-care routine. Every month will feature a theme and will include specially hand crafted and curated items to make your box an exciting experience! This includes a different essential oil that will melt all the stress of the day away. They kindly sent me this box for review.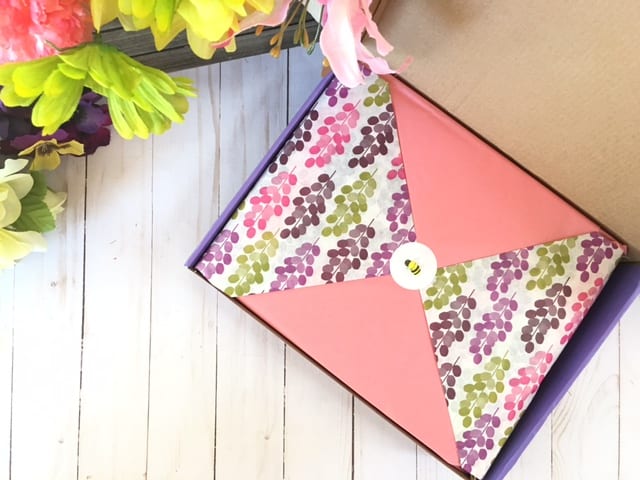 The July Bath & Spa Gift Box scent/theme does not disappoint. But first let's admire the gorgeous packaging they always provide for us. Colorful, creative and on par with the theme.
As we open it we find a bubble wrap sheet on top to protect the contents.
Since I received the July Bath & Spa Gift Box in advance, Deb emailed me the product card later but each box receives a two sheet pamphlet and a new feature, as of last month, is product pictures and a section with information about the highlighted elements of the box. In this case, we can read a bit about the benefits of oatmeal and honey.
Glycerin Soap Bar
This soap bar is a work of art. It is honeycombed shape and it has a pretty flower on top, and it smells amazing. It has honey powder and oatmeal.
Bath Bomb/Shower Steamer
Both box types will receive this cute and delicious scented flower bath bomb/fizzy. The scent is honey and it includes oatmeal and honey powder.
Guest Soaps
4 flower shaped soaps to brighten anyone's day! Or your day, you decide. Scented with Michael Kors for women, they're delicious and extremely adorable.
Bath Bombs
The luxury box will receive one of the two bath bombs and the deluxe will receive both. These smell divine. One is wrapped with green foil and the scent is magnolia. Inside is a lighter color of green. The other Bath bomb is wrapped in yellow foil and the fragrance is Apple Blossom. This one is only included in the deluxe box.
Candle
I always love the candles included in this box. The owner chooses the scents so well, they're soft and at the same time they're not too particular that some people will dislike it.
Bubble Bath
The luxury box will get 5 oz of this delicious bubble bath scented with "ice tea with a twist" and the deluxe will get 12 oz. I was so looking forward to more bubble bath because Bath & Spa Gift Box does make the best bubbles! Silky and smooth! This one looks like it has golden specks in it.
Body Lotion
Scented with "ice tea with a twist" as well, we get a 5 oz or 12 oz body lotion. Luxurious and aromatic, this lotion is perfect for after the pool or beach!
Sweet Treat
This time we received 2 Milano sandwich cookies and my kids were fighting for them as soon as they saw them. I had to hide them from those two!
Bath & Spa Gift Box Review July 2019 – Final Thoughts
I love how the July Bath & Spa Gift Box theme came together in this month's box and how the fragrances were different for each item, allowing us to experiment and try different scents. I'm excited about the "iced tea with a twist". I better make some in advance for when I prepare my bubble bath!
Everything looks, smells and feels amazing, as it usually is with Bath & Spa Gift Box.
Explore.
Save.
Enjoy!
Sign up for a free account on A Year of Boxes to receive exclusive offers, be added to our monthly mailing list, and much more! We are always adding features to improve the experience for our users, from their valuable feedback!
Join Today!