Bath & Spa Gift Box Review March 2019
I have probably said this a million times, but Bath & Spa Gift Box is one of my favorite subscription boxes and I look forward to it (anxiously) every month.
I currently don't subscribe to any other self care subscription boxes and I wouldn't anyway, because Bath & Spa Gift Box brings everything I need for a full month of pampering.
March didn't disappoint and brought all the fun and colors of Mardi Gras, even beads! Whether you're planning on going out to celebrate or staying inside for a night in, this box has what you need for a nice relaxing time.
The box comes packed in an outer plastic mailer and inside this month was a stunning purple color.
Inside it always comes packed beautifully, with love and care. On top we have our product card, a spoiler theme card for the following month, a thank you note from the owner Deb Key and her business card with contact information.
The items inside exude beauty and love and you can smell them as soon as you open the box. This month we received six premium self-care items featuring sunflower and coconut oil and vitamin E oil (great for retinol and elasticity) and the fragrances are cotton candy, mango tango and bubble gum.
Let's get into them:
Fleur de Lis honey Glycerin Soap
This is a three layer premium glycerin soap that smells of delicious cotton candy. The top is a shimmery gold and the bottom two layers are purple and green.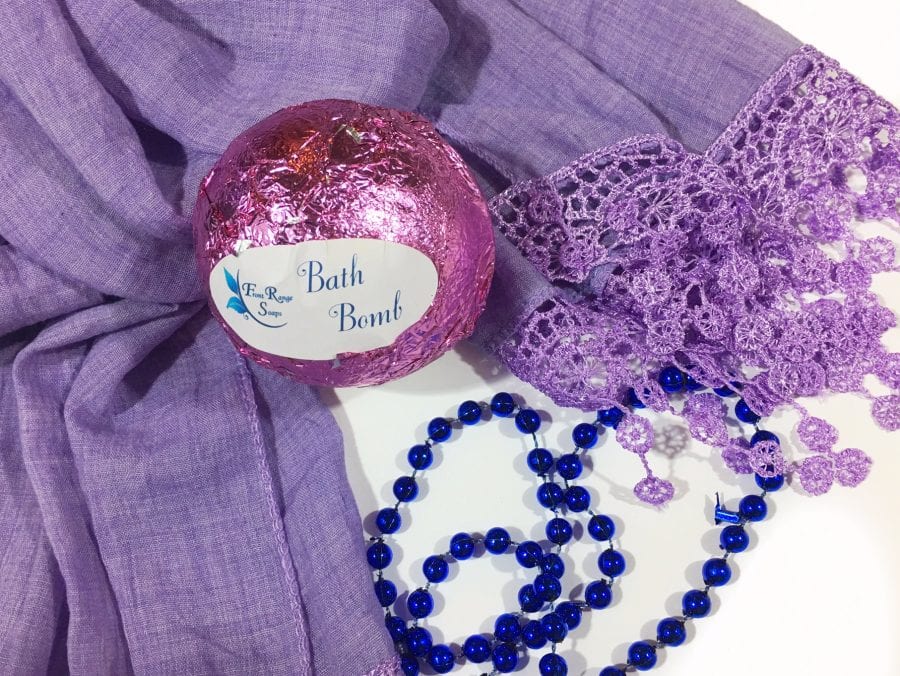 Large Bath Bomb
This large (gigantic) bath bomb is two colors and it smells truly like bubble gum, super fun! I absolutely love the different color foils that Deb wraps the bath bombs each month, it makes it extra special. The colors were yellow and green. Can't wait to see how it shows in my bath tub!
Regular Size Bath Bomb
This was the size of your regular bath bomb and the scent was cotton candy. I peeked and saw a minty green color. Smelled divine.
Moisturizing Sugar Scrub and Scoop
This, needless to say smelled incredible. Made without chemicals and it came with a spoon to scoop it out. There was a note saying that because it's all natural, it might become firm with time, and that we'd only need to put it in the microwave for 10 seconds.
The ingredients listed were coconut oil, pure cane sugar, sunflower oil and fragrance oil, this being cotton candy. We received a bigger size than normal.
Nourishing Skin Care Cream
This was a larger than usual size, the same for the scrub, and it smelled like mango tango. Ahhh-mazing.
Scented Candle
Last but not least, we got a beautiful looking and smelling candle. It's all white, and it smells like white jasmine and mint. Very delicate looking to be able to be placed anywhere in the home and soft scent as well.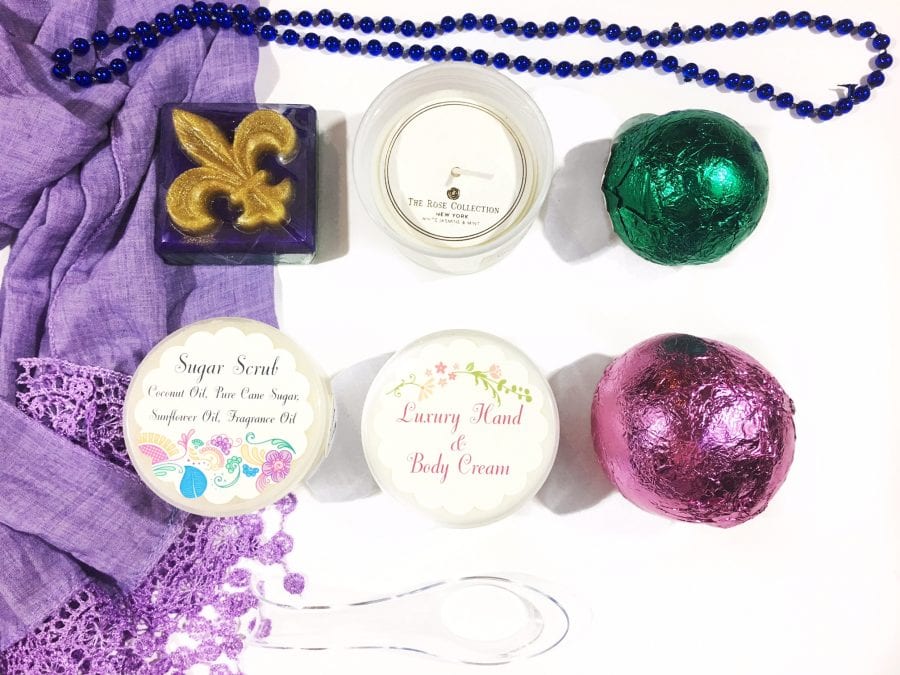 Here are all the Bath & Spa Gift Box products we received. The scents this month are delicious and the oils used to make these goodies are perfect to keep our skin hydrated and help with elasticity while we say goodbye (hopefully) to the cold weather and say hello to warmer days.
As usual Bath & Spa Gift Box provides an array of fun, nourishing products to make "me time" a blissful relaxing time.
Lucia Metcalf – http://laughingwithoutanaccent.blogspot.com