Bath & Spa Gift Box Review September 2019
It was the September 2018 box that Sarah unboxed on the A Year Of Boxes channel that introduced me to Bath & Spa Gift Box for the first time. My first box was the following one, the October fun Halloween themed one.
I have been getting Bath & Spa Gift Box for almost a year and it's absolutely one of my favorite monthly subscription boxes! I look forward to it, it is always divine in quality and scents and products and it never disappoints.
This is the September 2019 Deluxe Bath & Spa Gift Box review and I am so excited to share it with you. The theme is Succulents and Cactus, with all the benefits and aromas of the natural ingredients from Aloe Vera and the Yucca plant.
They offer two options for you to chose from: a Luxury Box with 5-7 premium bath and skin care items for $26.61 and the Deluxe Box that includes the same items as the Luxury Box plus 2-3 more or more quantity of the ones included for $36.61 plus shipping.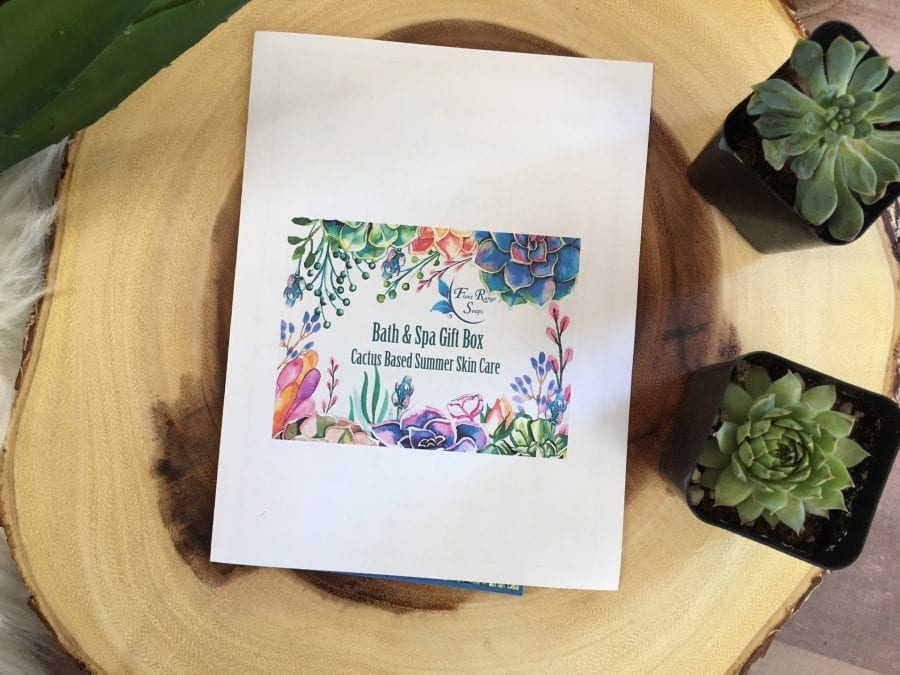 I probably sound completely redundant but I never cease to be amazed by the impeccable and mesmerizing packaging. Always on point. Inside the box we get a two leaf product pamphlet with information and product photos as well as information about the theme chosen and benefits of it. In this case, the beauty benefits that come from succulent plants.
When we open the box there's a bubble sheet to protect all the items and it's all tucked inside paper squiggles.
As soon as you open the box you can start smelling the heavenly scents. This is what I received in my September 2019 Bath & Spa Gift Box:
Glycerin Soaps – Set of 3
There adorable succulent shaped soaps come in two sizes: one bigger and two smaller ones with shimmer on top and smelling of lemon grass essential oil. Perfect for your guest bathroom or just to treat yourself.
Bath Bombs/Shower Steamers (2)
One of my favorite products to receive from this box is their bath bombs. You can use them as shower steamers if you don't have a bath tub which I know is a plus for many. These two came wrapped up in green and light blue foil and their scents are lemon grass mint essential oil and ginger lime. 5 oz each!
2 Cacti Shaped Bath Bombs/Shower Steamers
These set of 2 adorable cactus shaped bath fizzies are 3 oz each and contain essential oil and fragrance oil lemon ginger mint.
Face Mask
So excited to receive this skin care product. This is the first time I've gotten a face mask, which should tell you about the variety of products you can get in this box. This is a powder face mask that you mix with water. It contains Aloe Vera and it's a Cool Cucumber scent.
Revitalizing Face Cream
Also in cool cucumber, which I love, this luxurious and moisturizing face cream is perfect for this season. It contains Shea Oil and Vitamin E which helps with elasticity.
Headband
I love getting these in boxes especially when we're given a face mask. I tend to misplace my hair band and this comes in handy to pull away my hair and do my face treatments.
Bubble Bath
I am guessing this bottle contains 12 oz of bubble bath in ginger lime. Their bubble baths are a favorite of mine and they truly make silky and fluffy bubbles!
Scented Candle
I love the scented candle this month and I have to say, not to be repetitive, I love the candle choice every single month. The scents are delicious and the jars they come in are adorable. I love the jar this month, the candle color and the scent is Magnolia Amber Leaf which is super yummy and unique.
Sweet Treat
We get a sweet treat in every single box and I always look forward to them. This month is a first for me, I've never heard of or seen this one, but I am so excited to try it! It's peanut butter wafer cookies covered in chocolate, enough said!
September 2019 Bath & Spa Gift Box – Final Thoughts
What can I say that I haven't said before? You know I get Bath & Spa Gift Box for review but before that I subscribed and paid for it myself, so trust me when I tell you, it's an amazing subscription! It's the ultimate pampering box, filled with quality items you'll use to treat yourself and turn every day stress into every day bliss!
Explore.
Save.
Enjoy!
Sign up for a free account on A Year of Boxes to receive exclusive offers, be added to our monthly mailing list, and much more! We are always adding features to improve the experience for our users, from their valuable feedback!
Join Today!