Bean Box Review June 2020
A Bean Box coffee subscription is a tour of the world's best coffees, delivered fresh from Seattle and Portland's top coffee roasters. Get started by choosing your subscription type, roast preference, and payment plan. Always FREE shipping. They kindly sent us this box for review.
Coffee subscriptions are a must-have for any coffee lover. Whether you enjoy one cup a day or 5, having your coffee delivered straight to your door is both a convenience and a luxury. Not sure what kind of coffee you like? Are you a medium roast lover? Maybe you enjoy a good decaf? Whatever the situation may be….Bean Box has an option for you. We love the Bean Box sampler as it provides us with 4 different roasts each month and lets us taste a variety of coffee from all different roasters.
Subscription Details
Bean Box has a couple subscription options to choose from, in addition to some really great gift boxes.
The Bean Box Sampler ($24 per month: Includes 4 – 1.8 oz bags of coffee (totaling to 7.2 oz), which brews 16-24 cups of coffee.
choose whole bean or ground
choose medium, light, or dark roast, or a mixture
The Coffee of the Month ($26 per month): Includes a 12 oz bag of coffee, which brews 24-36 cups of coffee, and can be delivered every month, every two weeks, or every week.
choose medium, light, or dark roast, decaf or espresso
Here's a peek at our June Bean Box Coffee Sampler…..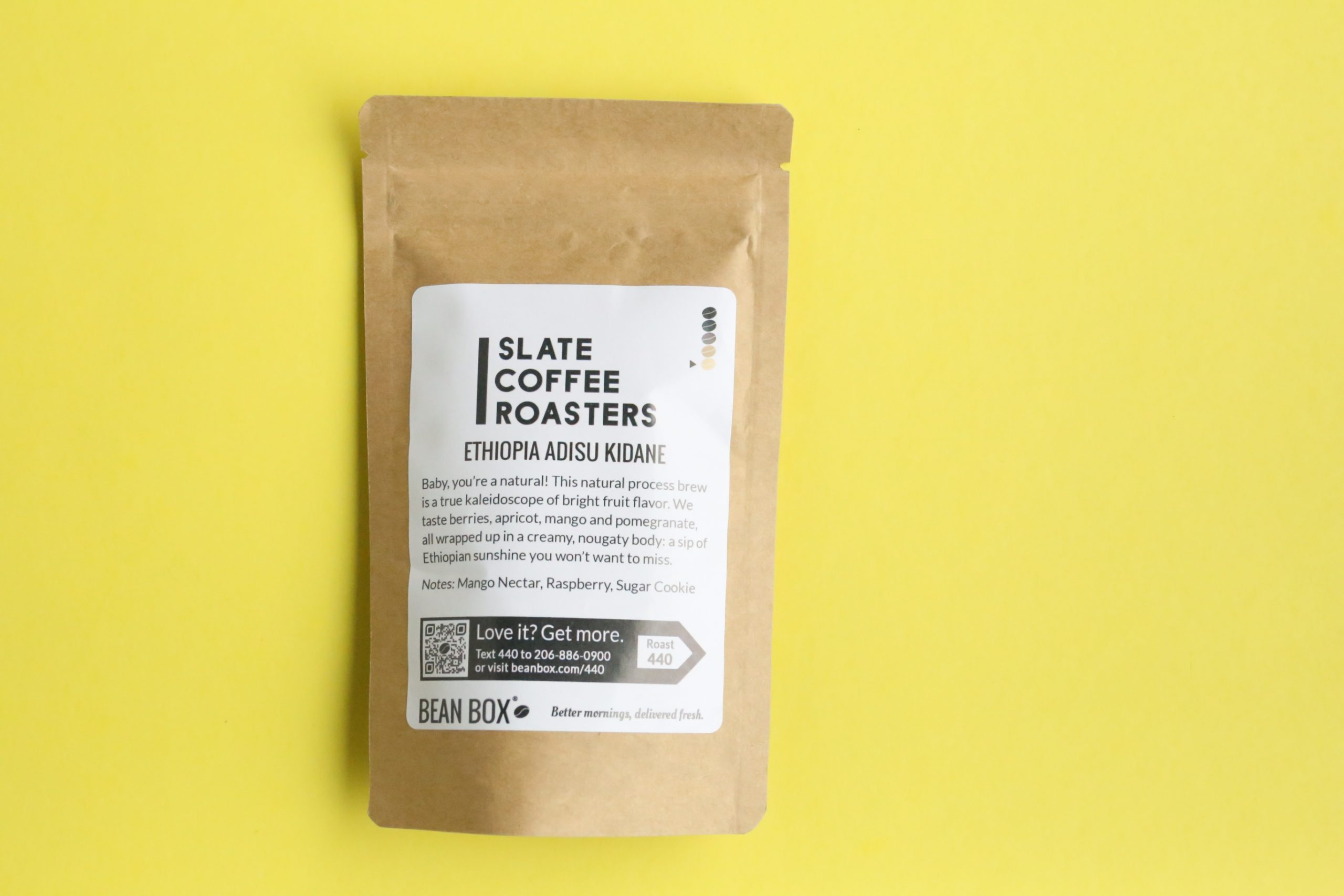 Slate Coffee Roasters Ethiopia Adisu Kidane
Baby, you're a natural! This natural process brew is a true kaleidoscope of bright fruit flavour. We taste berries, apricot, mango and pomegranate, all wrapped up in a creamy, nougat body. A sip of Ethiopian sunshine you won't want to miss.
Notes: Mango, Nectar, Raspberry, Sugar Cookie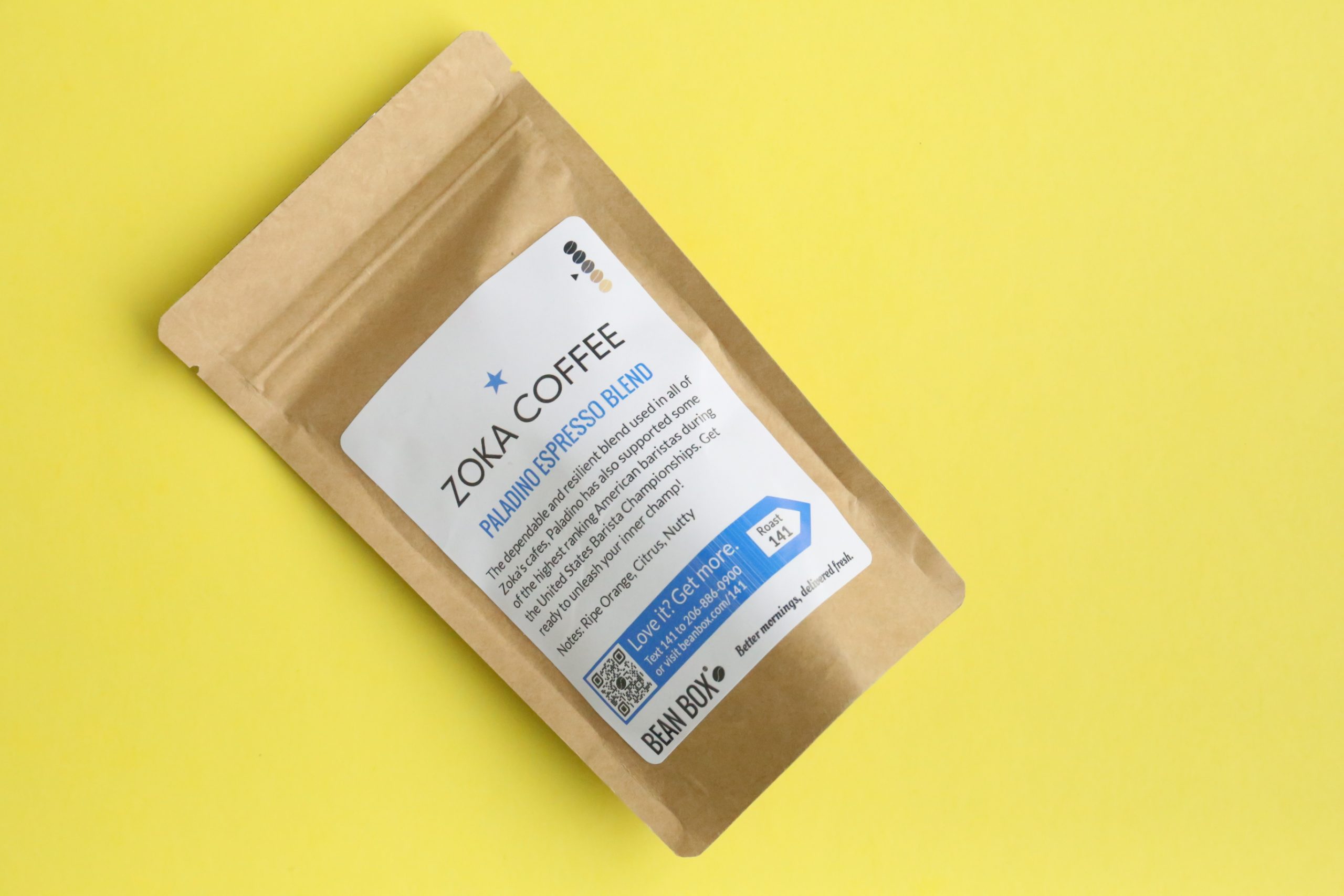 Zoka Coffee Paladino Espresso Blend
The dependable and resilient blend used in all of Zoka's cafes. Paladino has also supported some of the highest ranking American baristas during the United States Barista Championships. Get ready to unleash your inner champ!
Notes: Ripe Orange, Citrus, Nutty
True North Columbia Narino Chavez
Narino, one of Columbia's top growing regions, produces some of the highest-grown coffees in the world. No wonder this cup is so uplifting! The body is rich and smooth, like vanilla caramels, and a hint of ruby red grapefruit sparkles in the finish.
Notes: Caramel, Apricot, Grapefruit, Vanilla
Fundamental Coffee Sulawesi Toraja Triple-Picked
Sulawesi Coffee is a rare origin, unknown but to the most fervent of Indonesia coffee fans. High-grown and distinctive, Sulawesi brings the same savoury, spicy flavours as other Indonesians, but with an exceptionally light, creamy body. 
Notes: Green Pepper, Floral, Pipe Tobacco
Bean Box Review June 2020 – Final Thoughts
Another great mixture of coffee for us to try from a great group of roasters. As with our previous Bean Box Sampler we received a variety of roasts – from light, to medium, to dark. The coffee descriptions make it easy to distinguish which ones to try first as we can quickly scan the notes and determine the best fit……this month we will definitely be trying the Columbia Narino Chavez first because who doesn't like the sound of Caramel, Apricot, Grapefruit, Vanilla?! Now excuse us while we get the coffee maker programmed for tomorrow morning's brew……we can't wait!
-AYOB
Explore.
Save.
Enjoy!
Sign up for a free account on A Year of Boxes to receive exclusive offers, be added to our monthly mailing list, and much more! We are always adding features to improve the experience for our users, from their valuable feedback!
Join Today!