Beauty Box 5 Review June 2016
Beauty Box 5 Review June 2016
Beauty Box 5 Review June 2016 – Believe it or not, I don't actually receive that many makeup boxes. I receive a lot of lifestyle boxes, and other random boxes, but not as many makeup subscriptions as I use to. Or maybe I never really did? I no longer review Birchbox, I just started subscribing to Ipsy again, and I receive some great natural beauty boxes, but no other regular ol' beauty boxes. I think that is why I'm so happy to be reviewing BB5 again…….I missed it!
Beauty Box 5 Details
If you aren't familiar with Beauty Box 5 it is a subscription-based, beauty sampling service that delivers 5 deluxe samples and full-sized products right to your door every month. This box was provided complimentary for review and may include affiliate links.
Box: Beauty Box 5
Cost: $12 per month ($30 for 3 months or $99 for 1 year)
What You Get: Sign up for a subscription with us and we'll deliver a surprising mix of 5 pretty cosmetic samples and full-sizes in an adorable box straight to your mailbox monthly.
Ships to: Canada & US
Shipping Cost: FREE to US & $3 to Canada
Shipping Details
I always receive my Beauty Box 5 a little late. Today we are looking at the June box and it is already July. So, I had a look at their FAQ page and found this "Canadian boxes are shipped via USPS to the Canada Post and should arrive within 2-3 weeks of ordering". This makes me think they ship boxes towards the end of the month which would be why I receive mine the following month.
The June 2016 Beauty Box 5 theme was "Made in the Shade" and included the following items:
Prestige Cosmetics Brow & Lash Brush
Finish off your perfect brow and lash look with the Prestige Brow & Lash Brush. Perfectly designed to give you total control of your finished look, the Prestige Brow & Lash Brush smoothes and separates hairs for a totally defined, flawless look. Finish off your look right with grooming products from Prestige.
You don't know how many times I've needed a lash brush, and I always forget to purchase one. I also find that my brows need a little love sometimes. They get a little out of hand so I'm actually really excited to have a brush for them.
Sweep Oval Contour & Highlight Brush
Use this perfectly-sized oval head to gently dust on highlight and precisely place bronzer or blush around your cheekbones. We also love it for buffing liquid foundation into the skin! This tool makes blending, shading and perfecting your makeup a breeze!
I love that they included a brush for the highlighter/bronzer combo. It's nice to have the proper tools to apply the new makeup you receive.
Manna Kadar Bronzer & Highlighter
Create a sun-kissed glow with our Radiance Bronzer and Highlighter Duo. This 3-in-1 product in a universal shade can be used as a bronzer, highlighter, or eyeshadow.
I have received this in 2 other boxes this month but that's not a bad thing. I'm sure most BB5 subscribers don't receive as many boxes as I do, so it won't be a repeat item for them. I love the idea of using it as a shadow. I don't use bronzer or highlighter, so shadow it is.
Versaspa Gradual Tanning Moisturizer
VersaSpa Gradual Tanning Face Moisturizer instantly hydrates skin, blurs fine lines and creates a beautiful tan. This weightless blend immediately restores skin to a silky and renewed feel while developing a glow.
I make an effort to stay out of the sun, and believe it or not, I actually prefer it when I don't have a tan. I know that sounds weird, but its true. I will gift this to my friend who uses self tanner on a regular basis, she will love it!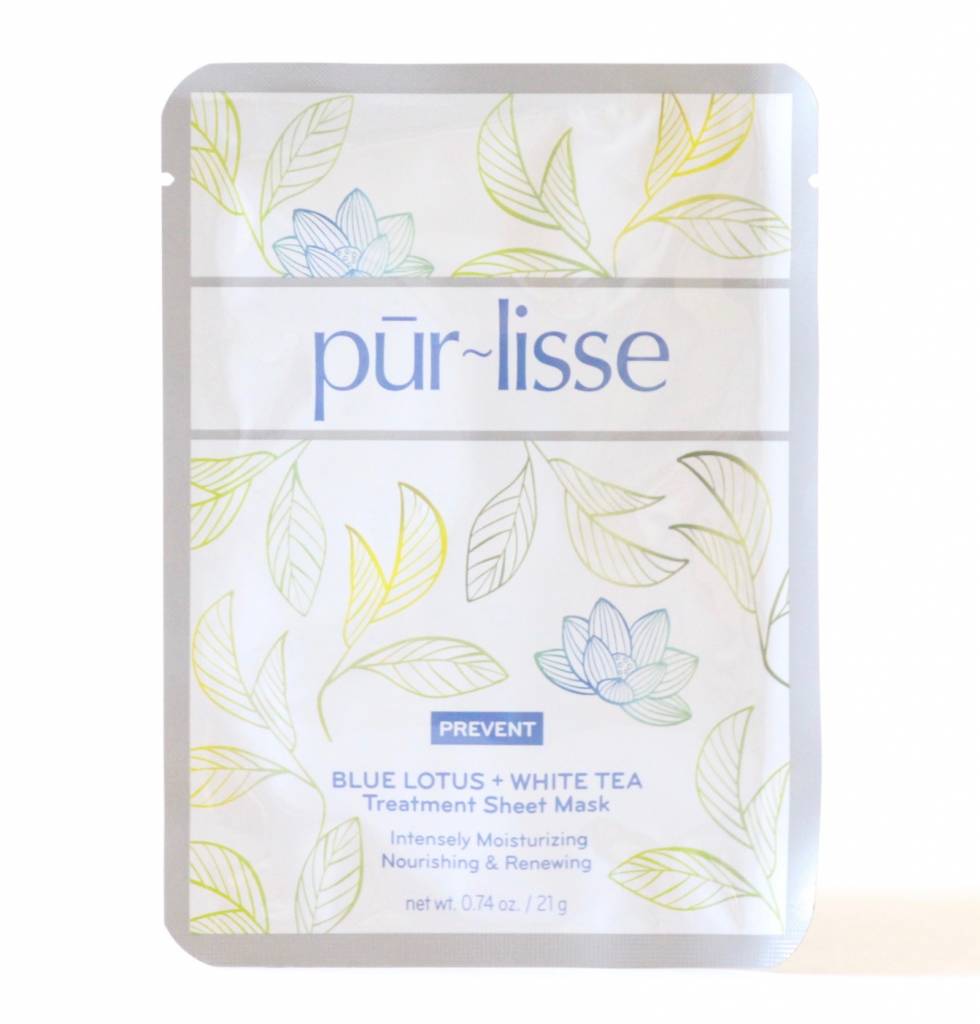 Pur-Lisse Blue Lotus Treatment Sheet Mask
This natural fiber mask infused with Blue Lotus, Seaweed and restorative Asian botanicals delivers antioxidants and minerals to your skin.  This power blend fights soothes & nourishes while White Mulberry brightens and Anise fruit provides continuous moisture, leaving skin healthy, beautiful and radiant. 
This is wonderful! I have received a TON of Pur-Lisse products over the last couple years, but never a sheet mask. I use to always receive their face cream or face wash, so it's really nice to see some new products. I received their BB Cream in another box recently and actually really love it. I'm starting to appreciate this brand more and more….
PS – New subscribers receive a fun little bonus in their first box!
Beauty Box 5 Review June 2016 – Final Thoughts
I feel like BB5 is stepping up their game, and I love it. This was one of the first boxes I subscribed to, so I will always have an appreciation for it. But at the same time, I feel like they went through a bit of a slump about a year ago. This month's box contained some great brands, and useful tools, four of which I will be keeping for myself. They have a really great subscription model so I'm really happy to see them back on track. I've heard that a lot of people are unhappy with Birchbox right now. BB5 would be a really great option for those looking to make a switch.
XOXO
Explore.
Save.
Enjoy!
Sign up for a free account on A Year of Boxes to receive exclusive offers, be added to our monthly mailing list, and much more! We are always adding features to improve the experience for our users, from their valuable feedback!
Join Today!