The Big Oh! Box Review July 2016 – ADULT Subscription Box
The Big Oh! Box Review July 2016
The Big Oh! Box Review July 2016 – So I have to be honest. I didn't really want to admit this to you guys, but I figured you should know. I love reviewing Adult Subscription Boxes! I use to be a little hesitant when it came to unboxing adult subscriptions, but now I just don't care. Sex toys are the PERFECT item to receive in a subscription box, more so than any other product out there. They show up in a discreet box, and you don't have to go to the store and purchase them. It makes total sense. And I love it!
The Big Oh! Box Details
If you aren't familiar with The Big O! Box it is a quarterly subscription box for quality adult products organized around a theme for you or you and a playmate to enjoy. Each box will contain the necessary tools needed to get down and dirty and then clean again. From self satisfaction, partner play, BDSM & many other pleasures…
The Box: The Big Oh! Box
Cost:
Quarterly Box – $109 per quarter
Monthly Box – $59 per month
Sample Box – $39 per month
What You Get:
Quarterly Box – 6-10 items that will help you explore new ways to play.
Monthly Box – 3-7 items
Sample Box – 2-3 items
More Details: With the Quarterly Box and the Monthly Box you can choose from 2 different options:
With Oh! Friend designed with you and your partner in mind.
Sol-Oh box will include top tier brands toys such as Jopen, Jimmy Jane, We-Vibe, and more!
Ships to: US & Canada
Shipping Cos: Free to US, 14.99-24.99 (depending on package size) to Canada
Coupon Code: Use code "AYEAR2016" to save 20% off of your first quarters subscription – CLICK HERE
The Big Oh! Box Update
This will be my third review for The Big Oh! Box, and I have to say, it is by far my favourite adult subscription box. I've reviewed a few others in my day, and they just don't compare. I should also point out that The Big Oh! has made some changes to their box offering. I have all the details listed above, but basically they now have 3 subscription options for you to choose from, and with two of those options you can narrow it down even more and choose from two different box styles – Sol-Oh & With Oh! Friend. Basically they have something for everyone. And it doesn't stop there! You can further customize your box by choosing from the following options at checkout – vibrator, dual stimulation, male stroker & back door. These guys know what they are doing, and they have all their bases covered – literally.
Today I am reviewing the Quarterly With Oh! Friend box. It is available until the end if September and a new one will be offered as of October 1st. And the fun thing about the Summer box is that all the items can be used together, or on their own……..let the fun begin!
Gossip Serena Something to Talk About Dual Stimulation Vibrator
This powerful, multi-function vibrator has 7 Gossip worthy modes of vibration and pulsation. It feels deliciously smooth in SiliconeSilk with LushTouch finish. And it is waterproof for fun in or out of the shower. 
This whole dual stimulation thing is still kind of new to me. But that's what I love about this box. You get to try new things.
Classic Erotica Crazy Girl After Dark Red Cheeks Spank Me Kit
Use the Crazy Girl After Dark Red Cheeks Spank Me Kit to heat things up and cool them down for an all-encompassing sensory experience. Red Cheeks Spank Me Creme with Pheromones can be used to allure, entice and prime the skin while the Cool Down Mist calms and soothes tender skin. A proprietary blend of cucumber, chamomile, green tea and aloe vera eases tenderness while the Cooling Nightshade scent adds a light scent of botanicals to enhance the mood.
I'm also kind of new to this whole pheromone thing and am really intrigued by it. Both products have a really unique smell, which I actually kind of like. I love that it is a kit and that both items can be used together.
SportSheets Door Jam Cuffs
Turn your door into a bondage playground! No installation required. Slip the straps over the door and close the door. Slide cuffs on top of the door for wrists or under the door for ankles.
Ok, this is very fun. I've never received a product like this in any of my adult boxes, and how is it that they make door jam cuffs look so sexy?
Sex & Mischief Riding Crop
Lightweight and petite, this crop is great for first time players or for S&M-ers on the go. With a firm vinyl surface for impact, the Sex & Mischief crop provides a pleasant slap that won't overwhelm a nervous beginner. As a bonus, it slips easily into a messenger bag or even a large purse, making it a perfect for a tryst at your partner's place.
I'm totally laughing at the fact that they tell you to carry this in your purse. When I first read that statement I wasn't thinking about taking it to your partner's place, I envisioned whipping it out in an elevator, parkade, etc…….still laughing.
SportSheets Pleasure Feather Body Tickler
A petite and completely gorgeous tickly, teasing sensual accessory from Sportsheets, the Pleasure Feather Tickler is an ultra soft way to thrill your lover. There are countless ways you could make use of the Tickler, try pairing it with a blindfold and lightly dragging the silky feather over the object of your desire's skin as foreplay, the whisper soft touch will ignite nerve endings as it sets the mood for pleasure to come. 
Smack your partner's butt with the crop then tickle them with the feathers……..naughty and nice…..sugar and spice. Love this little combo.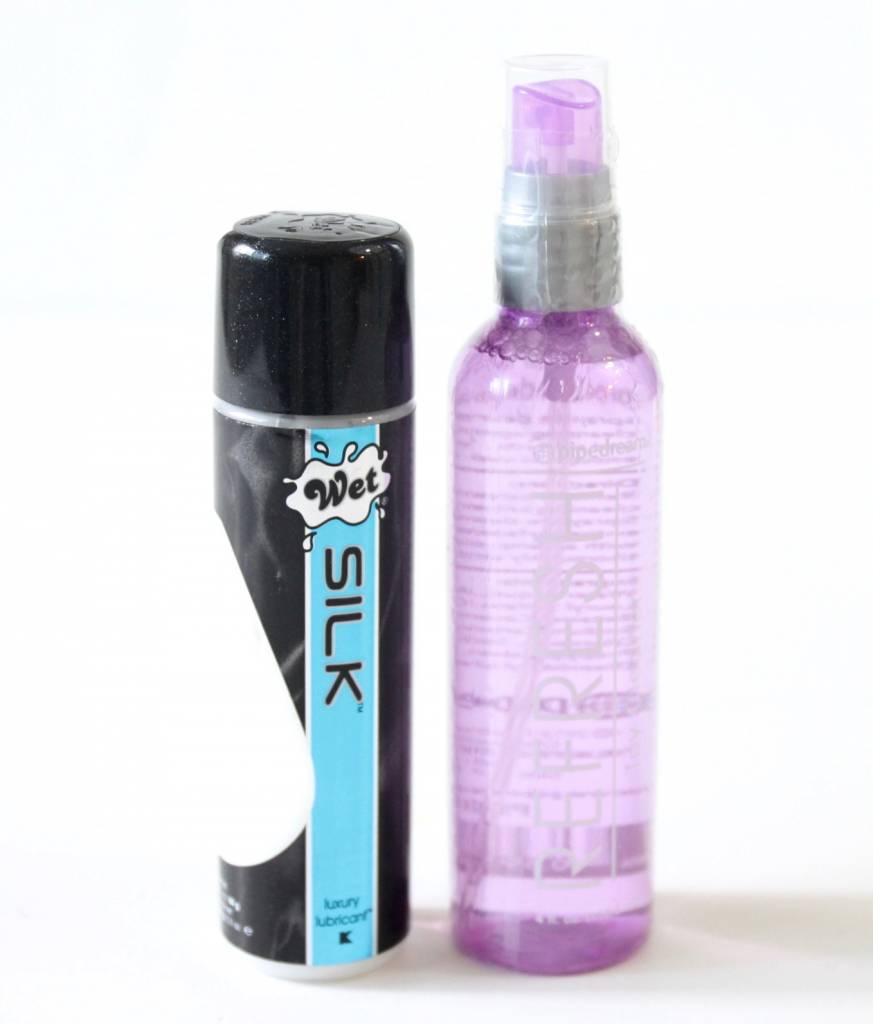 Wet Silk Lubricant
This formula is a favorite for those who prefer a silky, creamy lubricant. Wet® Silk™ is formulated to be ultra moisturizing and provide long lasting lubrication that stays silky to the end. It dries to a powdery soft finish. Kosher!
I have received lubricant in all 3 of my Big Oh! boxes. It appears as though this is a regularly occurring item and that is more than ok with me. I think it is an essential product for Adult boxes.
Pipedream Refresh Toy Cleaner
Keep your favorite pleasure products clean and safe with this antibacterial spray-on cleanser. Our unique cleansing agent gently cleans and disinfects surface bacteria, yet its mild enough to use every time. Directions: Remove batteries before cleaning battery operated toys. Spray the cleaner over the entire surface area, then wipe with a damp cloth. Rinse thoroughly and dry.
JO Personal Cleansing Wipes- Simply Clean (30-Pack)
New and improved! JO® PERSONAL CLEANSING WIPES boast a formula that is both gentle and versatile. Ideal for intimate use prior and post intimacy as well as daily hygiene needs like make-up removal.
This is another item I would be happy to receive in every box, and so far I have. I carry wipes with me everywhere so it only makes sense that I have "sexy time" wipes in my nightstand at all times.
The Big Oh! Box Review July 2016 – Final Thoughts
I always feel a little weird when I review adult subscription boxes, but I really need to get over that insecurity. It's pretty awesome that I get to review/test out adult toys, and even though most people won't admit it, I bet they are pretty darn jealous right now. The Big Oh! Box is definitely the best adult subscription box on the market. I have loved all 3 boxes I've received. They put together a classy box, and it always looks pretty, what more can I ask for.
Take all the items from your Summer Big Oh! Box and create a little fantasy night for you and your partner. I LOVE that you can put them all to use in one evening, and that you can also use them on their own. This is a pretty genius little idea on their part, and I hope they do more boxes like this.
XOXO
Explore.
Save.
Enjoy!
Sign up for a free account on A Year of Boxes to receive exclusive offers, be added to our monthly mailing list, and much more! We are always adding features to improve the experience for our users, from their valuable feedback!
Join Today!