Bokksu Review July 2017
Bokksu is a premium subscription service for people to discover delicious snacks and teas from all over Japan. Having lived in and snacked through Japan, Founder Danny Taing curates a gourmet box for subscribers every month filled with authentic Japanese snacks and tea pairings. They kindly sent us this box for review.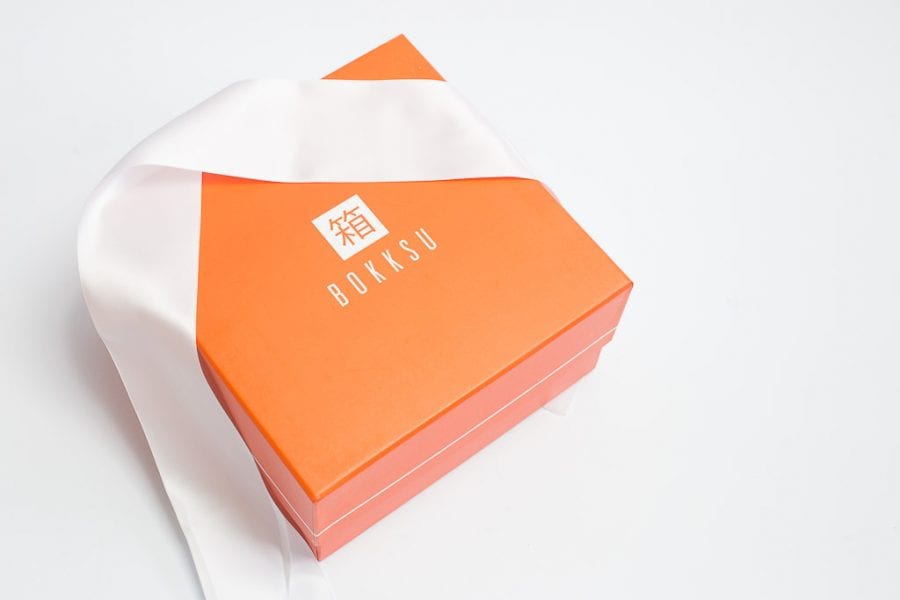 July Theme – Tropical Okinawa
Located south of mainland Japan, Okinawa Prefecture is make up of over 100 islands and is home to around 130 beaches.  From the breathtaking Emerald Beach to the sparkling Nishihara Kira Kira Beach, Okinawa has some of the most beautiful beaches in the world.  And with traditional icons like Shisa, Okinawa is also a wonderful sightseeing destination for culture and arts.  Most importantly, Okinawa is known for producing rare delicacies such as kokuto and pineapples, both of which we've prominently featured in this months' Bokksu.  Kokuto has achieved a strong following due to its distinct, complex flavour and many health benefits.  The Okinawan Pineapple is so famous in Japan that there is even a dedicated pineapple park where you can watch them grow!  Get ready for a gourmet adventure to "Tropical Okinawa", where you'll experience the vibrant flavours and colourful traditions of Japan's most beautiful islands.
This is a consistent review for us and every month we just love it!  It's been a couple of months since I've had Bokksu in my hands, but I can tell you right now I feel just as charmed right now as I did the first month I received it!  Let's take a look at Tropical Okinawa!
Mugicha Barley Tea
Mugicha is synonymous with Summer in Japan!  Usually served cold, this refreshing tea has perfect nutty notes and is caffeine-free, which makes it a great replacement for coffee due to its similar toasty flavour!
Brown Sugar Okinawa Chinsuko
Chinsuko is one of Okinawa's most famous confections and is a wildly popular souvenir.  Reminiscent of the shortbread, this traditional Okinawan biscuit is perfectly crumbly and has a rich, deep flavour from the added kokuto.
Okinawa Salt Cheese Cookie
With savoury notes brought out by the premium Okinawan salt, this cheese cookie melts in your mouth the moment you bite into it!
Okinawa Soba
These savoury, deep-fried soba noodles tossed in Okinawan red pepper are deliciously addictive and pair well with a cold drink like mugicha!  Its crunchy texture and tantalizing flavour will make it your go-to snack for the summer!
Anly's Chura Shich (Brown Sugar & Rum Raisin)
This surprisingly fragrant sandwich cookie is full of creamy kokuto filling and chewy rum raisin, which makes it an ideal treat for snacking!
Beni Imo Milk Manju
Manju is a traditional Japanese confection made with flour, rice powder, and buckwheat.  Instead of the classic red bean paste, this delectable treat has a beni imo (Purple yam native to Okinawa) filling and is a fun purple delight!
Brown Sugar Karinto Doughnuts
With the shape and feel of Karinto (sweet, deep-fried dough), this stick doughnut is coated with Okinawa's famous Kokuto.  Enjoy the tasty combination of crunchiness and softness!
Pineapple Stick Cake
Only in season from June to August, this soft and spongy stick cake is a twist on regular cakes due to the sweet aroma and tiny bits of delicious Okinawan pineapples!
Pineapple Batake
This Okinawan cookie is so delightfully soft and chewy!  Take a bite and enjoy its filling made from sun-soaked pineapples grown in Okinawa.
Bokksu July 2017 – Final Thoughts
Ahh!  What a cute theme!  Can you call food cute?  Well, I just did.  I loved this box.  I loved its size, shape and contents.  The theme was so great and I actually feel like I know more about Japan and Okinawa after going through this box.  A lot of these treats and the tea are of real interest to me and I'm actually looking forward to trying them!  I can't say I always get excited about treats from Japan, but I can genuinely say I'm pretty excited about this box!  It's full of pineapples!  Who wouldn't love it?
-Shonah
Explore.
Save.
Enjoy!
Sign up for a free account on A Year of Boxes to receive exclusive offers, be added to our monthly mailing list, and much more! We are always adding features to improve the experience for our users, from their valuable feedback!
Join Today!