Bokksu Review October 2017
Bokksu is a premium subscription service for people to discover delicious snacks and teas from all over Japan. Having lived in and snacked through Japan, Founder Danny Taing curates a gourmet box for subscribers every month filled with authentic Japanese snacks and tea pairings. They kindly sent us this box for review.
Our October Bokksu Box arrived a little late due to some shipping issues, but I am so glad it is finally here. I was really looking forward to the October box ever since I saw the spoiler for the theme – Fall Harvest. They are speaking my language. I've said this before, but this is my favourite time of year for subscription boxes. I want ALL the subscription boxes in October, November and December.
I don't think I have ever received a Fall themed Japanese Snack Box so I wasn't really sure what to expect, but from the looks of things they have done a phenomenal job. Let's have a closer look…….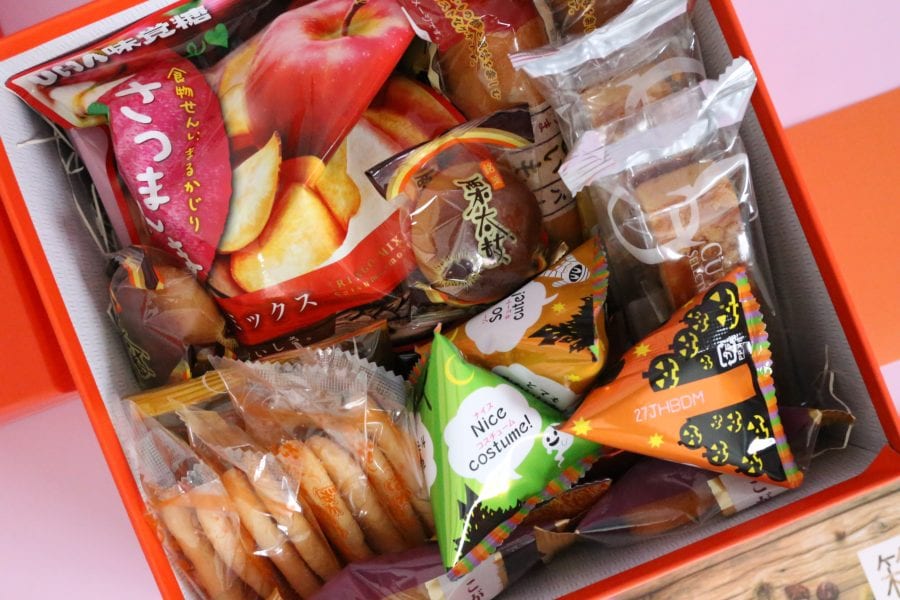 October Theme – Fall Harvest
The most anticipated season of the year in Japan is finally here: Fall! Each fall, people in Japan celebrate the Harvest Moon through Otsukimi (お月見), or literally translated, "autumn moon viewing". This Japanese tradition happens in September or October (depending on the traditional Japanese lunar calendar) and dates back to the Heian Period. During Otsukimi, people gather and offer seasonal treats to the moon such as sweet potatoes, chestnuts, and beans. Many Mid-Autumn Festivals are held throughout Japan to honor the autumn moon and give thanks for the harvest. This month, to help you celebrate and "fall" into the upcoming season Japanese style, we've curated delicious snacks and foods that are based on the essential harvest flavors of Japan!
Sweet Potato Lange De Chat
This crumbly butter cookie soothes your taste buds with the perfect blend of delicate white chocolate and creamy sweet potato.
Eeek……I think we are going to see a few goodies flavoured with sweet potato in this month's box and that makes me very happy. I happen to love sweet potatoes, and I also love Japanese cookies with white chocolate in the middle. These are going to be good!
Golden Sweet Potato Cake
The natural slight sweetness of this sweet potato cake is deliciously complemented by hints of cinnamon and rum.
Cinnamon and rum!? Are you kidding me! I love any sort of baked good flavoured with rum. Maybe it's because I feel like I shouldn't be eating it or maybe it's just because rum and cake go so well together, either way, I am SUPER excited for these cakes.
Apfelstreusel
This light German-style cake is sprinkled with cookie crumbs and contains real diced apples!
This is a must for any harvest themed snack box. It doesn't get much better than apple cake. Just imagine how good this will be with a warm cup of tea in the afternoon…….just sayin'.
Sweet Potato Stick Cake
Soft and spongy, this stick cake is packed with the velvety richness of real sweet potato. It's truly an autumn delight!
Here it is again…..sweet potato! Normally I like to see more variety when it comes to my snack boxes, but I am actually really loving all the cakey goodness so far. And we still have a few more snacks to go……
Fruit Pound Cake
Autumn fruits like raisins, oranges, cranberries, and figs are all baked into this satisfyingly soft cake. Take a bite and you'll discover an exquisite combination of sweet, citric, and tart flavors!
Ummm…..are you kidding me! This is amazing!! Fruit cake!! This is one of those treats you either love or you hate, and I happen to LOVE it! I feel like this box keeps getting better and better.
Chestnut Drum
This manju (traditional Japanese sweet bun) contains a delicious mix of white bean paste and chunks of delicious chestnut!
When I first came across bean paste, quite some time ago, I wasn't too sure what to think. But, I'm happy to report it tastes way better than it sounds. I'm looking forward to the addition of chestnuts…….another flavour perfect for Fall.
Apple & Sweet Potato Chips
The sweetness of the potato and the tartness of the apple combine to create the perfect crunchy autumn mix!
Apple chips have been my go-to healthy snack as of late. I like to munch on them instead of popcorn or regular chips. These will be perfect for my next movie night.
Mont Blanc Chestnut Chocolate Sandwich
These waffle-shaped cookies are held together with waguri-infused (Japanese chestnut) white chocolate, creating a delightfully sweet sandwich dessert.
These little gems look just like Stroopwafels and the AYOB team happens to be obsessed with Stroopwafels. This is another one to be enjoyed with my afternoon tea.
Bakauke Grilled Salmon Senbei
This savory Senbei snaps to reveal a satisfying flavor of baked salmon, which is also an essential autumn flavor in Japan!
I am a huge fan of rice crackers but I'm not really a fan of the fish flavoured variety. This is probably the only snack in the box I will share with the BF. The rest I am keeping for myself.
Halloween Poteco Pumpkin Potage
The Kabocha (Japanese pumpkin) twist on this popular ringed potato snack "Poteco" makes it truly addictive!
What would an October box be without a little Halloween treat. These packages are the cutest! I almost don't want to open them.
Satsumarche Kagoshima Chiran Cha
This aromatic, savory green tea grown in the Chiran region of Kagoshima Prefecture has a bold taste. Enjoy its sharp flavor!
One of my favourite features. I love that Bokksu includes a sampling of tea in every box.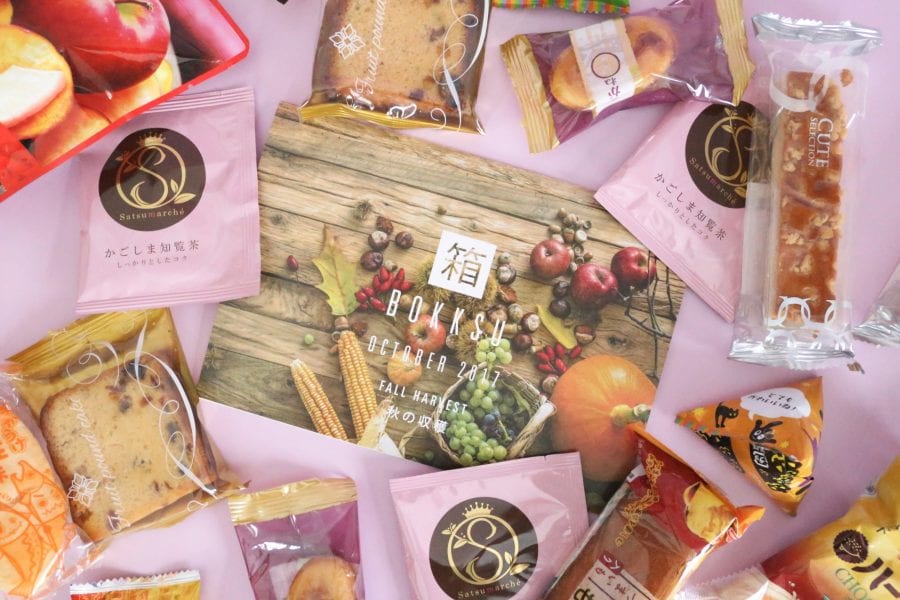 Bokksu Review October 2017 – Final Thoughts
Oh my goodness!! What an amazing box. Bokksu really outdid themselves this month. They included a little note in the box that says….
"Thank you for being a festive Bokksu Member! To help you celebrate the upcoming fall harvest and to show our appreciation for your loyalty, we've curated a special bountiful Bokksu that includes more snacks than ever before."
Bokksu packed the October box full of amazing snacks. This is easily my favourite box to date. It use to be the February Kit Kat box (which was pretty darn amazing) but the October box has taken over as my favourite. I usually share this box with Ashley but this month I am going to be selfish and keep all the snacks for myself. I am going to ration them so they last longer, and enjoy only one or two each afternoon with my tea. It will give me an excuse to take a break and enjoy some fall goodies…….I can't wait!!
XOXO
Explore.
Save.
Enjoy!
Sign up for a free account on A Year of Boxes to receive exclusive offers, be added to our monthly mailing list, and much more! We are always adding features to improve the experience for our users, from their valuable feedback!
Join Today!