Bombay & Cedar Review April 2018
Bombay & Cedar is an aromatherapy, beauty & lifestyle subscription box featuring full size products including essential oils, diffusers, skincare, books, snacks & other products carefully curated for the discerning woman who lives a life inspired. They kindly sent us this box for review.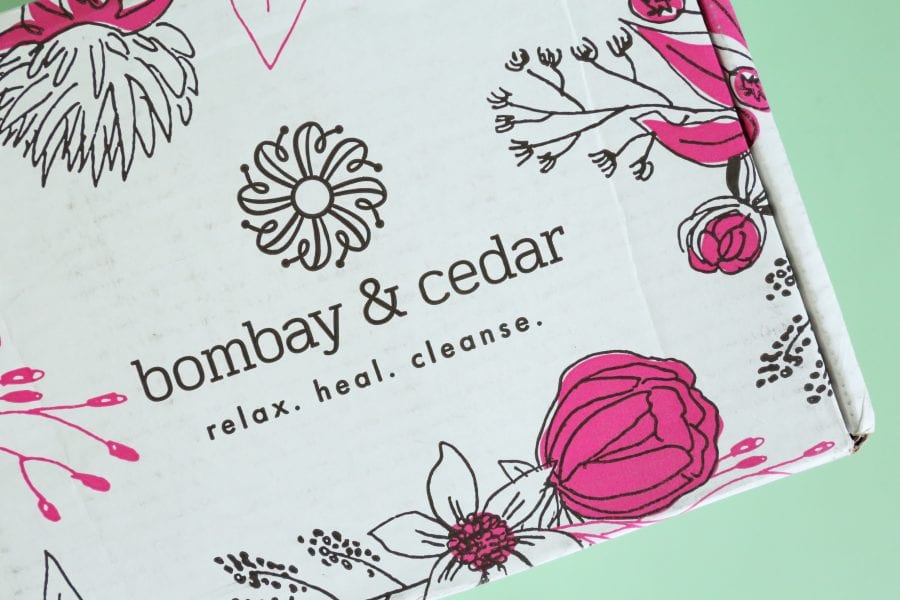 Bombay & Cedar is my monthly indulgence. Typically I gravitate towards simple subscriptions, but when it comes to Bombay & Cedar all bets are off. I definitely wouldn't classify this as a simple subscription, it's anything but. Each box has a lot going on, tons of products packed inside and the value is incredible. I love everything about it!
Subscription Details
Here's a quick look at the subscription details……..
Join The Tribe: Every month they will delight your doorstep with a new aromatherapy theme. No contracts, skip a month, cancel anytime.
Cost: $49.95 per month
Shipping: $6.95 to US, $19 to Canada, $35 International
Here's a peek at the items we received in the April Bombay & Cedar….
Lime Essential Oil ($14)
Lime is autochthonous to Southern Asia and is cultivated in the West Indies, the US and Central America. It shares many of the same characteristics as lemon. It is useful in cleaning applications, skin preparations and diffused throughout the air.
Spearmint Essential Oil ($14)
Spearmint is native to the Mediterranean. The Romans brought spearmint to Britain and English colonists brought spearmint in their travels to the Americas. Mint teas were a popular drink during the time of the American Revolution.
First up we have our essential oils. We receive two new oils every month and it's one of the reasons I look forward to receiving this box so much. Thanks to Bombay & Cedar I have the best essential oil collection going. This month's selections are spearmint and lime. I've never used lime essential oil before. I think it will be perfect for Summer.
Sunflower Bites ($1)
Inspired by the power of sunflower seeds, Sommersault's began their quest to make scrumptious, healthy snacks that offer well-balanced nutrition to fuel active lifestyles in Dutch Chocolate, Sea Salt or Cinnamon.
Next up we have our monthly snack. I am very familiar with the brand Sommersaults. They have some really great products. These ones just happen to be vegan and nut-free…….I already love them.
Pocket Aroma ($10)
Personal diffuser conveniently fits in pocket or purse for discrete access.
This product really couldn't be more perfect for me. I carry my essential oil rollers with me and can be caught sniffing them when the mood hits. My fiancé laughs at me for it but now I have an actual pocket diffuser that's meant for inhaling. I need 5 more of these……ASAP.
Mighty Mist Humidifier ($39.99)
Premium quality travel water bottle humidifier provides silent relief from dry, stagnant, stale air by infusing small spaces with a gentle cooling and hygienic mist.
This is genius!!! I have a large humidifier but don't use it as often as I should because of how bulky and awkward it is. This little guy will fit on my desk perfectly and will be easy to use.
Derriere Wipes ($6)
Tailfeathers is about nourishing yourself from the bottom up, with natural plant-based goodness in every wipe.
I love wipes! Hand wipes, foot wipes, derriere wipes……give me all the wipes!
Charcoal Body Wash ($15)
This Charcoal Body Wash is a skin detoxifier reducing the amount of dirt and oil built up deep down in the pores. Purifying the body from head to toe, step out of the shower feeling flawless every morning.
I am absolutely loving the charcoal trend!! So far I have used it on my face and my teeth. Charcoal body wash is a new one for me. I'm excited to give it a try.
Fruit & Veggie Wash ($5.99)
The only all natural, patented produce wash, Eat Cleaner is the tasteless, odourless and lab-tested line of food wash and wipes that is up to 99.9% more effective than water in cleaning wax, pesticide residues and bacteria from commercially and organically grown produce.
I have become very aware of the fact that I don't pay enough attention to washing my produce properly. I love the idea of a convenient spray that I can keep beside the sink. I love that Bombay & Cedar included a product like this.
Yes, You by COPENDIUM ($10)
20 cards to help you change things for the better. One person, one message, one moment at a time. Carry them with you. Keep watch. You'll know when the moment is right to give one to a friend, to share one with a stranger.
This is the CUTEST idea ever!!! I really want to gift this little box of cards but I also want to keep them for myself. They suggest leaving one in a tip jar, tucked in a lunch box, or on the windshield of a car. I love it!
"The Ring" Veggie Brush ($4.99)
Get your organic produce squeaky clean with this little earth friendly wonder that works on everything from the firmest peppers to the most delicate peaches.
Here we have a brush to go with our veggie wash. Another item I am VERY happy to receive.
Thank You Gift
If you shared your box on social media last month you have also received a special gift as a thank you for spreading the word about our box.
Bombay & Cedar Review April 2018 – Final Thoughts
This month's Bombay & Cedar has a total retail value of $120.97, which is amazing, but I've come to expect nothing less. I'm always impressed by the curation of each box we receive. Bombay & Cedar always manages to find such unique but useful products. I've said this before but I feel like this subscription box is personalized because it suits my preference perfectly. The products are thoughtful, gorgeous and fun. Usually there's one or two items that stand out from the rest but this month I love them all equally. That right there says a lot about this subscription. The fact that I love everything we receive puts this box at the top of my list.
XOXO