Bombay & Cedar Review April 2019
Bombay & Cedar is an aromatherapy, beauty & lifestyle subscription box featuring full size products including essential oils, diffusers, skincare, books, snacks & other products carefully curated for the discerning woman who lives a life inspired. They kindly sent us this box for review.
I often wonder what I did before discovering Bombay & Cedar. Now that I have been receiving it each month for over a year, I feel I would be lost without it. Thanks to Bombay & Cedar my essential oil collection is the best it's every been. I have an essential oil for most needs and I am always discovering a new one. And….it doesn't stop there, that's just one small part of my Bombay & Cedar boxes.
Subscription Details
Here's a quick look at the Bombay & Cedar subscription details……..
Join The Tribe: Every month they will delight your doorstep with a new aromatherapy theme. No contracts, skip a month, cancel anytime.
Cost:

Premium Box = $49.95 per month
Mini Box = $29.95

Shipping: $6.95 to US, $16.95 to Canada, $23.95 International
Here's a closer look at the April Premium Bombay & Cedar box….
Carrot Seed Essential Oil by Bombay & Cedar ($19)
Extracted from the carrot plant, Daucus carota. The wild carrot plant is mostly found in Europe. Carrot seed oil is often used to detoxify the body, stimulate skin cell proliferation and prevent UV damage.
Eucalyptus Essential Oil by Bombay & Cedar ($12)
Eucalyptus Globulus is beneficial to help ease fevers, congestion, seasonal allergies & much more. Eucalyptus Globulus is commonly added to steam rooms & saunas to help clear the lungs.
Eucalyptus is an oil I've been meaning to add to my collection. As we head in to the summer months it will be nice to have something on hand for congestion and allergies.
Bean Chips by Bada Beans ($1.39)
Packed with a punch! With delicious flavours, and incredible plant-based nutrition. Available in Cinnamon or Cocoa Dusted.
I recently discovered the wonderful world of bean chips and I am in love. Until now I was only aware of a couple brands so I'm happy to discover a new one.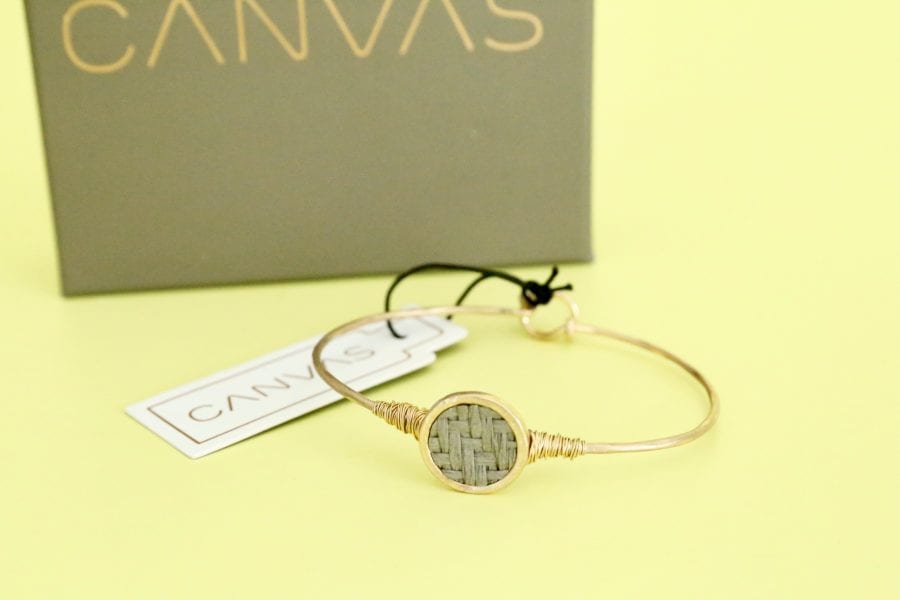 Bangle Bracelet by Canvas ($20)
A collection of gorgeous bracelets in several styles featuring sustainable materials such as cork, raffia and wood.
The detail on this bangle is gorgeous. I am absolutely in love with it. It's a little big for my tiny wrists but it's too pretty to just sit in my jewelry box so I will be wearing it regardless.
3-in-1 Massage Candle by Hempseed Bodycare ($15.99)
These massage candles melt down into a massage oil with a unique blend of six natural oils providing a professional slip that moisturizes skin, leaving it appear more healthy and hydrated with a youthful looking glow.
I have received a similar candle before, and while I've never actually used it as a massage oil or moisturizer, it smells amazing and I love having it burning in my living room.
Konjac Sponge by BKind ($9.95)
These Konjac facial sponges are infused with either green clay or bamboo charcoal. Cleans your face in a single step without the need of soap.
Do you use a Konjac sponge? I'm yet to jump on the trend. I have every intention of giving it a try but never do. I've heard great things about these sponges so I'm not quite sure what is stopping me.
Silicone Straw by Save One Straw ($4.99)
These straws are unlike common drinking straws. These silicone straws are reusable, safe for children and hot drinks. Silcone straws help us leave less of a footprint than disposable plastic straws.
I love to see items like this in my subscription boxes. Items that are environmentally friendly and offer a solution to a problem our world is currently facing. I have a few reusable straws in the kitchen and I am thinking of keeping a couple in the car.
Cotton Clutch by Case Aamarosa ($39)
This chic clutch is made with 100% cotton. An envelope style clutch with a tassel for added detail, is the perfect accessory to complete your outfit.
I am in love with this clutch. There's something about the pattern that captures my attention. I also really love the red tassel, it adds a little more style and a pop of color.
Deodorant Kit by Myro ($10)
Myro's deodorant is a plant powered deodorant that's made with mood-inspiring scents and is truly effective. Smell awesome, feel awesome.
Who knew there was such thing as a deodorant kit? This is such a great idea. I did a little research and found out that you can chose your scent, your case, your color. You can get a refresh every three months, delivered straight to your bathroom. You can switch scents, press pause or stop literally anytime.
A subscription box for deodorant. I love it! I need to sign up!
Stoneware Tray by Fringe Studio ($9)
Exposed coloured tray with a stoneware base and matte glaze with metallic rose gold art.
Lastly we have an adorable little tray that will be perfect for holding jewelry at the end of the day. It's quite small, it will probably only hold a couple rings and a necklace, but it is pretty darn cute.
Bombay & Cedar Review April 2019 – Final Thoughts
At first glance I wasn't sure if the April Bombay & Cedar was going to get me excited but as I went through the box and spent time getting to know all the products I become more and more excited as I went. The April Bombay & Cedar introduced me to a snack brand that I have been looking for, it provided me with an environmentally friendly product, an adorable new clutch, two really great essential oils, a candle for the living room, a new bracelet for my collection and I discovered a subscription box for deodorant. All in all, I say this was a really great box!
-AYOB