Bombay & Cedar Review August 2019
Bombay & Cedar is an aromatherapy, beauty & lifestyle subscription box featuring full size products including essential oils, diffusers, skincare, books, snacks & other products carefully curated for the discerning woman who lives a life inspired. They kindly sent us this box for review.
Did you see last month's Bombay & Cedar? It was one of my favourite Bombay & Cedar boxes to date. The curation was absolutely perfect. But, I really shouldn't be surprised. I've come to expect nothing less from this subscription. It's definitely at the top of my list when it comes to lifestyle boxes.
Subscription Details
Here's a quick look at the Bombay & Cedar subscription details……..
Join The Tribe: Every month they will delight your doorstep with a new aromatherapy theme. No contracts, skip a month, cancel anytime.
Cost:

Premium Box = $49.95 per month
Mini Box = $29.95

Shipping: $6.95 to US, $16.95 to Canada, $23.95 International
Here's a closer look at the August Premium Bombay & Cedar box….
Birthday Goodie Bag by Our Favourite Vendors ($20-$50)
In celebration of our 2nd birthday, we've assembled these fun goodie bags, stuffed with products & samples from some of our past featured vendors.
Ok….how stinkin' cute is this! Bombay & Cedar is celebrating their birthday by giving us gifts. Shouldn't it be the other way around?! This little bag of goodies is such a thoughtful gift for their subscribers. I received a bracelet, nail file, makeup brush, bottle handle and latte mix.
Enlighten Essential Oil Blend by Bombay & Cedar ($17)
A blend of oils designed to enlighten the mind and body. Let the party begin!
Orange Essential Oil by Bombay & Cedar ($10)
Derived from the peels of sweet oranges, this amazing oil can be used as an antiseptic or anti-inflammatory and improves blood circulation and more.
I love both of the oils we received this month. I already have orange essential oil but I am more than happy to receive another bottle as I use it in my diffuser on a regular basis. As for the Enlighten Oil, it is a blend of spearmint, sage, geranium, myrtle, chamomile and nutmeg.
Earrings by Various Designers ($12-$19)
Available in several styles, these trendy and chic earrings allow you to look elegant and endearing for any occasion.
Bombay & Cedar has started to incorporate product variations into their boxes. Come to think of it, they have been doing this for a while, but I feel like I am seeing it more often than I use to. This item had a few variations so subscribers could have received different styles. I'm very happy with my earring choice. I like that they are silver and not too flashy.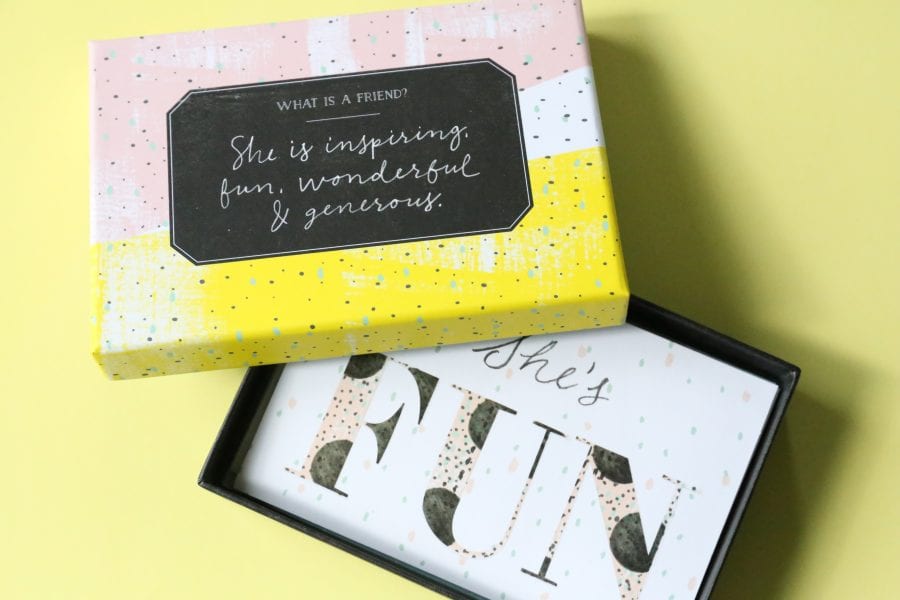 What is a Friend? Stationery Set by Compendium ($10.95)
She's inspiring, fun, wonderful, and generous. She's someone worth celebrating. Here are eight notecards to send to eight wonderful women with messages inside, printed envelopes and a keepsake box.
This is a gorgeous little box of cards. I like that it comes as a set and that it will be easy to store. It's a nice little reminder to send a handwritten note from time to time.
Urinalysis Test Strips by Vivoo ($24.90)
Your wellness assistant consisting of urinalysis test strips and mobile application giving you personalized nutrition and lifestyle advice based in your urine sample.
At first I wasn't too excited about this item but once I did a little more research I became more and more intrigued. It's the last thing I expected to see in a subscription box, but at the same time it's a pretty cool product.
Here's how it works:
Take one of the strips and urinate on the colored boxes. After 120 seconds, scan your strip via the Vivoo App.
Vivoo translates your urine information into personalized nutrition and lifestyle advice that can easily fit in your daily life. All of the Vivoo advice has been prepared by registered dieticians, nutritionists, and doctors.
With Vivoo you can track body parameters like water consumption, pH, ketone, immune system strength, urinary tract infection, liver and kidney functions. These parameters tell us if you are hydrated enough, eating well, have a balanced chemistry, possibly have an infection, and much more!
Lipstick by Cupid & Psyche ($23)
Available in 5 different shades, Cupid & Psyche Beauty's lipsticks are red carpet ready pigments that are made from pure minerals.
Even though I'm picky when it comes to lipstick, I'm always happy to test out a new one. This is a brand I've never heard of before and right off the bat I fell in love with the packaging. Their lip colors are made with things like avocado oil, coconut oil, grapeseed oil, and sea lavender. All of which I feel very comfortable using on my lips.
Porcelain Essential Oil Diffuser by aroma ($15)
A porcelain botanical rests on a ceramic base to bring a natural beauty to your space as you enjoy the aromatherapy benefits of 100% pure essential oils.
This is definitely my favourite item in the box this month. I've been wanting a diffuser for my office but didn't want one that would emit too much of a scent. I feel like this is a great alternative to the water diffusers I use in my kitchen and bedroom. I don't need to plug it in and can move it around my office depending on how strong the scent is at a given time.
Water Bottle with Fruit & Tea Infuser by HYDY ($25)
Create your own naturally flavoured fruit infused water, juice, ice tea, lemonade, etc. Hydy water infusers are lightweight for carrying with an easy to use handle allowing you to take it wherever you please.
As much as I prefer a glass bottle to plastic, this is still a really great item. Any reusable bottle is better than a regular bottle purchased from the convenience store. And this one will allow me to add lemon slices or loose leaf tea.
Bombay & Cedar Review August 2019 – Final Thoughts
Bombay & Cedar certainly knows how to celebrate their birthday. They put together a great box for August, complete with a b-day goodie bag. It provided me with some really great products and introduced me to some new brands. I'm most excited about the diffuser and the oils, but that should come as no surprise as the aromatherapy products always end up being my faves. Happy Birthday Bombay & Cedar! Here's to another great year!
-AYOB