Bombay & Cedar Review December 2018
Bombay & Cedar is an aromatherapy, beauty & lifestyle subscription box featuring full size products including essential oils, diffusers, skincare, books, snacks & other products carefully curated for the discerning woman who lives a life inspired. They kindly sent us this box for review.
My December Bombay & Cedar is here and I was SO looking forward to the December box. One of the spoilers in particular really stood out to me this month and I was dying to get my hands on it. If you love essential oils as much as I do, this is the box you need in your life!!!
Subscription Details
Here's a quick look at the subscription details……..
Join The Tribe: Every month they will delight your doorstep with a new aromatherapy theme. No contracts, skip a month, cancel anytime.
Cost:

Premium Box = $49.95 per month
Mini Box = $29.95

Shipping: $6.95 to US, $19 to Canada, $35 International
Here's a closer look at the December Premium Bombay & Cedar….
December Theme: The Power of Healing
"All healing is first a healing of the heart." – Carl Townsend
Just like Carl mentions, healing isn't always about fixing what's on the outside, it's about healing from within. It's the process of becoming sound and restoring one's physical & mental health.
We believe December is the ideal time to do so. It's the final month of the year plus the holidays and new year are quickly approaching. We understand how joyful, yet stressful this time of year can be.
This month's box will help restore energy to keep a positive mind and live a happy life.
Lemon Essential Oil by Bombay & Cedar ($14)
Lemon essential oil is the perfect product to help ease stress, fight fatigue and enhance the mood. The lemon tree is a species of evergreen and is believed to have originated in India.
Ginger Essential Oil by Bombay & Cedar ($16)
Ginger essential oil is used to alleviate nausea, boost immune system and strengthen heart health. Ginger essential oil is known as "the oil of empowerment".
Oh my goodness!! I am beyond excited about the oils we received this month. The holidays are over and I am in the mood for a fresh start, a clean house and bright new scents. The lemon oil will be lovely in my diffuser and it will give my house that fresh scent I am looking for.
And……the ginger oil couldn't have arrived at a better time. Let's just say that nausea is something I have been dealing with the last few weeks (for a good reason) and I am in desperate need of a natural remedy. I am going to look up a recipe for an anti nausea roll-on. I'm already excited.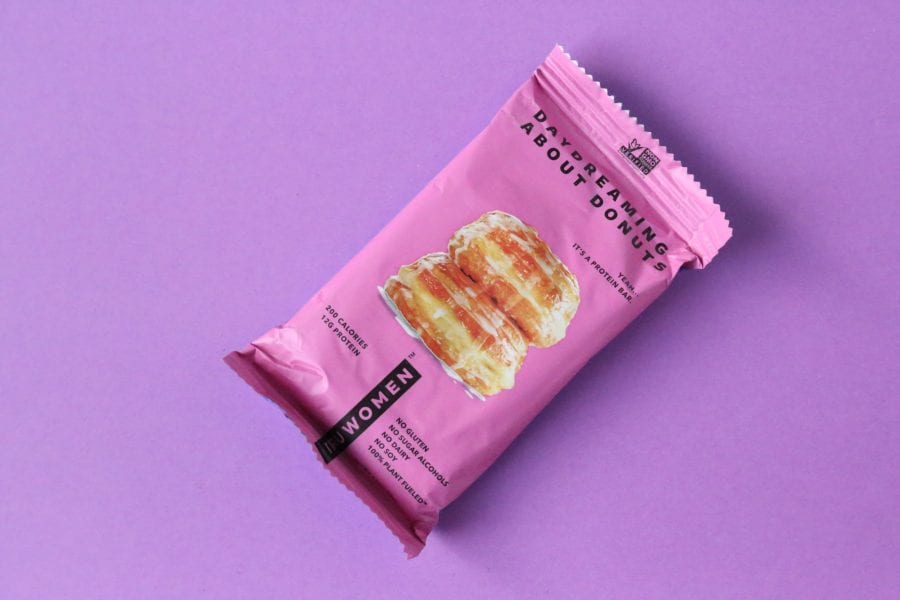 Yeah……It's a Protein Bar by TruWomen ($2.79)
These bars are made with nutritious, plant fuelled ingredients. Available in Daydreaming About Donuts, Oh Oh Cookie Dough, Smother Fudge, Peanut Butter & Zamn Good Zesty Lemon.
This is a new brand for me and I love discovering new brands, especially when it comes to plant-fulled goodies. And how good does the flavour sound?! Daydreaming About Donuts. I am so intrigued.
Deluxe Travel Size Mineral Face Peel by O.R.G. ($5)
This star spray-on peel makes this crucial step a breeze, eliminating impurities and smoothing skin texture with a quick spritz, while natural brightening agents give you an instant youthful glow.
Crystal Peace Candle by J'aime ($22)
Designed for Bombay & Cedar this gorgeous 6oz. soy candle features rose quartz, aventurine, amethyst, tiger's eye, quartz, and citrine gemstones. Let the healing begin!
This candle is gorgeous and it smells lovely. It's grounding, calming and relaxing, all at the same time. And I can see the gorgeous gemstones hidden inside.
Mystery Surprise by Human + Kind
What will you get? Human + Kind has created a skincare range that embodies their desire to help women look and feel good.
Bombay & Cedar included a mystery item this month from Human + Kind. I received Day + Night Cream which has the combination of the light texture of a day cream and the richness of a night cream.
This cream helps to soften the skin and evens out skin tone. The key ingredient is Avocado Oil. This oil is rich and deeply penetrating. It contains an abundance of Vitamins A, D and E.
Party Origami by Jessica Okui ($12.95)
Show off your healing Zen creations! Party Origami allows you to transform and create divine party accents like napkin rings, invitations, and place settings for any special occasion.
This is such a cute idea!! It's the first time we have received a book like this – one filled with crafts. It includes instructions fora number of different origami creations and a wonderful selection of paper.
Active Muscle & Joint Pain Relief by Clayer ($15.99)
100% Natural and non toxic French green clay that's composed of illite, kaolin, and montmorillonite clays and used to reduce soreness, sprains, inflammation, back pain, neck pain and more.
This is the kind of product I don't use often but love to have on hand. I don't usually suffer from muscle pain, but the odd time it happens, I really appreciate having something like this in my cupboard.
First Aid Clutch by Bling Sting ($22)
BlingSting's charming first aid clutch has all of the essentials in case of an emergency. It's the perfect size to throw in your bag and take with you anywhere so you're never unprepared.
This is the item I was anxiously waiting for! I saw the spoiler for this adorable little first aid clutch and it was love at first sight. Not only am I in need of a first aid kit, but the fact that it is gold and pink and oh so cute makes it ten times better. I want a couple more of these, and I also want to gift them to all my friends.
Bombay & Cedar Review December 2018 – Final Thoughts
The December Bombay & Cedar won me over even before it arrived at my door. I was beyond excited to receive the first aid clutch and as I mentioned earlier I couldn't wait to get my hands on it. It is by far the cutest item I have ever received in a subscription box. I would LOVE to see more products like this in future boxes. In addition to that, I am loving the essential oil selection this month. The lemon will add a fresh scent to my home and the ginger is much needed. Bombay & Cedar manages to impress me every month. I love the thought that goes in to each box, not to mention the variety of items we receive. This will always be a favorite.
XOXO