Bombay & Cedar Review January 2018
Bombay & Cedar is an aromatherapy, beauty & lifestyle subscription box featuring full size products including essential oils, diffusers, skincare, books, snacks & other products carefully curated for the discerning woman who lives a life inspired. They kindly sent us this box for review.
Oh my goodness! It's here! My January Bombay & Cedar box is here!! Believe me when I say……the obsession is real. I try to use the word "obsession" sparingly, but in this case it is necessary. I am OBSESSED with this box. I love everything about it. The packaging, the price point, the monthly themes, the product booklet, the products we receive, the fact that we get two new essential oils in every box……I love EVERYTHING!!!
Subscription Details
Here's a quick look at the subscription details……..
Join The Tribe: Every month they will delight your doorstep with a new aromatherapy theme. No contracts, skip a month, cancel anytime.
Cost: $49.95 per month
Shipping: $6.95 to US, $15 to Canada, $29 International
Here's a closer look at the January box……
January Theme – Nourishing
We're excited to start 2018 with you! The January box is full of goodies that will help you nourish your body from the inside out, ensuring you have the confidence, nutrition and energy needed to stay positive and focused! One of the biggest ways to nourish your mind, body and spirit is loving yourself. Remember, loving yourself is not selfish – you make the world a better place by making yourself a better person.
Uplifting Essential Oil Blend ($16)
Uplifting blends the sweet scents of clary sage, geranium and lemongrass with the cleansing oils of eucalyptus and cypress. This blend has a myriad of attributes including being known to act as an anti-depressant, insect repellent, skin tonic and many others.
This blend is wonderful. I have it in my diffuser as we speak. It has a strong citrus scent which will make it perfect for spring.
Immunity Boost Essential Oil Blend ($19)
Immunity Boost is a specially formulated blend of extremely therapeutic essential oils designed to stimulate the immune system & give your defences a much needed boost.
This really is the perfect blend for January. I was extremely sick at the beginning of the month, and now I have passed it on to the fiancé. The scent is really subtle, which is actually kind of perfect, because I plan on diffusing this in the evening before bed and a strong scent can sometimes keep me awake.
Paleo Berry Blast ($1.49)
A Paleo energy snack ball with blueberries, goji berries and raspberries.
This is such an inexpensive item, but I love that they included it. Snacks are a really great addition to subscription boxes. It's a great way to test out new treats and discover new brands.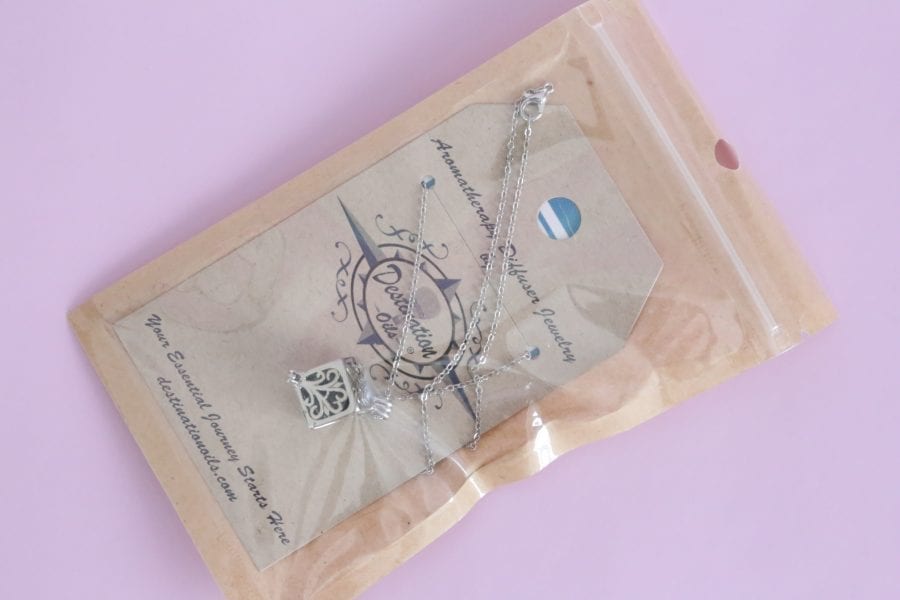 "Wish" Prayer Box Essential Oil Diffuser Necklace ($19.99)
"Wish", a prayer box-style essential oil necklace is a great option for those who want something delicate with dimension. The 3d cubical shape has a chain secured close that holds the lava stone inside, making it reliable and durable.
How fun is this necklace?! I love the unique design and the attention to detail. We almost always receive some sort of oil diffuser and that is a feature I appreciate.
Birdie Hand Sanitizer ($8.99)
Taking his cue from our real-life feathered friends, Birdie's function is to help you stay clean. At 3 inches tall and 2 inches wide, he's ergonomically designed to fit in your hand. Each Birdie contains 350+ sprays! In Robin's Egg Blue with soothing essential oils and nourishing aloe vera, his natural sanitizer quickly cleanses your hands and leaves them feeling soft and refreshed. You'll also discover 10 dry wipes in his base to help with dirt and grime—simply spray the sanitizing liquid onto a wipe to create a fresh towelette on-the-go!
Oh my goodness!! This little hand sanitizer is absolute perfection. I can't stand it when my hands are dirty. It drives me absolutely crazy. This little guy will be a welcome addition to my purse or glovebox. I kind of want another one, or maybe another two, so I can keep one with me at all times. I love the it is a sanitizer spray and that it also has wipes.
Eat Pretty, Live Well ($16.95)
An inspiring & innovative tool that invites you to put beauty nutrition know-how into practice. The dynamic format includes lively & informative overviews, fill-in trackers & checklists, thought-provoking Q&As, goal-setting guidance, prompts for self-reflection & repeating spreads for monitoring 40 days of living & eating well.
This is the prettiest little book ever! It has me thinking of Spring, but it also has me thinking of healthy eating. It teaches us how and what to eat for a beautiful body, inside and out. It has tons of great information, charts, questions, and plenty of room to keep track of your diet.
Moringa Powder ($9.99)
Looking for the perfect energy and nutrition for your body? Just add this to your morning smoothie or latte for a complete plant protein and full serving of veggies.
This is something I have been meaning to add to my diet for quite some time. I've heard great things about Moringa but am yet to jump on the trend. These little packets will make it easy for me to add to my morning smoothie. Moringa has so many great health benefits. I really need to make an effort to add it to my diet.
Eye Pillow ($25)
Tonic's beautiful 100% Australian made eye pillows filled with locally sourced flaxseed and lavender flowers are the perfect remedy for a tired and stressed mind and body. Designed to relax and rejuvenate, they are the perfect travel, yoga or sleep companion.
I have to admit, I've never used an eye pillow before. But this one is so pretty that I can't see myself letting it go un-used. I have a really hard time relaxing, but I still want to give this a try. Lavender is one of my favorite scents so maybe that will be enough to motivate me.
Organic Body Balm ($30)
Created to soothe cracked, dry and irritated skin, this balm seals in moisture and promotes soft healthy skin with the healing power of tamanu oil, kokum butter and calendula extract.
I love testing out new body balm. I got rid of all my regular body products a couple years ago and make an effort to only use natural products on my skin. This one is made with really great, organic ingredients. It doesn't have much of a scent and appears to be quite thick. I feel like this will be a great moisturizer for problem areas like heels, knees and elbows.
Thank You Gift
If you shared your box on social media last month you have also received a special gift as a thank you for spreading the word about your box.
Bombay & Cedar Review January 2018 – Final Thoughts
This month's Bombay & Cedar box has a total retail value of $147.41. I am absolutely thrilled with everything we received, but that doesn't surprise me at all. I always love my Bombay & Cedar boxes. Actually, love doesn't even describe my feelings towards this box. It is, hands down, one of the best boxes I receive. I truly look forward to receiving new essential oils every month and love growing my collection. I really like that they opted for oil blends this month and would love to see them do this more often. I've also come to appreciate the books we receive, not to mention the oil diffusers and the snacks…..I love the snacks. This box is everything I look for in a subscription, and then some. The obsession is real……..
XOXO