Bombay & Cedar Review January 2019
Bombay & Cedar is an aromatherapy, beauty & lifestyle subscription box featuring full size products including essential oils, diffusers, skincare, books, snacks & other products carefully curated for the discerning woman who lives a life inspired. They kindly sent us this box for review.
Bombay & Cedar is the perfect subscription box for a couple of things:
keeping your essential stock up-to-date
discovering new aromatherapy products
reminding yourself to live a healthy lifestyle both mentally and physically
Those are just a few of the reasons I love this subscription box. Not to mention the fact that it is always packed full of fun goodies and I always discover great new brands.
Subscription Details
Here's a quick look at the Bombay & Cedar subscription details……..
Join The Tribe: Every month they will delight your doorstep with a new aromatherapy theme. No contracts, skip a month, cancel anytime.
Cost:

Premium Box = $49.95 per month
Mini Box = $29.95

Shipping: $6.95 to US, $16.95 to Canada, $23.95 International
Here's a closer look at the January Premium Bombay & Cedar box….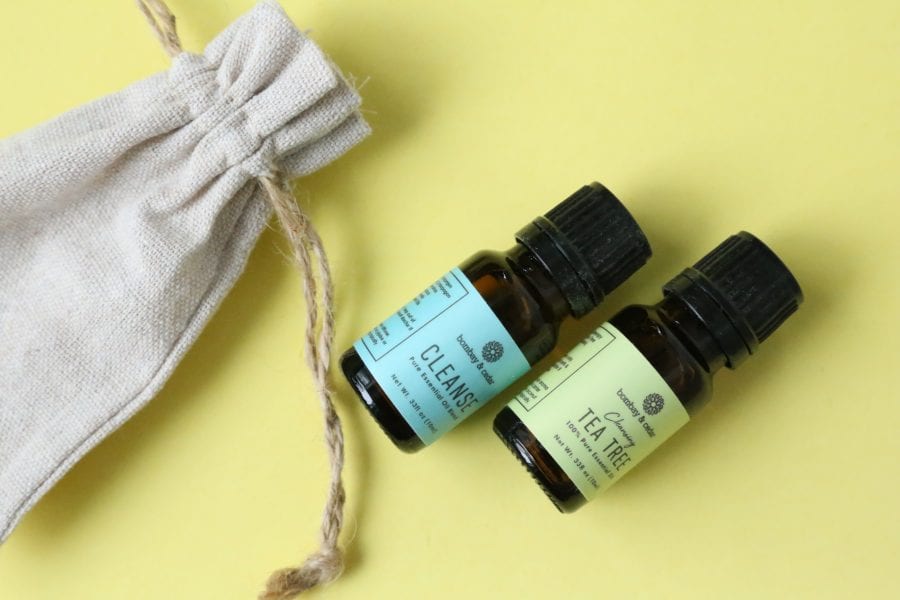 Cleanse Essential Oil Blend by Bombay & Cedar ($16)
Fresh & uplifting with lemon & grass notes balanced with a touch of tea tree, rosemary & lavender oils. The perfect blend for cleansing your space of unwanted toxins and impurities.
This is the kind of essential oil blend I LOVE to have on hand. I tend to reach for a cleansing blend before any other blend. I love the fresh, clean scent of lavender and rosemary mixed together.
Tea Tree Essential Oil by Bombay & Cedar ($14)
Our tea tree oil traces the origin to the Aboriginal people of Australia. For over a millennium the leaves have been applied as a disinfectant & anti fungal agent.
Sunflower Kernels by Lota ($3.99)
Deliciously roasted sunflower kernels in 2.5oz sprouted pouch.
This is a great little snack to have on hand. I like to sprinkle sunflower seeds on my salads, but you could also sprinkle them on soup. And….the packaging is genius.
Essential Oil Case by Green Air ($20)
This chevron canvas essential oil case holds 16 bottles and protects your oils from UV light.
Right now I keep my essential oils in a box but this little case is so much cuter. I made myself little circular labels for the top of the bottles so when they are stored in a case like this you can easily tell what each one is.
Biocellulose & Charcoal Sheet Masks by Midflower ($20)
Each Biocellulose Peel Mask is infused with 15ml of Rosa Damascena water, known for its rejuvenation qualities and concentrated hydration. The Binchotan Charcoal Clarifying Black Mask removes toxins, dirt, and excess oil.
This is a great little set of facemasks, perfect for cleansing and rejuvenating. I like to keep a few facemasks on hand at all times. You just never know when you are going to need a night of pampering.
Cleanse Detox Tea Temples by Teapigs ($9.99)
Cleanse sets you up perfectly, with its super combination of green tea, lemongrass, ginger, coconut and cleansing dandelion leaves packed full of antioxidants.
To stick with our cleansing theme we have a box of detox tea. It's not something I drink often but do really like to have on hand.
Farm to Table Dish Towel Set by Two's Company ($20)
Adorably illustrated dishtowel in ceramic fruit crate. Available in 3 designs – Feeling Good To-ma-toes, You Look Radishing, & Lettuce Eat.
This is maybe the only item in the box that I'm not crazy about. Don't get me wrong, it's super cute, but I just don't see myself using it. But with that being said, it would be a really cute way to display small fruit (like cherries) on your table when company is over.
Unplug Every Day: 365 Ways to Log Off & Live Better ($14.95)
This inspiring journal offers 365 ways to take small breaks from technology with simple suggestions that encourage journalers to unplug from electronics and appreciate their surroundings.
This is just the cutest little book ever, and what a great way to remind yourself to take a break and step away from your phone or computer. Here's a sampling of some of the "unplug" ideas featured in the book…..
don't check email
take a bath
roll down a grassy hill
open a dictionary
plan a spa day
take a deep breath
let your phone die
play a drawing game
Eco-Sachets by Tonic Australia ($20)
These multi-purpose sachets are made from 100% cotton & filled with locally sourced lavender, rosemary, cloves and cinnamon chips.
Oh my goodness! These smell ah-mazing! I have one sitting beside me on my desk right now because the scent is making me happy. I want one of these for every corner, drawer, shelf, nook and cranny of my home.
The Truce Organic Liquid Hand Soap ($9.95)
Uses only natural, safe and effective ingredients. Use as is or simply add our aromatic therapeutic Tea Tree essential oil.
Oh……I am LOVING the idea they have given us for sprucing up this soap. I'm not really a fan of unscented things so at first glance I wasn't very excited about this soap, but now that I am open to the idea of adding some essential oil to it as a way to give it my own scent I couldn't be happier.
Bombay & Cedar Review January 2019 – Final Thoughts
I have to say…….I am in LOVE with this month's cleanse theme. Bombay & Cedar has a different theme every month but some are more pronounced than others. I really felt the cleanse vibe this month thanks to the cleanse oil, the cleanse tea, the soap, and the Unplug journal. I think they did a wonderful job curating the January box and it really is a great way to start off the year. Cleansing our space, mind, and body.
XOXO