Bombay & Cedar Review June 2018
Bombay & Cedar is an aromatherapy, beauty & lifestyle subscription box featuring full size products including essential oils, diffusers, skincare, books, snacks & other products carefully curated for the discerning woman who lives a life inspired. They kindly sent us this box for review.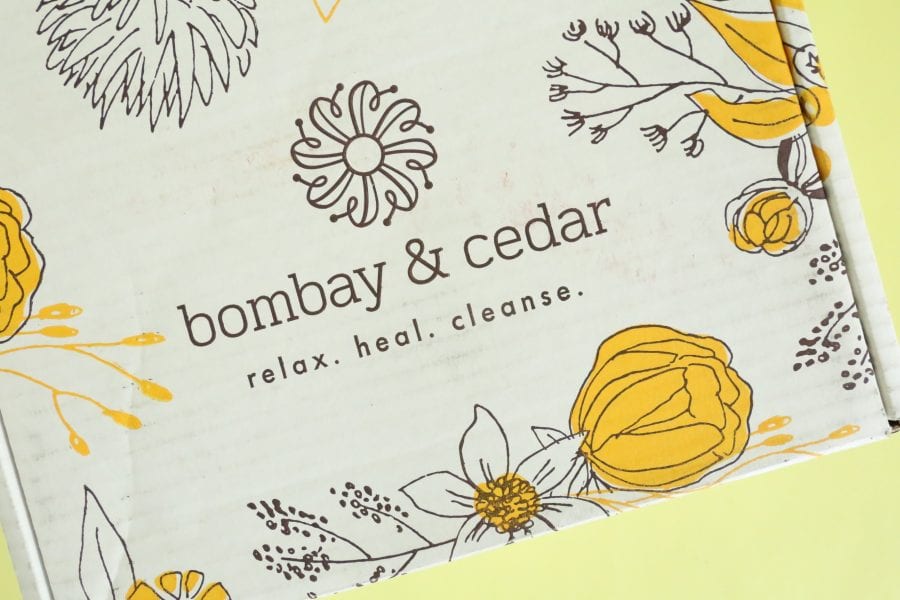 Every month I anxiously wait for this box to arrive. I get so excited when I see it at the post office, it's almost like Christmas morning. But isn't that what subscription boxes are all about? Getting a surprise in the mail?
Bombay & Cedar is, and always will be, my favourite subscription box.
Subscription Details
Here's a quick look at the subscription details……..
Join The Tribe: Every month they will delight your doorstep with a new aromatherapy theme. No contracts, skip a month, cancel anytime.
Cost: $49.95 per month
Shipping: $6.95 to US, $19 to Canada, $35 International
Here's a peek at the items we received in the June Bombay & Cedar….
June Details – Escape
Let us take last month's theme, Breathe, even further. Close your eyes, take a deep breath, and let your mind take you away to that all-inclusive place. This box will include a variation of wonderful products to embrace this month's theme. We encourage you to Escape the world around you and take in new sights and sounds as you energize your mind, body and purpose. Be prepared to take the journey!
Palmarosa Essential Oil ($14)
Palmarosa is a perennial grass native to India. Palmarosa has a scent reminiscent of rose infused with lemongrass.
Roman Chamomile Essential Oil ($19)
3% in Golden Jojoba, Roman chamomile has been used for over 2000 years. Roman chamomile helps to alleviate depression and anxiety with its unique sweet apple like aroma.
First up we have my favourite part of the box…..the essential oils. I'm particularly excited about the oils we received this month because Palmarosa supports deep sleep and provides comfort and support for feminine cycles. And Chamomile removes toxic agents, improves digestion and relieves depression.
Chewy Bar by Enjoy Life ($1)
Gluten free and vegan soft baked chewy bars in Coco Loco, Lemon Blueberry Poppy Seed and Caramel Blondie.
Next up we have our monthly treat. Enjoy Life is a brand I am very familiar with but I am yet to try this particular flavour. It probably won't last the day.
This Journal is Going Places by Knock Knock Stuff ($15)
Keep track of all your greater adventures with six travel journals in one. Journal about the journey, the destination, and what you did when you got there – over and over and over again!
Normally I'm not a journal kind of girl but the fiancé and I have some fun trips planned this year, starting with our honeymoon, so I'm actually looking forward to putting this journal to use.
After Sun Soothing Hydrating Aloe Gel by Babo Botanicals ($14.95)
Super hydrating and non sticky! Soothing, cooling and quick absorbing Aloe Vera Gel contains Green Tea, Witch Hazel, Armica and Eucalyptus Oil. Smells fresh and leaves no tacky residue.
This is a really great product for a Summer box. I make an effort to stay out of the sun but just in case I do spend a day at the beach I like to have products like this on hand.
Metallic Lint Roller by F'lint ($9.99)
The retro lint roller reinvented! 30 sheets each in rose gold, silver, gold or cool mint.
I already have a F'lint roller but I am MORE than happy to receive another one. Especially a fun silver one. I keep lint rollers everywhere – the car, my gym bag, under the sink…….etc.
Earth Essence Oil by J'aime ($24)
A sexy, summery and subtle fragrance with a hint of musk and infused with leading crystals.
This is a lovely little fragrance to keep in your travel bag or maybe even your beach bag.
Travel Size Oxygen Cleanser by O.R.G. ($5)
The fast-acting cleanser not only gets deep, dissolving a day's worth of dirt without stripping skin, it's also amped with collagen agents to give your skin an extra lift.
Turkish Towel by Eastern Boho ($44)
Extremely lightweight, super absorbent, and quick drying, these towels are incredibly versatile. They make perfect beach towels, bath towels, travel towels, throw rugs and can even be used as scarves.
It took me a while to get on board with the Turkish Towel trend but now I can't get enough of them. I love how versatile they are. I use mine as blankets, accents, scarves and wraps.
Thank You Gift
If you shared your box on social media last month you have also received a special gift as a thank you for spreading the word about our box.
Bombay & Cedar Review June 2018 – Final Thoughts
The June Bombay & Cedar has a total retail value of $146.94 and has provided me with some amazing products! I absolutely love the Escape theme. It has me dreaming of Summer road trips and Fall getaways. We received some really fun products that will make my next adventure that much more fun – a Turkish Towel that I will use as a travel scarf/wrap, a road trip snack, a travel cleanser and fragrance, aloe gel for days spent in the sun, a travel journal to document my journeys, and a lint roller which will be kept in the glove box. All these items are making me want to plan my next road trip ASAP.
XOXO