Bombay & Cedar Review March 2020
Bombay & Cedar is an aromatherapy, beauty & lifestyle subscription box featuring full size products including essential oils, diffusers, skincare, books, snacks & other products carefully curated for the discerning woman who lives a life inspired. They kindly sent us this box for review.
Subscription Details
Here's a quick look at the Bombay & Cedar subscription details……..
Join The Tribe: Every month they will delight your doorstep with a new aromatherapy theme. No contracts, skip a month, cancel anytime.
Cost:

Premium Box = $49.95 per month
Mini Box = $29.95

Shipping: $6.95 to US, $16.95 to Canada, $23.95 International
Here's a closer look at the March Premium Bombay & Cedar box….
March Theme – Reflection
It's okay to cancel plans. It's ok to speak up. It's ok to change your mind. It's okay to say no. There are so many distractions and interruptions in the world that can affect how we may feel about ourselves. A big part of self love and self care is protecting your peace. So don't be reluctant to put yourself first. It's always the perfect time to find your inner peace and appreciate life.
Bliss Essential Oil Blend ($16)
A wonderful blend to invigorate and stimulate the mind and body. This blend is also beneficial to help retain memory, reduce headaches, fight physical fatigue and much more.
Retain memory and fight physical fatigue?? Sign me up! Being a new mom these are the things you battle with on a daily basis – baby brain and exhaustion. I'm looking forward to trying this blend in my diffuser. It's made with grapefruit, lemon, cassia, ginger and peppermint. It smells and sounds amazing.
Patchouli Essential Oil Blend ($16)
Derived from the leaves of the patchouli plant, a type of aromatic herb. Known for its grounding, balancing and calming aroma.
It has been a while since I received patchouli oil. It's a classic when it comes to essential oils and a must-have for any oil collection. Did you know that it can work as a sedative, and large amounts can alter your energy levels? But in small amounts it will be perfect for relaxation.
Cocoa Crunch PB Bites by Pasokin ($1)
Made with peanuts and toasted quinoa, makes a great and tasty source for plant-based protein.
This is just the cutest little snack box I have ever seen! What a great idea, it will be perfect for my purse. These little PB Bites are gluten-free, non-GMO, vegan, all natural and plant based. They have 70 calories per serving and I am VERY excited to try them.
Compression Socks by This Way or Shiraleah ($12 – $29)
Beneficial when running, during your workout, skiing or flying. These socks increase blood flow, help sore muscles and tired legs! Available in several styles.
I love a good pair of knee socks so I was excited to see that these were going to be included in the March box. They were available in a few different styles and subscribers were given the option to choose which one they wanted to receive. I went with the grey/polka dot combo because, well….. I love grey and I love polka dots. These ones are called Flight Compression Socks so I will keep that in mind when we plan our next trip. Until then I am going to enjoy wearing them around the house. How cute would they be with a little pink pyjama set?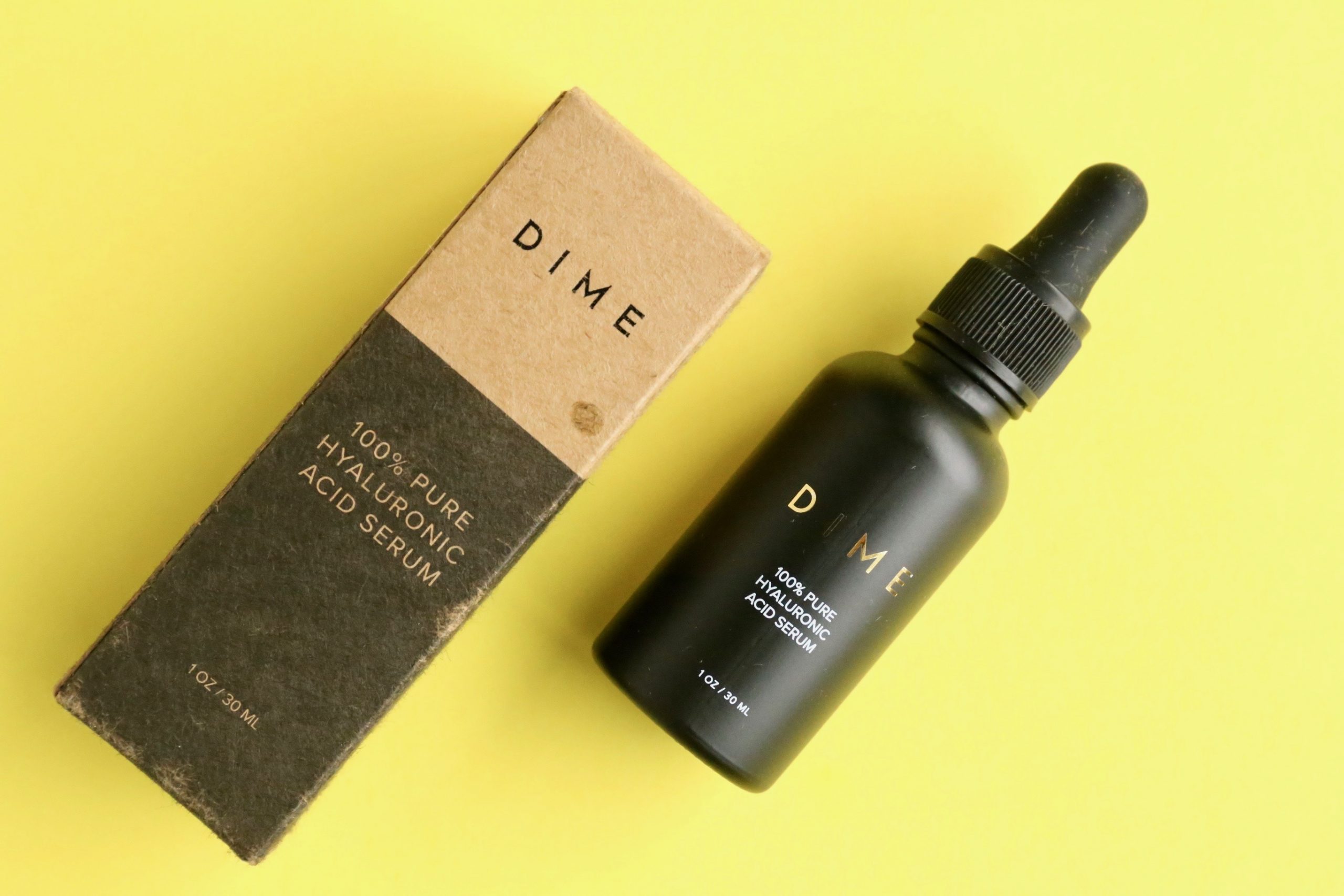 Hyaluronic Acid Serum by Dime Beauty ($28)
Concentrated Hyaluronic Acid instantly quenches thirsty skin upon application, boosting bounce and delivering intense hydration where it's needed most.
I just received this in another box, but I am very happy to receive it for a second time. I use serum every day and like to apply it under my face oil. I'm almost out of the one I am currently using and since I usually purchase it from the mall I won't be able to get more until businesses are back up and running. Until then I will give this one a try and hope that it becomes a new fave.
Clean Up Your Act Wipes by Tech Candy ($7.49)
20 disposable cloths in a sweet little reusable carry-along pack to de-gunk-ify your eyeglasses, tablet, laptop, monitor and phone screen.
Yes, yes, yes! I am very happy to see these in the box. I can't stand it when my phone is dirty and have been meaning to purchase some wipes. These ones are fragrance-free and will attack germs and remove oils.
Cord Keeper by Tech Candy ($4)
Wrangle your USB cord or Earbuds with this cord keeper.
This is a tiny item but a cute item. It will help me keep my cords organized and will be the perfect item to keep in my computer bag.
Thickening Shampoo & Conditioner by BROO ($21.98)
Thin, weak hair? Premium Craft Beer, Broo's #1 ingredient, is naturally brimming with B vitamins and proteins to make hair look strong + shiny. Need volume? This vegan alternative to Keratin makes fine, flat hair look fuller.
In the February box we received Broo body lotion and now I have shampoo and conditioner to match! I am actually quite excited about it because I love using products from the same brand/product line. I also needed a shampoo and conditioner set to keep in the guest bathroom. What I love about this particular set is that it is made without sulphates, parabens, synthetic scents, silicones, phthalates and dyes. The scent is citrus cream and it smells lovely.
Clutch Journal by Fringe Studio ($36)
Available in two different styles, these paperback journals are encased in a soft cover clutch with a zippered pouch flap closure.
This pretty little journal was one of the spoilers for the March box and it's another item that subscribers were able to customize. It was available in two different styles and I received a beige color with cactus designs. It has a magnetic closure and a zipper pouch.
Water Roll-On by Jaime: Things I Love ($24)
Infused with healing crystals, Jaime's Water Roll On features a soft rose, floral scent with an undertone of earth musk. Rose Quartz – Promotes self love, positive self esteem, heals emotional body, heals heartache and loneliness. Eases fear and soothes grief. Quartz – Clears negativity, heals and aligns the aesthetic and emotional bodies.
Lastly we have a wonderful little roll-on with the most amazing rose/floral scent. I use to dislike the smell of roses but now I absolutely love it! It's smaller than most roll-ons I have received but I actually really like the size. It will tuck nicely inside my mini makeup bag or a pocket in my purse.
Bombay & Cedar Review March 2020 – Final Thoughts
I am absolutely in love with the March Bombay & Cedar box. It brought with it some lovely items, all of which I am very excited about. I love my new socks and will wear them often. The shampoo and conditioner set go perfectly with the body lotion from the last box, and the face serum is something I will use on a daily basis. The tech wipes will keep my phone clean/germ free, and the PB snacks will make for a nice little afternoon treat. Once again Bombay & Cedar has put together an amazing box. I love receiving this box in the mail and can say with confidence that it is one of the best lifestyle boxes on the market.
-AYOB Sarah