Bombay & Cedar Review May 2020
Bombay & Cedar is an aromatherapy, beauty & lifestyle subscription box featuring full size products including essential oils, diffusers, skincare, books, snacks & other products carefully curated for the discerning woman who lives a life inspired. They kindly sent us this box for review.
My May Bombay & Cedar box arrived quite late but I am totally ok with that. Most boxes are experiencing some sort of shipping delays at the moment. Things seem to slowly be sorting themselves out and I expect my June box to arrive shortly…..how great will that be?! Two Bombay & Cedar boxes so close together!
Subscription Details
Here's a quick look at the Bombay & Cedar subscription details……..
Join The Tribe: Every month they will delight your doorstep with a new aromatherapy theme. No contracts, skip a month, cancel anytime.
Cost:

Premium Box = $49.95 per month
Mini Box = $29.95

Shipping: $6.95 to US, $16.95 to Canada, $23.95 International
Here's a closer look at the May Premium Bombay & Cedar box….
May Theme: Brave
We understand the fear you may still be experiencing during these troubling times. The uncertainty is perhaps one of the hardest for some to handle and it's leaving many feeling frightful, preventing us from showing our bravery. Bravery is not about being fearless. It's about facing those fears. It's about making tough decisions even if it makes you uncomfortable. When you choose to be brave, you choose to become stronger…..and we admire that.
Citronella Essential Oil ($16)
Known for its sweet aroma, Citronella Essential Oil is commonly used as a natural insect repellant, but it's uses and benefits extend beyond keeping bugs at bay. Citronella is also beneficial in lifting one's mood, promoting wound healing, easing the mind and plenty more.
I could smell the Citronella Oil the moment I opened the box. It smells absolutely lovely, and what a great choice for the Summer months. It reminds me of evenings spent outside.
Pink Grapefruit Essential Oil ($16)
Grapefruit is a hybrid between the sweet orange and an Indonesian Pomelo. The oil is produced by cold pressing the rind to create an oil true to the aroma of the actual fruit. Wonderful to diffuse throughout the air for a fresh and invigorating aroma.
One of my favorite oils to diffuse in the kitchen……especially after a meal. I love the uplifting scent. So fresh and clean.
Kettle Cooked Potato Chips ($1.29)
Available in a variety of flavors. Carolina Kettles Potato Chips are seasoned to perfection to achieve the ultimate crunch. Started with the finest potatoes available then hand-cooked in small batch kettles using 100% Sunflower Oil, these naturally crispy chips are certified awesome – your taste buds will thank you.
I just might need to eat these as soon as I'm done writing the review. Kettle Cooked chips are my favorite. I typically like to see a healthy snack in the box, but we all need to indulge in some hand-cooked chips every now and then…..am I right?!
Graphic Wallet Comb by Go Comb ($5)
Available in a variety of designs, these new combs bring a pop of color and design delight to your wallet. Made from durable, pre-consumer recycled plastic and decorated with a permanent design. Go-Combs are built to last and fit in your wallet for easy styling on the go.
I like to have a brush or comb with me at all times so this handy little wallet comb is absolutely perfect. It takes up hardly any room…..unlike a bulky brush….and it tucks neatly inside my wallet. What a genius idea!
Temporary Tattoos by Inked by Dani ($12)
Dani Egna created chic and creative temporary tattoos inspired by her hand-drawn designs. With their signature on-trend style and worldwide fan base. INKED by Dani is redefining temporary tattoos into a whole new world of upscale, wearable art.
I'm not really one to wear temporary tattoos but it's still a fun product to receive and the designs are oh-so-pretty!
Foot Mask by Grace & Stella ($20)
Made with 17 vegetable extracts, these foot masks will deliver jaw-dropping results. Tired of having rough, dull feet? Reveal your feet's youth with Dr. Pedicure.
I've used something similar to this before and loved the experience. It's a pair of plastic booties meant for single use application. You wash and soak your feet, put the booties on, you can place a pair of socks on over the booties to keep them secure and wear for 1 hour.
Artisan Brew Bread Mix by Soberdough ($9.95)
Handcrafted in Nashville with 100% all natural ingredients. Soberdough is the easiest and most delicious bread! Just pour in the beer, stir and bake!
This wonderful bread mix was available in a few different flavors. I received sun dried tomato which sounds amazing. I'm really excited to give it a try. You simply pour a can of beer into a bowl, add the mix, stir, pour batter into pan and bake. If you don't want to use beer you can use a can of carbonated water instead.
Pocket Pal Hot/Cold Pad by Gamago ($14)
These heating and cooling pads are infused with lavender to help calm the nerves. Just heat in the microwave for cozy, huggable warmth or pop in the freezer for relieving unwanted pain.
Oh my goodness!!! How cute is this little pocket pal?! I have never seen anything like it. And what's funny is I'm actually kind of cold as I sit here writing this and the idea of warming it in the microwave and sitting it on my lap sounds really nice right about now.
Kimono by Shiraleah or LOF ($29 – $51)
Available in several styles, these lightweight Kimonos and Cover Ups can be worn to the beach, a casual night out or simply indoors for a cozy night in.
It's not often we receive fashion items like this so I was very excited to see it in the box. This gorgeous cover/wrap was available in a few different colors/styles. I love pieces like this as they are so versatile. Use as a cover, shawl, wrap, scarf…..etc. It's the perfect piece to keep in your beach bag or grab as you are heading out the door for date night and/or a visit with friends.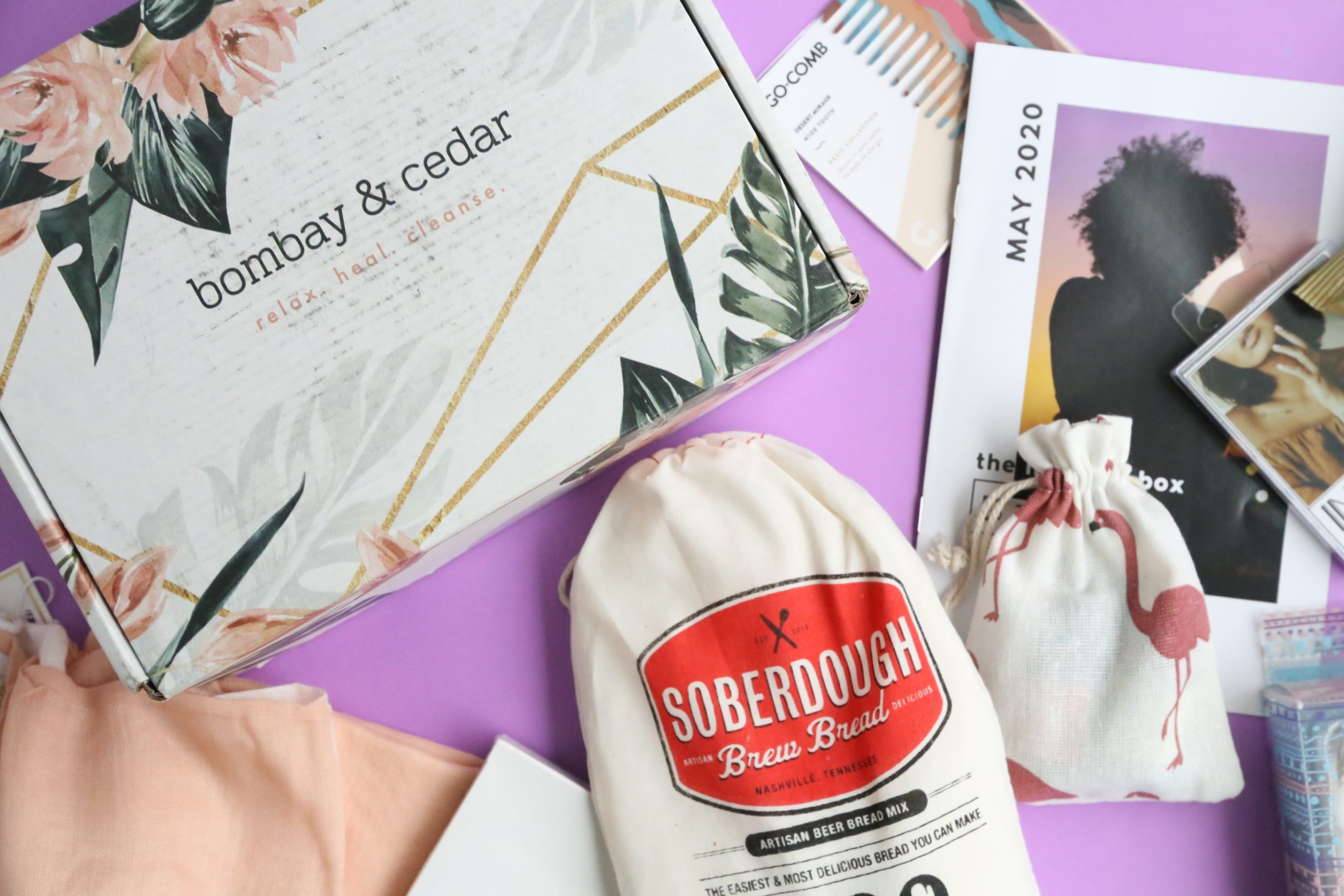 Bombay & Cedar Review May 2020 – Final Thoughts
At first glance the May Bombay & Cedar box didn't have the wow factor like most of their boxes have, but upon further inspection I discovered a really great selection of items and came to appreciate the curation after all. I was introduced to some really fun products that I never would have discovered on my own. The bread for example….what a fun item to have in your pantry. And the adorable little Pocket Pal! Who knew I would be so excited about a furry little lama that I can heat up in the microwave. I also really love the fact that they included such a gorgeous clothing/accesory item this month. I would LOVE to see them do this more often. Once again they have put together a great box….packed FULL of fun and useful items.
-AYOB Sarah