Bombay & Cedar Review December 2017
Bombay & Cedar is an aromatherapy, beauty & lifestyle subscription box featuring full size products including essential oils, diffusers, skincare, books, snacks & other products carefully curated for the discerning woman who lives a life inspired. They kindly sent us this box for review.
Bombay & Cedar was my favourite subscription box discovery of 2017…..hands down. They only started shipping in July of last year, but I fell in love the moment I laid eyes on my very first box. I still remember the day. I opened the box at the post office because I simply couldn't wait until I got home. I was THAT excited about this subscription. I have been reviewing subscription boxes for over 5 years and can usually tell a good box from a bad box upon first glance. I had a good feeling about Bombay & Cedar from the very beginning and they are yet to disappoint me. As we head in to 2018 this is still my favourite box and I don't see that changing anytime soon.
Subscription Details
Here's a quick look at the subscription details……..
Join The Tribe: Every month they will delight your doorstep with a new aromatherapy theme. No contracts, skip a month, cancel anytime.
Cost: $49.95 per month
Shipping: $6.95 to US, $15 to Canada, $29 International
Here's a closer look at the December box…..
December Theme – Mindfulness
Here's a little note on mindfulness from the December Bombay & Cedar magazine….
Mindfulness is all about tuning the brain to focus on the present moment. It is important to state this fact because sometimes the true essence of mindfulness is lost. This happens when putting emphasis on traditional activities practiced alongside mindfulness such as meditation or yoga. However, mindfulness can be applied in our daily lives. By focusing on the here and now, this gives us greater peace of mind and clarity. Using this approach we can avoid drifting through our lives in confusion, being consumed by thought of what could have been or planning for things that are out of our control.
Cypress Essential Oil ($15)
Cypress is an evergreen native to the Mediterranean. It has a refreshingly pine like scent and is the epitome of what fresh and crisp smells like.
Bombay & Cedar includes two new essential oils in each box. It's one of the features I like most about this subscription. I truly look forward to receiving new essential oils every 30 days. Thanks to B&C I've had the chance to test out some oils I never would have discovered on my own. My current fave is Rosemary, I have it in my diffuser as we speak. But, I have a feeling Cypress might be my new favourite going forward. It has a number of benefits including – relieves stress, eliminates door, tightens skin and heals wounds.
Frankincense Essential Oil ($16)
Frankincense has been used since antiquity with references of the resin bestowed to Jesus by the three wisemen. It is grown primarily in the Middle East, Northern Africa & India.
I don't love the scent of Frankincense as much I love the scent of Cypress but I feel like they will go well together. One of the benefits of Frankincense is that it boosts the immune system, and I am definitely needing a boost right about now.
Double Dark Chocolate Protein Cookie ($3)
Chocolate lovers, this one's for you. This Double Dark Chocolate Protein Cookie lets you enjoy the decadent and rich chocolate you love, but with 18g protein for a better-for-you sweet treat. Each Double Dark Chocolate Protein cookie contains no sugar alcohols, no gluten, no soy, no dairy and no eggs.
Ummm…..how good does this sound?! I love any sort of protein snack and this one also happens to include a whole lot of chocolate. It is made with brown rice protein, which is vegan-friendly, and another main ingredient is peanut butter. The entire cookie only has 360 calories and 16g of sugar.
Little Berry Hibiscus Loose Leaf Tea by Justea ($15)
The ladies of the Women's Herbal Tea Co-op drink hibiscus tea all day long. Justea has added their hand-picked, organic hibiscus to this herbal blend so you can sip and enjoy the same tea as the Kenyan women do! Little Berry Hibiscus is a beautiful burst of colour: pink hibiscus petals, purple berries, green lemongrass and red rooibos. It is also delicious over ice. Your tea purchase directly benefits the Women's Co-op.
What a wonderful product for a Winter box. I rave about tea all the time. I have been drinking it on a daily basis since October and am always happy to add another flavour to my collection. This blend is caffeine free, which makes me very happy, and is described as vibrant and tart.
Stainless Steel Tea Infuser Stick by Pinky Up ($11.99)
Introduce the heady bouquet of loose leaf tea into your everyday routine with this sleek Tea Stick Infuser. Small perforations around the cylinder ensure that your chosen blend disperses without the muss and fuss of escaped leaves, while an elongated shank makes mixing a simple endeavor. So toss those tea sachets and make a toast to a better brewing experience!
I always say how much I love to receive complementary items so it should come as no surprise that I am very happy to receive a tea infuser to go with the Hibiscus tea. I've never seen a diffuser like this one and am quite excited to give it a try.
Pirouette Personal Essential Oil Diffuser by Serene House ($15)
This gadget allows you to play with scent. A wooden spinning top with a ceramic stone – drop your favorite essential oil onto the stone to release a scent through passive diffusion while the object is sitting still or being spun.
Essential Oil Diffusers make a regular appearance in Bombay & Cedar boxes. It's one of the reasons I love this subscription so darn much. I am slightly obsessed with oil diffusers and am always happy to receive a new one.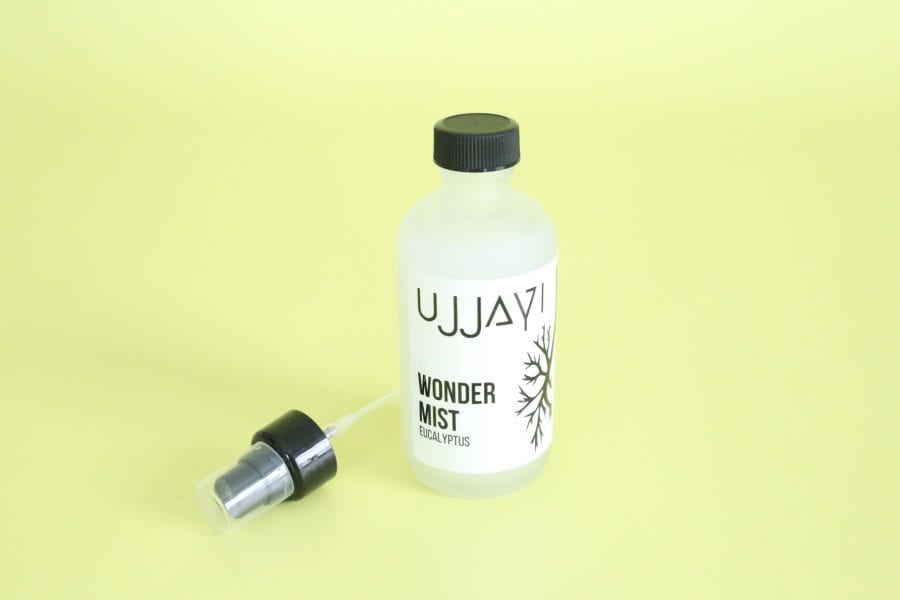 Wonder Mist by Ujjay ($24)
This gentle mist is designed to support yogis through transitional flow. With a baseline of coconut oil, aloe vera, and essences of Eucalyptus, you'll find balance on the mat and throughout your day. Perfect as a face cleanser, toner, and make-up remover.
You all know how much I love multi-tasking products and that's exactly what this mist is – a multi-tasker. I love that it can be used as a makeup remover, I am always on the hunt for a natural product that will remove my mascara at the end of the day. I wonder if this one will do the trick?
The Little Book of Quiet ($9.95)
The Little Book of Quiet takes a broad look at the need for, and the benefits of, achieving more quiet in your life. It will teach introverts how to harness their many positive qualities, and help extroverts to allow more quiet into their lives.
I have really been enjoying the book selections provided by Bombay & Cedar over the last few months. In September we received a positivity book, November was an adorable little bathroom book, and now we have a book that teaches us the benefits of achieving more quiet in your life. I love it!
Be Mindful Grip Socks ($15)
Stick to Being You and keep motivated during your daily exercise with these "Be Mindful" non-slip grip socks.
Yes!!! These are awesome. I get very excited about fitness accessories, especially socks like these. I love a good pair of grip socks, I wear them on a regular basis. I would absolutely LOVE to see more products like this in future boxes.
Thank You Gift
If you shared your box on social media last month you have also received a special gift as a thank you for spreading the word about our box.
This is a really nice feature. Share your unboxing and Bombay & Cedar will send you a thank you gift.
Bombay & Cedar Review December 2017 – Final Thoughts
Wow! Where do I even begin? This month's Bombay & Cedar has a total retail value of $125.94 and it is packed full of awesome products. Let's keep in mind that the box itself only costs $49.95 per month and then have a look at the retail value and number of items received again. Pretty awesome….right! Now do you see why I love this subscription so much!? Not only does it come packed full, it also provides amazing value, and focuses on items that fit my lifestyle perfectly – vegan, cruelty free and organic goodies. Here's a little comparison to put things into perspective for you. I could go to Saje and get myself 2 new essential oils for $37.90 or I could spend $49.95 and get 2 new essential oils as well as 8 other full-size lifestyle items to go with my oils. It's a no-brainer if you ask me.
XOXO