Bombay & Cedar Review November 2017
Bombay & Cedar is an aromatherapy, beauty & lifestyle subscription box featuring full size products including essential oils, diffusers, skincare, books, snacks & other products carefully curated for the discerning woman who lives a life inspired. They kindly sent us this box for review.
Bombay & Cedar is my obsession. I am so in love with this box its hard for me to even put in words how obsessed I am. We have been reviewing this box since August and have come to the conclusion that it is one of the best wellness/lifestyle subscriptions on the market. This box comes packed full of wonderful goodies every month and the price point is amazing.
Subscription Details
Here's a quick look at the subscription details……..
Join The Tribe: Every month they will delight your doorstep with a new aromatherapy theme. No contracts, skip a month, cancel anytime.
Cost: $49.95 per month
Shipping: $6.95 to US, $15 to Canada, $29 International
Here's a closer look at the November box…..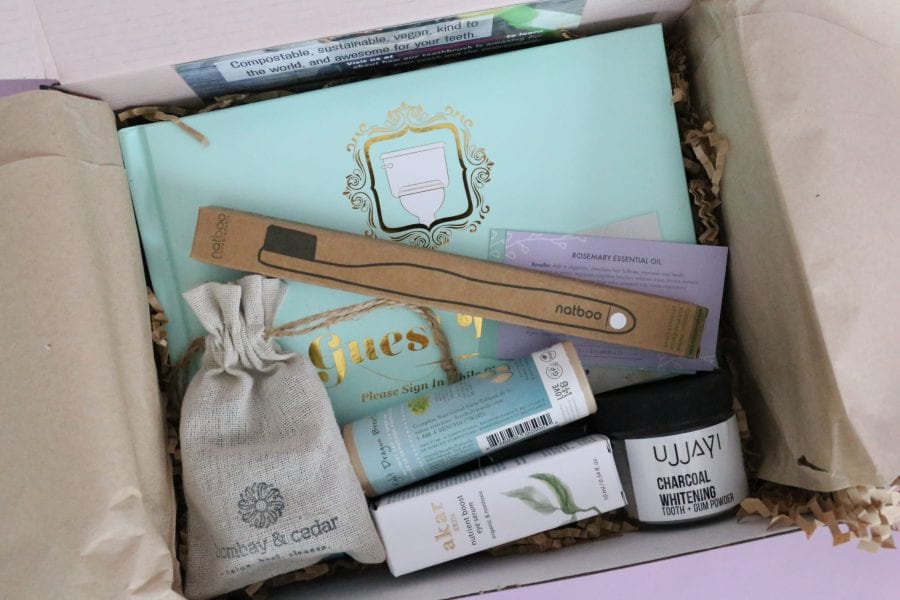 November Theme: Social Harmony
This month's box is full of goodies to help prepare you and your home for those discerning guests that are on their way. On top of that, we're promoting harmony between each other, which is certainly something we can always use a little more of in our lives.
Whether you get this box for yourself or choose to send it to a friend as a "Thank You!" for hosting Thanksgiving dinner, this is a great chance to promote social harmony this holiday season.
Peppermint Oil ($14)
Organic peppermint essential oil is one of the most widely used and versatile essential oils in the world. It has an unmistakable minty scent that is wonderful to incorporate in countless applications. Peppermint is autochthonous to Europe, a hybrid between water mint and spearmint, and has naturalized itself across the globe, spanning from the United States to Australia to India. 
Rosemary Oil ($14)
Rosemary is a plant autochthonous to the Mediterranean and is cultivated throughout the world. It grows wild on dry, rocky slopes near the sea. In Egypt, rosemary was buried with pharaohs. It was also burned in hospitals as a disinfectant and purifier. 
Thoughts: This is the perfect oil blend for Winter. I was super excited to see both of these in the box. I put them in my diffuser the moment I took them out of the box, and let me tell you, my house smells wonderful. I get a whiff of mint and rosemary every time I walk in the front door. I find peppermint oil to be so relaxing.
Peppermint Sage Green Tea Mints ($2.85)
The taste of powerful peppermint and subtle hint of sage make this blend one of our stronger and most unique combinations. Now sweetened with coconut sugar. 
A small item, but a thoughtful one at that. These are already in my purse. I don't really like to chew gum so these are perfect for me.
Fresh Linen Pre-Toilet Spray ($8.99)
A fresh linen scent made up of an all natural amber, bergamot, vanilla and a light hint of eucalyptus oils. Once you flush, a fresh clean scent will be released and you'll never leave behind embarrassing bathroom doors again. It's what you do before number two. 
I love that this is a pre-toilet spray. It will be perfect for our guest bathroom.
Bathroom Guest Book ($15)
No ordinary guest book, this throne-room tome offers provocative prompts and ample doodle space to help your guests express themselves for posterity. Who hasn't had a deep thought on the can. 
How great is this book!! It definitely made me laugh. I never expected to see something like this in the box, but I love it now that I have it in front of me. I doubt anyone will actually use it, but it will provide a good laugh for anyone who uses our guest bathroom from now on.
Bamboo Toothbrush ($7.95)
Biodegradable toothbrush with activated bamboo charcoal infused bristles. Comes in recyclable packaging. Soft bristles. 
These are my favourite kind of items to receive in subscription boxes – necessities. I appreciate simple products; products we need to use on a daily basis. And the fact that this one is made with charcoal infused bristles. How great is that!
Charcoal Whitening Tooth Powder by Ujjayi ($14.99)
Yogi approved toothpowder in a zen fresh peppermint flavour. 
I am beyond excited about this whitening powder!!! I use to whiten my teeth with gel from the dentist but since discovering the wonderful world of charcoal powder my gel is a thing of the past. I started experimenting with charcoal powder about 4 months ago and I can definitely notice a difference. I feel much better using a natural product to whiten my teeth, and charcoal has so many other benefits. I would definitely recommend it.
Nutrient Boost Eye Serum ($85)
A potent eye serum for your delicate eye area. Nutrient Boost is formulated specifically to reduce puffiness, dryness, dark circles and wrinkles. 
This is our big-ticket item in the November box, and it was also our spoiler. You all know how much I love my eye products. It's my problem area so these kind of products are of great value to me. Can we also talk about the fact that this item alone costs more than the box itself?! Now do you see why I love Bombay & Cedar so much?!
Moonlight White Gold Peppermint Lip Whip ($16)
Who says clean beauty can't be glamorous? A naturally coloured and flavoured lip whip for a lasting hint of color, shimmer and moisture to protect lips year-round. 
Lastly we have a lovely little jar of lip balm. This rounds out the box nicely…..don't ya think?
Bombay & Cedar Review November 2017 – Final Thoughts
The November Bombay & Cedar box has a total value of $178.78. Can you believe that! I am so impressed right now. The eye serum alone costs more than the box itself. If you are looking for a value subscription, this would be a good place to start. Not only that, they also include an amazing assortment of products, great brands, and they package everything up in a beautiful box. What's not to love?! And…..let's not forget that Bombay & Cedar is a brand new subscription. They have only been shipping since July. For a new box they are doing a phenomenal job. I expect to see great things from this subscription as we move forward. I'm going to go out on a limb here and predict that they will become one of the most popular subscription boxes on the market. It might not be next month, or the month after, but definitely within the next year, they will be up there with the big 5!
XOXO