Bombay & Cedar Review November 2019
Bombay & Cedar is an aromatherapy, beauty & lifestyle subscription box featuring full size products including essential oils, diffusers, skincare, books, snacks & other products carefully curated for the discerning woman who lives a life inspired. They kindly sent us this box for review.
One of this things I've come to appreciate most about Bombay & Cedar is the consistency. Every month the box is packed full of wonderful products, it always includes two essential oils, and the value is always significantly more than the cost of the box. They work with great brands and they source unique items. It's a subscription box I always look forward to receiving.
Subscription Details
Here's a quick look at the Bombay & Cedar subscription details……..
Join The Tribe: Every month they will delight your doorstep with a new aromatherapy theme. No contracts, skip a month, cancel anytime.
Cost:

Premium Box = $49.95 per month
Mini Box = $29.95

Shipping: $6.95 to US, $16.95 to Canada, $23.95 International
Here's a closer look at the November Premium Bombay & Cedar box….
Coriander Seed Essential Oil ($14)
This oil is extracted from the seeds of cilantro which is an annual herb said to be native to Europe, Northern Africa and Western Asia. It's beneficial in treating spasms and much more!
It has been a while since I receive coriander oil so I had to do a little refresher. I found out that it blends well with: Fennel Seed, Ginger Root, Jasmine, Lavender, Lemon, Peppermint, Rose, Ylang Ylang. I also found out that it is safe to use during pregnancy so I plan on using it in my diffuser over the next couple months. I will blend it with lavender which is also safe during pregnancy.
Frankincense Essential Oil ($16)
Frankincense is grown primarily in the Middle East, Northern Africa and India. It has been used since ancient times for sacred and medicinal purposed.
Frankincense is good for relaxation so I have plans to blend this one with a little lavender as well. My life is about to become extremely hectic so I want to enjoy as much "down-time" as possible over the next couple months.
Embroidered Wireless Speaker ($36)
Available in four colors, these wireless speakers by Tech Candy provides a full, rich sound that you can clip to your backpack or take on any bike ride.
This little speaker is so darn cute. I love the colors and the embroidery. It's not really something I would use personally but as soon as I pulled it out of the box I thought of my niece. She will absolutely LOVE this.
Chocolate Chip Cookie Bites ($1.49)
Just the right amount of sweet, savoury and crunchy lends to the addicting nature of this chocolate chip cookie.
Sometimes I just need a little something sweet. I try to avoid sugary treats as much as possible but will also give in to the craving if need be. This little package of cookies will come in handy for one of those cravings.
Olive Oil Bar Soap ($6)
This 100% palm-free bar soap is made with pure Olive Oil and other natural ingredients for a super moisturizing lather that will leave your whole body clean – and your conscience clear.
I can't even remember the last time I purchased "regular" soap from the store. Thanks to my subscription boxes I always have a supply of quality, natural soap on hand. This one has no artificial fragrances, no parabens and it is made with 100% olive oil. This will be great for my skin.
Moisturizing Socks & Gloves ($12.99)
These soft, textured gloves & socks moisturize your hands & feet leaving them velvety smooth. For even deeper hydration, apply moisturizer, your favorite essential oil and wear overnight.
I'm quite excited about this item. My hands and feet have been extremely dry as of late and I hate the feeling of dry hands. You are to apply your favourite essential oil or lotion and wear for 30 minutes. They will lock in moisture, making hands and feet soft and supple. You can also wear them overnight. After use you can wash them in cold water on the gentle cycle.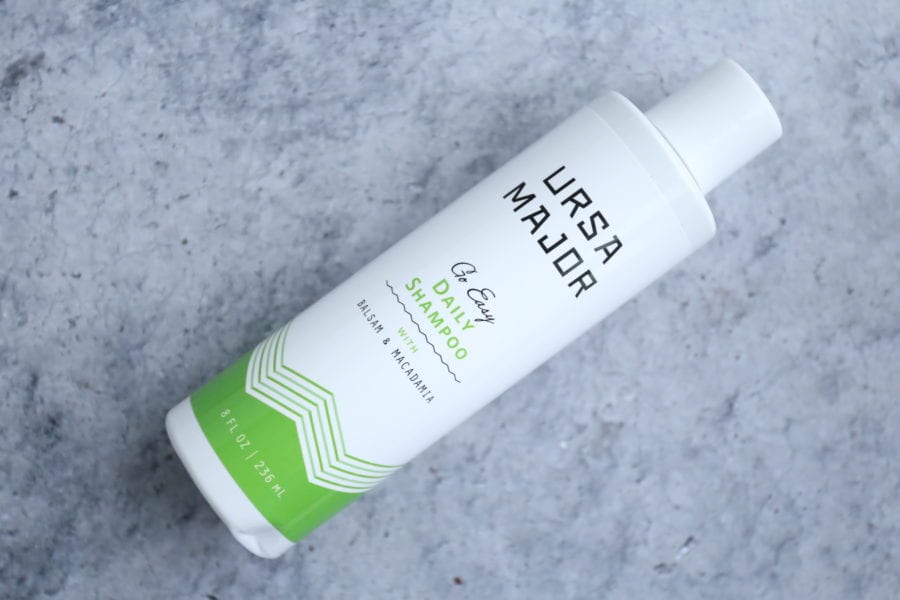 Go Easy Shampoo ($26)
Get soft, healthy, easy-to-manage hair with our delightfully, sulfate free, nourishing daily shampoo. Works great for all hair types, use solo or pair with your favorite conditioner.
I love the scent of this shampoo, it's very clean and fresh. And I have also heard great things about the brand – Ursa Major. But…..I would have loved to have received the matching conditioner to go with it.
Nourish & Glow Tea Set ($16)
This loose leaf tea set includes a bamboo spoon, 6 drawstring tea sachets and an organic Rooibos Chai tea blend that'll nurture you inside and outside.
Here we have a starter tea set by Kaneli. Included in the package is 1.1 oz chai rooibos loose leaf tea, a bamboo spoon and 6 drawstring cotton tea bags.
Twist Hair Turband ($9)
Available in four colors, this hair turban is made of 100% microfibre which is 8x more absorbent than cotton. Dries hair gently and efficiently with less frizz, split ends and hair breakage.
I've been meaning to get a hair towel for quite some time. Since my hair is so long it is a bit of an issue after getting out of the shower. I like that this hair towel will allow me to keep my hair off my neck/clothes while I get ready on the morning.
Tea for Me Set ($24)
Available in four styles, these adorable tea sets are made from durable stoneware. Each set has a removable lid that serves as a cup when turned upside down.
Oh my goodness! How stinkin' cute is this little tea set! Subscribers could have received 1 of 4 different styles. I received this adorable little grey kitten and I LOVE it! My home decor is white and grey so it will be perfect on display in my kitchen.
Bombay & Cedar Review November 2019 – Final Thoughts
The November Bombay & Cedar box has a total retail value of $161 and the theme is Nurture. It's all about taking time for ourselves, stepping away from technology and our busy lives and incorporating some self-care in to our daily routine. The November Bombay & Cedar box couldn't have arrived at a better time as I am becoming more and more aware of the importance of nurturing my soul and eliminating daily stressors from my life. I am going to get my diffuser going with my new essential oils, treat myself to a long shower, make myself a large cup of tea and set some good intentions for my day. Maybe I'll place my new speaker in the bathroom and play some Christmas tunes while I get ready. Sounds like the perfect way to get use out of all my new Bombay & Cedar products and nurture my soul.
-AYOB