Bombay & Cedar Review October 2019
Bombay & Cedar is an aromatherapy, beauty & lifestyle subscription box featuring full size products including essential oils, diffusers, skincare, books, snacks & other products carefully curated for the discerning woman who lives a life inspired. They kindly sent us this box for review.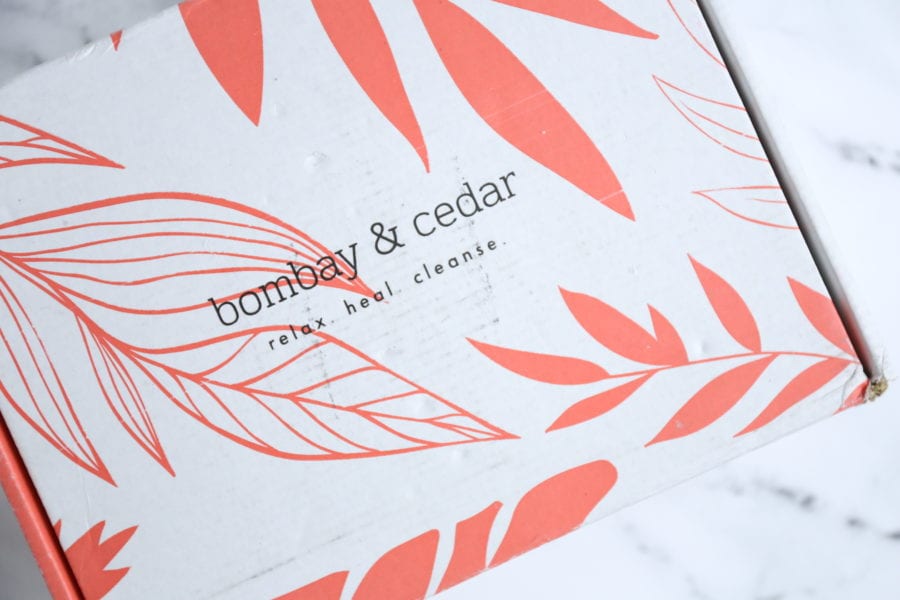 Bombay & Cedar is my monthly gift to myself. It's a box I truly look forward to receiving and always have. If I were to receive a subscription box as a gift this would be the one on my wish list. I'm a HUGE fan of essential oils and use them on a regular basis so I find great value in an aromatherapy lifestyle subscription box such as this.
Subscription Details
Here's a quick look at the Bombay & Cedar subscription details……..
Join The Tribe: Every month they will delight your doorstep with a new aromatherapy theme. No contracts, skip a month, cancel anytime.
Cost:

Premium Box = $49.95 per month
Mini Box = $29.95

Shipping: $6.95 to US, $16.95 to Canada, $23.95 International
Here's a closer look at the October Premium Bombay & Cedar box….
Clary Sage Essential Oil ($14)
Considered to have an affinity with women, clary sage has demonstrated the ability to relieve anxiety and stress, assist with cases of insomnia, and help with women's menstrual issue and estrogen balance.
The perfect essential oil for us ladies. I had no clue Clary Sage had so many benefits for women. I love that it has the ability to relieve stress and balance estrogen.
Tangerine Essential Oil ($10)
Tangerine oil is a potent antioxidant and reduces signs of inflammation. It has uplifting olfactory quality which helps mild cases of depression when diffused throughout the air.
Tangerine is an oil I diffuse in the house quite often. Tangerine, orange, lemon or lime that is. I love all the citrusy scents as it gives the house a fresh, uplifting aroma. I also like the way it can lift your mood and energize.
Lesser Evil Popcorn ($2.49)
The 100% guilt-free popcorn. Made with a blend of organic coconut oil and botanical extracts.
This popcorn has been popping up everywhere……no pun intended. It's a brand I love and will often purchase from the store but I maybe would have liked to see something different in the box this month.
Infusion Jewelry Piece by Wanderlust + Co ($49 – $59)
The Infusion collection is inspired by the imagination of architectural design and precision. Constructed with stainless steel & coated with 18k gold or Rhodium, this sleek staple piece will elevate your looks.
This is an item that was available in a few different options. I'm not particularly drawn to the industrial design. I prefer something a little more understated and simple. With that being said, it has great value and I like that Bombay & Cedar has introduced me to a new brand.
"Cleanse it" Facial Brush by Almost Famous ($20)
Dual action cleansing brush for all skin types with gentle bristles on one side & silicone pad on the other. The ultimate cleansing tool that will reveal brighter skin.
This is something I have been wanting to try for quite some time. Some of the influencers I follow on Instagram swear by these cleansing brushes. I feel like it will provide a deep cleanse. Maybe something I would use every few days as opposed to every day.
Terra Cotta Grow Kit by Modern Sprout ($17)
Perfect for budding plant parents –  a must have for city dwellers looking to grow their indoor desert oasis. Available in Aloe, Desert Bonsai & Prickly Pear.
I love products like this. Anything that helps me expand my plant knowledge and work on my green thumb. I received Aloe but the kit was also available in Desert Bonsai & Prickly Pear. This will be a nice little addition to my office.
Luxury Skincare by Terre Mere ($84 – $88)
Choice of Dual Action Bamboo Acai Scrub (anti-aging exfoliant treatment) or Oat & Rosehip Hydration Bomb Masque (natural exfoliant restoring the complexion's glow).
Subscribers could have received one of two products from Terre Mere. It's a really great skincare brand and it's been a while since I received one of their products in any of my subscription boxes. I received the Dual Action Bamboo Acai Scrub which is perfect for me as I use a face scrub at least once a week.
Tip Off by Alleyoop ($8)
These liquid-filled cotton swabs tackle your makeup mishaps on-the-go. Snap the tip to release the liquid, then wipe off smudges and flakes.
These little makeup removing swabs are genius. I have received them once before and they are the perfect addition to your purse or travel bag. They are great for touching up makeup throughout the day. Especially the under eye area.
Linen or Cotton Apron by Now Designs ($20 – $25)
Whether you are a chef, artist or barista, this carefully crafted apron is great for use in the kitchen, studio and workshop. Available in several styles.
Aprons are a must if you spend a lot of time in the kitchen. It's about this time of year that my baking and cooking increases quite a bit, think holiday cookies, winter soups, etc…… so this arrived at the perfect time.
Bombay & Cedar Review October 2019 – Final Thoughts
The October Bombay & Cedar brought with it some really great products. The essential oils are of course my favorite but aside from that I will get a lot of use out of the apron and can't wait to add the aloe plant to my office decor. The jewelry item was a bit of a miss for me as it's not quite my style. In addition to that we have some quality skincare items and a yummy snack, which rounds out the box nicely. Keep this one in mind as you complete your Christmas shopping. It would make a great gift!
-AYOB