Bombay & Cedar Review September 2017
Bombay & Cedar is an aromatherapy, beauty & lifestyle subscription box featuring full size products including essential oils, diffusers, skincare, books, snacks & other products carefully curated for the discerning woman who lives a life inspired. They kindly sent us this box for review.
I am beyond obsessed with this new subscription box. I got to review Bombay & Cedar for the first time last month and I'm tempted to say it's one of my favourite subscription box finds of the year. The August box was absolutely amazing. I loved every single item they included and use a few of them on a regular basis.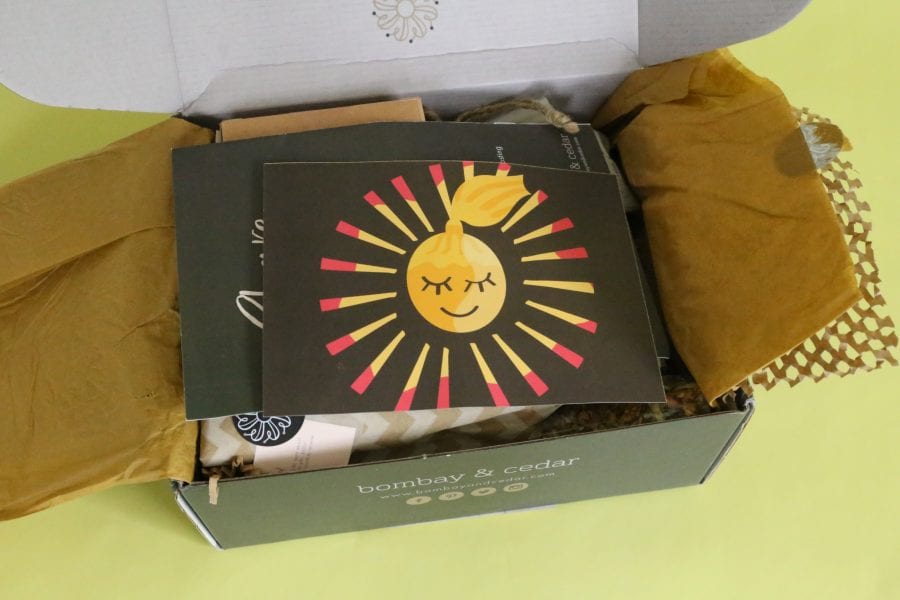 Subscription Details
Here's a quick look at the subscription details……..
Join The Tribe: Every month they will delight your doorstep with a new aromatherapy theme. No contracts, skip a month, cancel anytime.
Cost: $49.95 per month
Shipping: $6.95 to US, $15 to Canada, $29 International
Here's a closer look at the items we received in the September box…..
September Theme – Radiance
We're so thrilled to present you with our second box "Radiance". This month our goal was to curate goodies not only good for your skin but for your well being inside and out. We hope you enjoy:)
Organic Tea Tree Oil ($12)
Our organic tea tree oil traces the origin to the Aboriginal people of Australia. For over a millennium the leaves have been applied as a disinfectant & anti fungal agent.
I love tea tea oil and use it often. It's really great for acne, but I also discovered that it can be used as an insect repellant, to remove mold and for dry cuticles. They suggest blending it with cinnamon, clove, lavender and lemon…..just to name a few.
Rose Absolute 3% in Golden Jojoba Oil ($19)
Rose absolute is one of the most coveted and expensive absolutes on the face of the earth. It possesses an aphrodisiac olfactory quality that is unmistakable and sublime.
This sounds like an amazing oil for us ladies, apparently it is good for easing menstruation, excessive bleeding, stretch marks and skin. Need I say more……
Bamboo AromaPen Essential Oil Diffuser ($15)
Enjoy the benefits of aromatherapy on-the-go with this AromaPen in a rustic, elegant wood grain finish. Add a few drops of your favourite oil to the unscented, replaceable refill rod and allow the aroma to fill your immediate surrounding area.
Eeek!!! How fun is this! I sit at my desk all day, every day and have a pen in my hand 80% off the time. I can't wait to use this. I'm also making an effort to sit down for 15 minute each morning with my coffee and my planner…..this pen will be perfect for my to-do lists.
Bamboo AromaPen Refill Rods ($3)
These microfibre rods are designed for use with essential oils for your AromaPen. Replace rods after extended use or when changing fragrances.
Opealia the Sriracha Green Pea Cookies ($3)
The sweet and salty balance of Opealia the Sririahca Green Pea Cookie integrates seamlessly with a kick of Sriracha spice that's just powerful enough to leave you wanting more.
These sound very interesting. I love Sriracha but have never heard of it being used in a cookie. I LOVE that they include a little treat each month. We received a snack item in the August box as well. I hope we see this every month.
20oz Que Bottle in White ($24.95)
These 20oz collapsible and fashionable bottles keep you hydrated on-th-go. Patented spiral design shrinks the bottle to half of its size without sacrificing good looks, so you can easily bring it with you and keep the environment plastic-free.
How cool is this bottle! I've never seen a collapsible bottle before. I love that it will take up less room in the cupboard and that it promotes an earth-friendly lifestyle.
The Positivity Kit ($15)
Use your AromaPen with the Positivity Kit. Brimming with engaging prompts that focus on the good things in life, this interactive book is guaranteed to cheer up even the grumpiest person on the rainiest day.
I appreciate books like this and am so glad they included it. I certainly wasn't expecting to see a book in the box. What a pleasant surprise. This one fits my outlook on life perfectly. The note from the author says – This is not a book to just look at. It's a creative space for you to draw, write, doodle over and cut and paste. Soon it will be a catalog of everything that makes you feel good and excited.
I am so excited about this book. I think it should become part of my morning ritual……coffee, planning and a little positivity to start my day.
Green Tea Primer ($29.50)
Prep and protect your skin with this hydrating, antioxidant rich, skin friendly formula made with Organic Green Tea! It creates a smooth canvas for makeup application, reduces the look of lines and pores and will help your make-up last.
We received the sweetest little note with this item – "We're feeling generous this month so we decided to gift everyone with an additional Green Tea Primer. Don't need two? Then keep one and gift the other."
How wonderful. I love gifting, so that's exactly what I will do with my second primer.
NO. 26 Facial Steam ($10)
Facial steams are wonderful for many reasons, but the main pull these specific steam babes have, is to help open up and clean out your pores.
I feel like this is a really great item for a September box. All I want to do is spend my nights at home, sporting my coziest pj's and pampering myself.
Thank You Gift
If you shared your box on social media last month you have also received a special gift as a thank you for spreading the word about our box.
Another little gift from Bombay & Cedar. I am so impressed right now. How generous of them.
Bombay & Cedar Review September 2017 – Final Thoughts
I feel like I can't express in words how much I love Bombay & Cedar. I can't get over how lovely this subscription is. Lovely is the best word to describe it because it fills me with a sense of peace and happiness when I unbox it. The items are gorgeous, and thoughtful. I love that everything included in the box is based on living an inspired life. My little heart just bursts at the thought of essential oils, wellness goodies, inspirational books and environmentally friendly products. Oh, and did I mention that we received a bonus item just because and a thank you gift for sharing the August box with the world? Why on earth would I not share this box…….it's one of the best new boxes on the market.
XOXO