Bombay & Cedar Review September 2018
Bombay & Cedar is an aromatherapy, beauty & lifestyle subscription box featuring full size products including essential oils, diffusers, skincare, books, snacks & other products carefully curated for the discerning woman who lives a life inspired. They kindly sent us this box for review.
Typically I prefer simple boxes. Those that contain a few items, 3 at the most. Those that provide me with essentials, meals, or books. But……all bets are off when it comes to Bombay & Cedar. This gorgeous box arrives packed full of lifestyle items and I absolutely love it! I often think of this box as my #1 favourite.
Subscription Details
Here's a quick look at the subscription details……..
Join The Tribe: Every month they will delight your doorstep with a new aromatherapy theme. No contracts, skip a month, cancel anytime.
Cost:

Premium Box = $49.95 per month
Mini Box = $29.95

Shipping: $6.95 to US, $19 to Canada, $35 International
Here's a closer look at the September Premium Bombay & Cedar….
Pink Grapefruit Essential Oil ($14)
Grapefruit is a hybrid between the sweet orange and an indonesian pomelo. The oil is produced by cold pressing the rind to produce an oil true to the aroma of the actual fruit.
Grounded Balance E.O. Blend ($19)
Grounded Balance is the perfect blend to fight fatigue while helping to invigorate and stimulate the mind and body.
First up we have our essential oils which just happen to be my favourite part of the box. I always look forward to seeing what blends they come up with. For September we received grapefruit and a Grounded Balance blend. I am most excited about the blend. It includes oils such as cedarwood, spruce and juniper, just to name a few.
Mini Cookies by Partake Foods ($5.99)
Certified gluten-free, certified vegan and allergy-friendly mini cookies available in Carrot Oat, Sprouted Grain Chocolate Chip or Sweet Potato Millet.
Ummm……pretty excited about these! They look good and they sound good! They are gluten-free and vegan and they will be the perfect snack to have with my afternoon tea.
Happy Thoughts by Compendium ($9.95)
A little buoyancy. A better day. A brighter outlook. What does it take? Just a few happy thoughts. This bright, contemporary gift book is the perfect mood lifter.
This is the cutest book! Notice how I pictured the page that says "bottomless cups of coffee"? Sometimes we need little reminders of the things that make us happy. Coffee is one of those things.
Hand Balm by BKind ($15.95)
Made with shea butter, a natural source of vitamin A, BKIND's hand balm moisturizes, soothes and promotes tissue healing. Available in Tropical, Cactus, Floral or Citrus.
This is one of my favorite brands to receive in subscription boxes. If you like natural skincare products I highly recommend you check out their website. They have everything from polish to skincare to sponges and toothbrushes.
Half Toe Grip Socks by Sticky Be ($16)
Stick to Being You and keep motivated with these non-slip grip socks with inspirational messages. Available in Be Great, Be Calm or Be Happy.
I love, love, love grippy socks. And I love that these ones say "be happy" on them. I will be wearing these a lot.
Aromatherapy Massage Ball Set by T-Spheres ($35)
Enjoy an aromatherapy massage with this 45mm massage ball set. Comes with jute drawstring travel bag + 3ml Refresher Spray (Peppermint & Pink Grapefruit in Organic Jojoba Base).
This was one of the spoilers we saw for the September box and I was immediately intrigued. I don't tend to gravitate towards items like this but I like the idea of it.
Spearmint Clove Tooth & Gum Tonic by Made Simple ($10)
Strengthens teeth, gums and jaw plus helps prevent bad breath & dry throat. The powerful essential oil mixture helps re-balance the natural mouth flora.
Now this is the kind of item I love to see in my Bombay & Cedar boxes. I've never heard of this before – the product or the brand. I am so interested to try this. I love that it claims to strengthen teeth and gums.
Soy Wax Candle by Mr. B's Necessities ($16.95)
Natural and biodegradable soy wax candle made with only the finest ingredients and hand poured in small batches. Scented with 100% essential oils with hemp wick. Available in Lavender Rosemary, Citrus & Fur and Eucalyptus Cedar & Fir.
Lastly we have a candle which is another item I love to receive. It rounds out the box nicely and it smells lovely.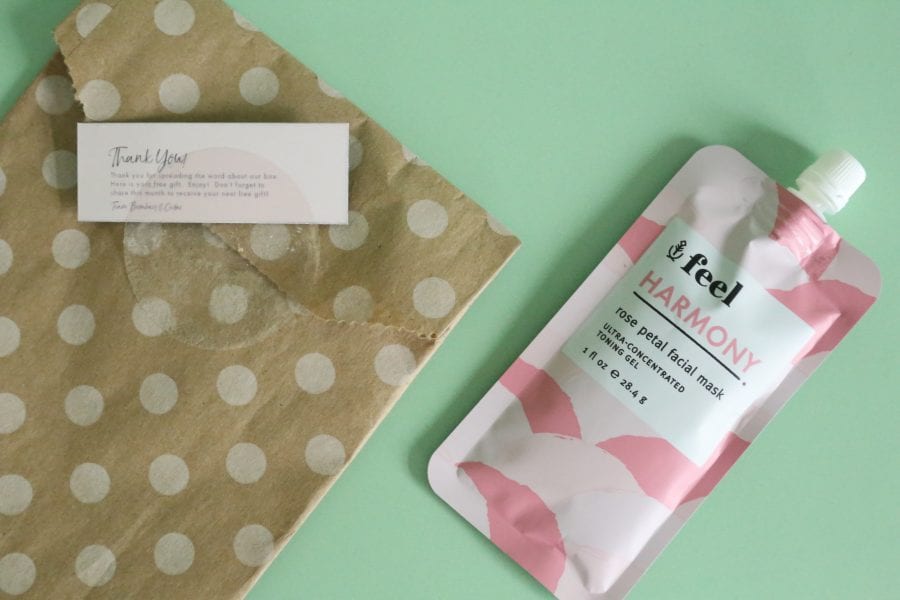 Thank You Gift
If you shared your box on social media last month you have also received a special gift as a thank you for spreading the word about our box.
Bombay & Cedar Review September 2018 – Final Thoughts
The September Bombay & Cedar is giving me all the feels. As per usual we received great value and a great mixture of items. I say this often but I really, really love the mixture of products we receive every month. We always get essentials oils, a snack, a book, skincare and other fun goodies. This month we received socks and a candle, and some months we receive jewelry. You get a little bit of everything and I always discover something new. Bombay & Cedar is, and always will be, my favourite.
Cost: $49.95
Value: $142.82
# of Items: 9
Theme: Balance
Still Available: No
October Theme: Kindness
XOXO