Book of the Month Selection Review December 2017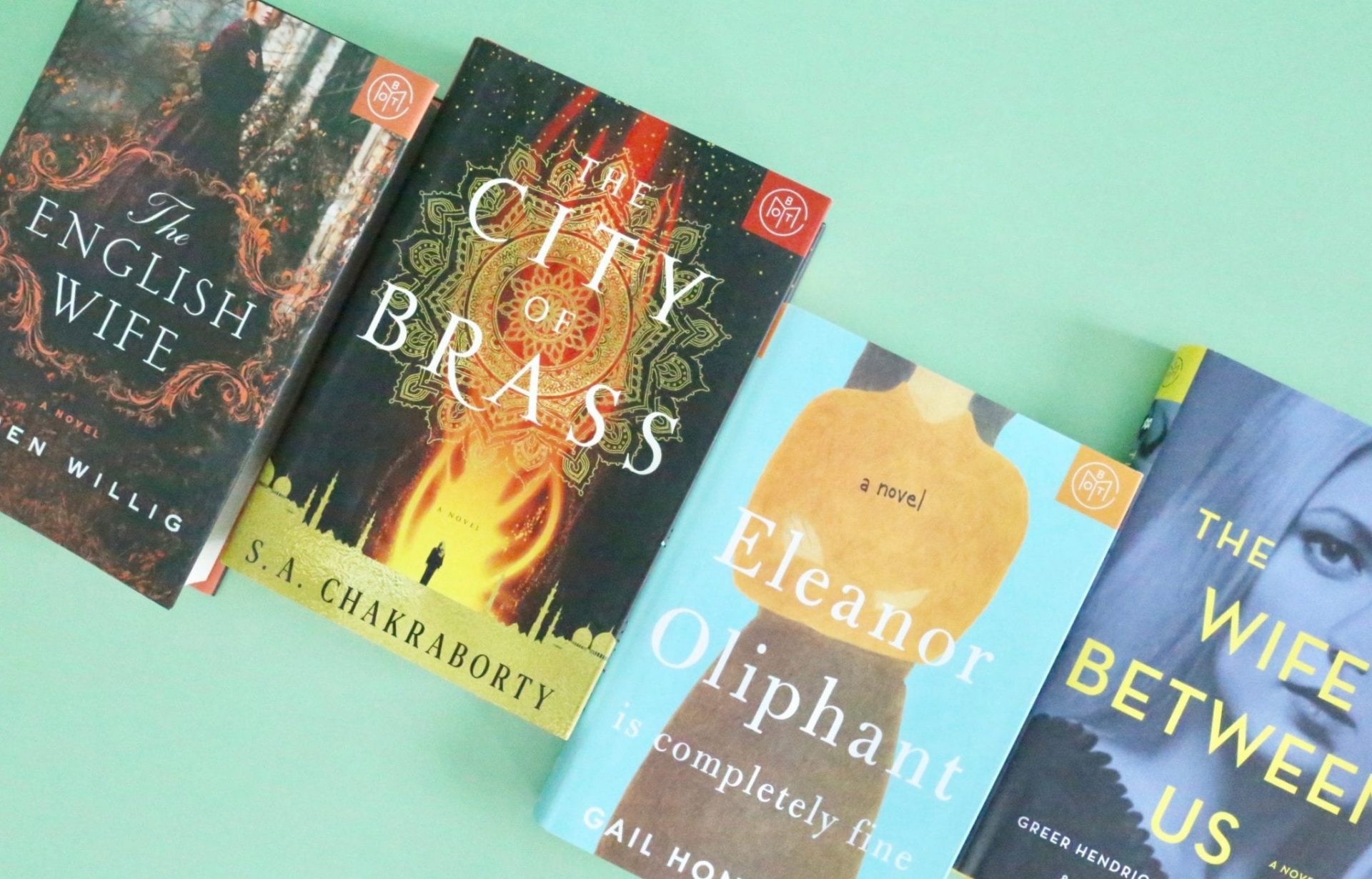 Book of the Month it is a monthly book subscription box. Every month they release 5 new books which have been selected by their panel of Judges. Books are announced on the first of the month, and members have six days to decide which book they would like to receive. Monthly subscriptions include one book, but members can purchase up to two additional books each month for $9.99 per title. They kindly sent us the monthly selections to review.
Every month Book of the Month releases 5 new books of which subscribers can choose to receive. This month we had the chance to look at 4 of the 5 books from the December collection.
Here's a closer look….
The Wife Between Us by Greer Hendricks & Sarah Pekkanen
A novel of suspense that explores the complexities of marriage and the dangerous truths we ignore in the name of love.
When you read this book, you will make many assumptions. You will assume you are reading about a jealous wife and her obsession with her replacement. You will assume you are reading about a woman about to enter a new marriage with the man she loves. You will assume the first wife was a disaster and that the husband was well rid of her. You will assume you know the motives, the history, the anatomy of the relationships. Assume nothing.
Discover the next blockbuster novel of suspense, and get ready for the read of your life.
The English Wife by Lauren Willig
Annabelle and Bayard Van Duyvil live a charmed life: he's the scion of an old Knickerbocker family, she grew up in a Tudor manor in England, they had a whirlwind romance in London, they have three year old twins on whom they dote, and he's recreated her family home on the banks of the Hudson and renamed it Illyria. Yes, there are rumors that she's having an affair with the architect, but rumors are rumors and people will gossip. But then Bayard is found dead with a knife in his chest on the night of their Twelfth Night Ball, Annabelle goes missing, presumed drowned, and the papers go mad. Bay's sister, Janie, forms an unlikely alliance with a reporter to uncover the truth, convinced that Bay would never have killed his wife, that it must be a third party, but the more she learns about her brother and his wife, the more everything she thought she knew about them starts to unravel. Who were her brother and his wife, really? And why did her brother die with the name George on his lips?
The City of Brass by S.A. Chakraborty
Nahri has never believed in magic. Certainly, she has power; on the streets of 18th century Cairo, she's a con woman of unsurpassed talent. But she knows better than anyone that the trade she uses to get by—palm readings, zars, healings—are all tricks, sleights of hand, learned skills; a means to the delightful end of swindling Ottoman nobles.
But when Nahri accidentally summons an equally sly, darkly mysterious djinn warrior to her side during one of her cons, she's forced to accept that the magical world she thought only existed in childhood stories is real. For the warrior tells her a new tale: across hot, windswept sands teeming with creatures of fire, and rivers where the mythical marid sleep; past ruins of once-magnificent human metropolises, and mountains where the circling hawks are not what they seem, lies Daevabad, the legendary city of brass?a city to which Nahri is irrevocably bound.
In that city, behind gilded brass walls laced with enchantments, behind the six gates of the six djinn tribes, old resentments are simmering. And when Nahri decides to enter this world, she learns that true power is fierce and brutal. That magic cannot shield her from the dangerous web of court politics. That even the cleverest of schemes can have deadly consequences.
Eleanor Oliphant Is Completely Fine by Gail Honeyman
Meet Eleanor Oliphant: She struggles with appropriate social skills and tends to say exactly what she's thinking. Nothing is missing in her carefully timetabled life of avoiding social interactions, where weekends are punctuated by frozen pizza, vodka, and phone chats with Mummy. All this means that Eleanor has become a creature of habit (to say the least) and a bit of a loner. 
But everything changes when Eleanor meets Raymond, the bumbling and deeply unhygienic IT guy from her office. When she and Raymond together save Sammy, an elderly gentleman who has fallen on the sidewalk, the three become the kinds of friends who rescue one another from the lives of isolation they have each been living. And it is Raymond's big heart that will ultimately help Eleanor find the way to repair her own profoundly damaged one.
Book of the Month Selection Review December 2017 – Final Thoughts
I'm really happy with the December collection but the book that stood out from the rest was The Wife Between Us. I spent some time reading all the reviews on GoodReads and people seem to love this debut novel from co-authors Greer Hendricks and Sarah Pekkanen. I started reading it over the weekend and was drawn in to the story immediately. It has a little bit of romance, fiction, mystery and suspense. Each chapter alternates between the ex-wife and the new wife, so you get to know both stories. Each chapter also gives you little snippets of back story which adds to the suspense and keeps you wanting more. I'm about half way through the book now and would definitely say that it picks up as you go. So far I am loving it and can't wait to see how it ends.
What was your pick from the December Book of the Month collection?
XOXO