Book of the Month Selection Review April 2018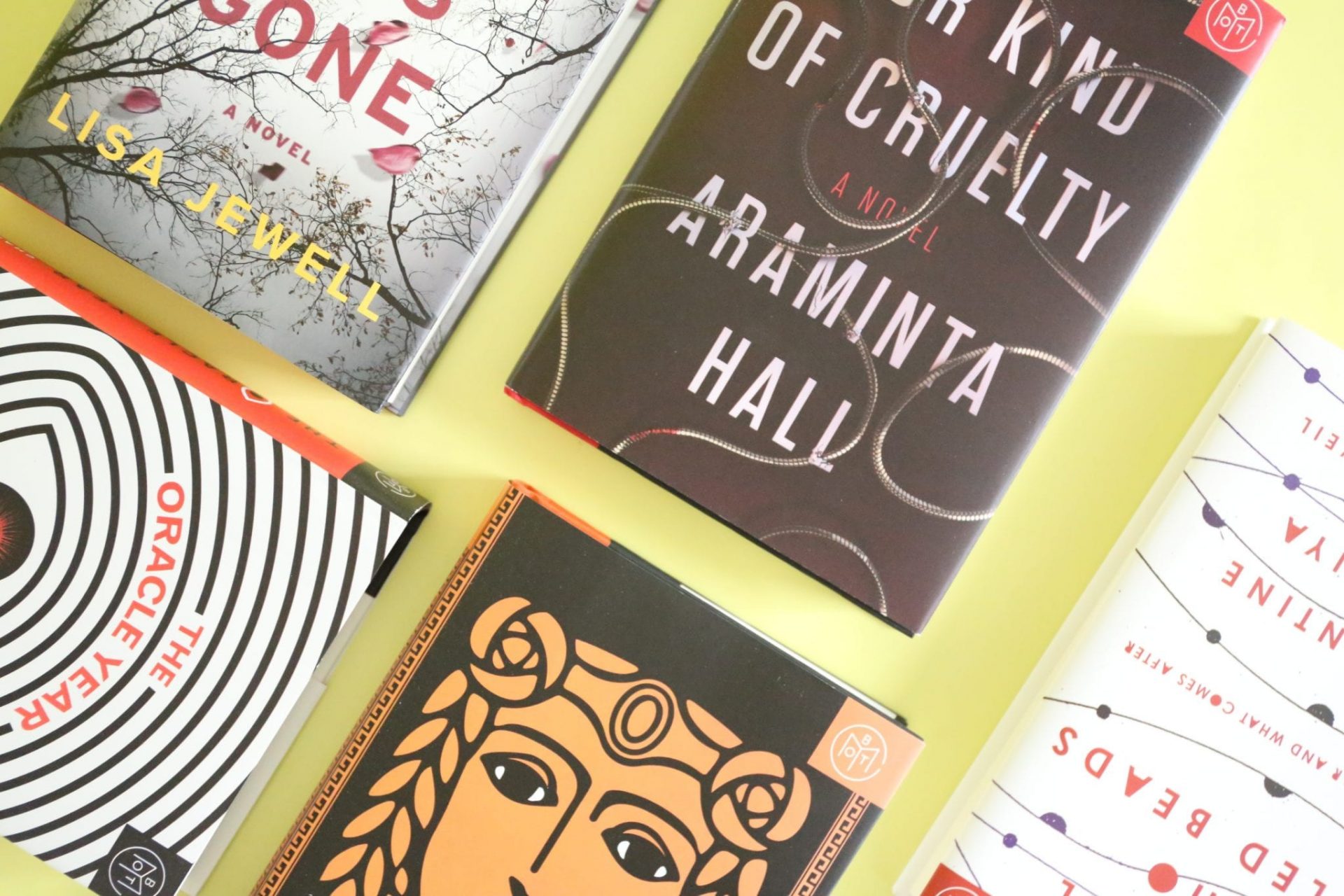 Book of the Month is a monthly book subscription box. Every month they release 5 new books which they have narrow down from hundreds of new releases (so you don't have to). Books are announced on the first of the month, and members have six days to decide which book they would like to receive. Monthly subscriptions include one book, but members can purchase up to two additional books each month for $9.99 per title. They kindly sent us this box for review.
Every month Book of the Month releases 5 new books of which subscribers can choose to receive. This month we had the chance to look at all 5 of the books from the April collection.
My book selection for the month of April was Our Kind of Cruelty by Araminta Hall and so far it is one of my favourite Book of the Month selections out of all the books I have received thus far. I started it two days ago and am almost finished. I'll probably get to the end of it tonight and that's definitely a record for me. It usually takes me 3-4 weeks to get through a book. I don't set aside a lot of time to read and usually get through a few pages before bed each night. Not with this month's selection though…..I just can't seem to put it down. But enough about that……let's have a closer look at each book…..
Circe by Madeline Miller
In the house of Helios, god of the sun and mightiest of the Titans, a daughter is born. But Circe is a strange child–not powerful, like her father, nor viciously alluring like her mother. Turning to the world of mortals for companionship, she discovers that she does possess power–the power of witchcraft, which can transform rivals into monsters and menace the gods themselves.
Threatened, Zeus banishes her to a deserted island, where she hones her occult craft, tames wild beasts and crosses paths with many of the most famous figures in all of mythology, including the Minotaur, Daedalus and his doomed son Icarus, the murderous Medea, and, of course, wily Odysseus.
But there is danger, too, for a woman who stands alone, and Circe unwittingly draws the wrath of both men and gods, ultimately finding herself pitted against one of the most terrifying and vengeful of the Olympians. To protect what she loves most, Circe must summon all her strength and choose, once and for all, whether she belongs with the gods she is born from, or the mortals she has come to love.
With unforgettably vivid characters, mesmerizing language and page-turning suspense, Circe is a triumph of storytelling, an intoxicating epic of family rivalry, palace intrigue, love and loss, as well as a celebration of indomitable female strength in a man's world.
The Oracle Year by Charles Soule
From bestselling comic-book franchise writer Charles Soule comes a clever and witty first novel of a twentysomething New Yorker who wakes up one morning with the power to predict the future—perfect for fans of Joe Hill and Brad Meltzer, or books like This Book Is Full of Spiders and Welcome to Night Vale.
Knowledge is power. So when an unassuming Manhattan bassist named Will Dando awakens from a dream one morning with 108 predictions about the future in his head, he rapidly finds himself the most powerful man in the world. Protecting his anonymity by calling himself the Oracle, he sets up a heavily guarded Web site with the help of his friend Hamza to selectively announce his revelations. In no time, global corporations are offering him millions for exclusive access, eager to profit from his prophecies.
He's also making a lot of high-powered enemies, from the President of the United States and a nationally prominent televangelist to a warlord with a nuclear missile and an assassin grandmother. Legions of cyber spies are unleashed to hack the Site—as it's come to be called—and the best manhunters money can buy are deployed not only to unmask the Oracle but to take him out of the game entirely. With only a handful of people he can trust—including a beautiful journalist—it's all Will can do to simply survive, elude exposure, and protect those he loves long enough to use his knowledge to save the world.
Delivering fast-paced adventure on a global scale as well as sharp-witted satire on our concepts of power and faith, Marvel writer Charles Soule's audacious debut novel takes readers on a rollicking ride where it's impossible to predict what will happen next.
Our Kind of Cruelty by Araminta Hall
This is a love story. This is a tragedy. This is a book about a break up so bad that when you put the pieces of the love story back together, what you get is MURDER …
Mike knows that most of us travel through the world as one half of a whole, desperately searching for that missing person to make us complete.
But he and Verity are different. They have found each other and nothing and no one will tear them apart.
It doesn't matter that Verity is marrying another man.
You see, Verity and Mike play a game together, a secret game they call 'the crave', the aim being to demonstrate what they both know: that Verity needs Mike, and only Mike.
Verity's upcoming marriage is the biggest game she and Mike have ever played. And it's for the highest stakes.
Except this time in order for Mike and Verity to be together someone has to die …
The Girl Who Smiled Beads by Clemantine Wamariya
Clemantine Wamariya was six years old when her mother and father began to speak in whispers, when neighbors began to disappear, and when she heard the loud, ugly sounds her brother said were "thunder." In 1994, she and her fifteen-year-old sister, Claire, fled the Rwandan massacre and spent the next six years wandering through seven African countries, searching for safety–perpetually hungry, imprisoned and abused, enduring and escaping refugee camps, finding unexpected kindness, witnessing inhuman cruelty. They did not know whether their parents were dead or alive.
When Clemantine was twelve, she and her sister were granted asylum in the United States, where she embarked on another journey–to excavate her past and, after years of being made to feel less than human, claim her individuality.
Raw, urgent, and bracingly original, The Girl Who Smiled Beadscaptures the true costs and aftershocks of war: what is forever destroyed; what can be repaired; the fragility of memory; the disorientation that comes of other people seeing you only as broken–thinking you need, and want, to be saved. But it is about more than the brutality of war. It is about owning your experiences, about the life we create: intricately detailed, painful, beautiful, a work in progress.
Then She Was Gone by Lisa Jewell
THEN
She was fifteen, her mother's golden girl. She had her whole life ahead of her. And then, in the blink of an eye, Ellie was gone.
NOW
It's been ten years since Ellie disappeared, but Laurel has never given up hope of finding her daughter. And then one day a charming and charismatic stranger called Floyd walks into a café and sweeps Laurel off her feet. Before too long she's staying the night at this house and being introduced to his nine year old daughter. Poppy is precocious and pretty – and meeting her completely takes Laurel's breath away.
Because Poppy is the spitting image of Ellie when she was that age. And now all those unanswered questions that have haunted Laurel come flooding back.
What happened to Ellie? Where did she go? Who still has secrets to hide?
Book of the Month Selection Review April 2018
This month's collection of books has got me really excited. Book of the Month released some amazing picks for April. So much so, I had trouble deciding which one to read first. It was a toss-up between Our Kind of Cruelty by Araminta Hall and Then She Was Gone by Lisa Jewell. Both books sound like great reads but in the end Our Kind of Cruelty won. The good news is, since I am almost finished reading the first book I will have more than enough time to start my second pick before the May selections arrive. Needless to say, I'm pretty excited about the April Book of the Month selections. I love that one little monthly delivery has the power to slow this girl down. It's not often I make time for myself, but thanks to BOTM I've had an adequate amount of down time, coffee drinking and reading the past few days. And I see a lot more of it in the near future…..
XOXO