Book of the Month Selection Review June 2019
Book of the Month is a monthly book subscription box. Every month they release 5 new books which they have narrowed down from hundreds of new releases (so you don't have to). Books are announced on the first of the month, and members have six days to decide which book they would like to receive. Monthly subscriptions include one book, but members can purchase up to two additional books each month for $9.99 per title. They kindly sent us this box for review.
You know what makes me happy? The fact that it has been raining for the last few days and it is supposed to continue for another 4 or 5 days. This, in addition to the fact that I'm deep in to one of my June Book of the Month choices makes me a very happy girl. Rainy days, books and tea!
Subscription Details
How Book of the Month works:
1. New selections are announced on the 1st of the month: The BOTM team selects 5 new books each month, one of which is included in your membership.
2. Choose your Book of the Month by the 6th: Visit the site to select your Book of the Month, or leave it up to them and they will choose one for you.
3. Read, react and discuss with other members: All books ship on the same day. Return to the site to share and discuss with other members.
Here's a closer look at the Book of the Month selections for June……
A Nearly Normal Family by M. T. Edvardsson
Eighteen-year-old Stella Sandell stands accused of the brutal murder of a man almost fifteen years her senior. She is an ordinary teenager from an upstanding local family. What reason could she have to know a shady businessman, let alone to kill him?
Stella's father, a pastor, and mother, a criminal defense attorney, find their moral compasses tested as they defend their daughter, while struggling to understand why she is a suspect. Told in an unusual three-part structure, A Nearly Normal Familyasks the questions: How well do you know your own children? How far would you go to protect them?
Recursion by Blake Crouch
Memory makes reality. That's what New York City cop Barry Sutton is learning as he investigates the devastating phenomenon the media has dubbed False Memory Syndrome—a mysterious affliction that drives its victims mad with memories of a life they never lived.
Neuroscientist Helena Smith already understands the power of memory. It's why she's dedicated her life to creating a technology that will let us preserve our most precious moments of our pasts. If she succeeds, anyone will be able to re-experience a first kiss, the birth of a child, the final moment with a dying parent.
As Barry searches for the truth, he comes face-to-face with an opponent more terrifying than any disease—a force that attacks not just our minds but the very fabric of the past. And as its effects begin to unmake the world as we know it, only he and Helena, working together, will stand a chance at defeating it.
But how can they make a stand when reality itself is shifting and crumbling all around them?
Golden Hour by Beatriz Williams
The Bahamas, 1941. Newly-widowed Leonora "Lulu" Randolph arrives in Nassau to investigate the Governor and his wife for a New York society magazine. After all, American readers have an insatiable appetite for news of the Duke and Duchess of Windsor, that glamorous couple whose love affair nearly brought the British monarchy to its knees five years earlier. What more intriguing backdrop for their romance than a wartime Caribbean paradise, a colonial playground for kingpins of ill-gotten empires?
Or so Lulu imagines. But as she infiltrates the Duke and Duchess's social circle, and the powerful cabal that controls the islands' political and financial affairs, she uncovers evidence that beneath the glister of Wallis and Edward's marriage lies an ugly—and even treasonous—reality. In fact, Windsor-era Nassau seethes with spies, financial swindles, and racial tension, and in the middle of it all stands Benedict Thorpe: a scientist of tremendous charm and murky national loyalties. Inevitably, the willful and wounded Lulu falls in love.
Then Nassau's wealthiest man is murdered in one of the most notorious cases of the century, and the resulting coverup reeks of royal privilege. Benedict Thorpe disappears without a trace, and Lulu embarks on a journey to London and beyond to unpick Thorpe's complicated family history: a fateful love affair, a wartime tragedy, and a mother from whom all joy is stolen.
The stories of two unforgettable women thread together in this extraordinary epic of espionage, sacrifice, human love, and human courage, set against a shocking true crime . . . and the rise and fall of a legendary royal couple.
Ask Again, Yes by Mary Beth Keane
A profoundly moving novel about two neighboring families in a suburban town, the friendship between their children, a tragedy that reverberates over four decades, and the power of forgiveness.
Francis Gleeson and Brian Stanhope are two NYPD rookies assigned to the same Bronx precinct in 1973. They aren't close friends on the job, but end up living next door to each other outside the city. What goes on behind closed doors in both houses—the loneliness of Francis's wife, Lena, and the instability of Brian's wife, Anne, sets the stage for the stunning events to come.
Ask Again, Yes by award-winning author Mary Beth Keane, is a beautifully moving exploration of the friendship and love that blossoms between Francis's youngest daughter, Kate, and Brian's son, Peter, who are born six months apart. In the spring of Kate and Peter's eighth grade year a violent event divides the neighbors, the Stanhopes are forced to move away, and the children are forbidden to have any further contact.
But Kate and Peter find a way back to each other, and their relationship is tested by the echoes from their past. Ask Again, Yes reveals how the events of childhood look different when reexamined from the distance of adulthood—villains lose their menace, and those who appeared innocent seem less so. Kate and Peter's love story is marked by tenderness, generosity, and grace.
Summer of '69 by Elin Hilderbrand
Welcome to the most tumultuous summer of the twentieth century! It's 1969, and for the Levin family, the times they are a-changing. Every year the children have looked forward to spending the summer at their grandmother's historic home in downtown Nantucket: but this year Blair, the oldest sister, is marooned in Boston, pregnant with twins and unable to travel. Middle sister Kirby, a nursing student, is caught up in the thrilling vortex of civil rights protests, a passion which takes her to Martha's Vineyard with her best friend, Mary Jo Kopechne. Only son Tiger is an infantry soldier, recently deployed to Vietnam. Thirteen-year-old Jessie suddenly feels like an only child, marooned in the house with her out-of-touch grandmother who is hiding some secrets of her own. As the summer heats up, Teddy Kennedy sinks a car in Chappaquiddick, a man flies to the moon, and Jessie experiences some sinking and flying herself, as she grows into her own body and mind.
In her first "historical novel," rich with the details of an era that shaped both a country and an island thirty miles out to sea, Elin Hilderbrand once again proves her title as queen of the summer novel.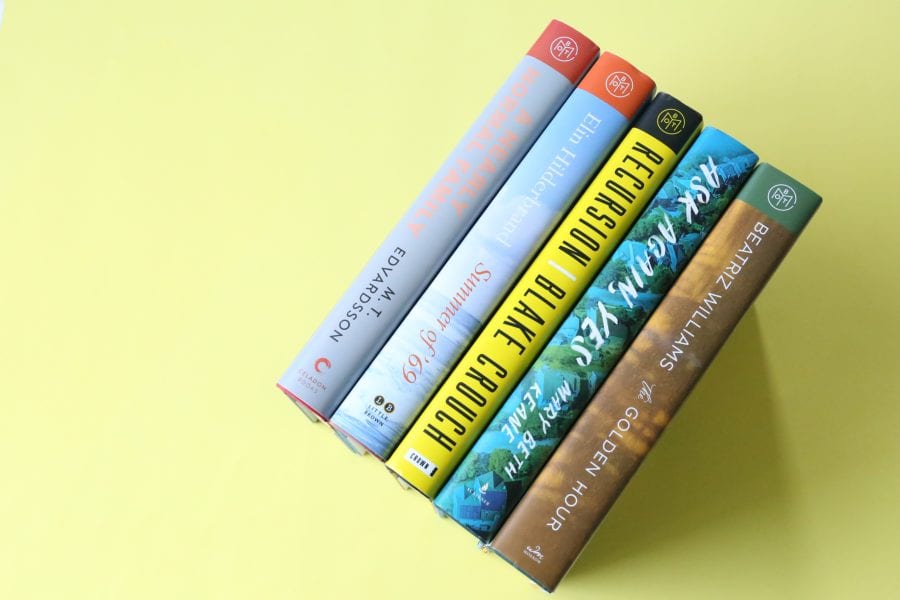 Book of the Month Selection Review June 2019 – Final Thoughts
For the Month of June there was one book that stood out to me – A Nearly Normal Family. Sometimes I find 2 books I want to read and every so often I will even find 3. I'm almost finished A Nearly Normal Family and while it isn't my favorite thriller selection from Book of the Month I still find the need/desire to finish it. I have to see how it ends because, for the life of me I can't figure it out. The book is written in 3 parts and each part is told from a different character's perspective – the father, the daughter and the mother. It took me a little while to get through the father section, but I flew through the daughter section. The last section is told by the mother. It's off to a slow start but I just have this feeling that it is going to have a really good ending.
Book of the Month is a no-brainer for me. It's one of the boxes I look forward to most, and if I had to choose just one box to receive for the rest of my life this just might be it.
-AYOB