BootayBag Review January 2017
BootayBag has changed the way women shop for underwear. Sending two pairs monthly to your door step for $12, free shipping (discrete packaging)! Pick your style preference, delivery schedule, and let them take care of the rest. They kindly sent us this box for review.
Yes, yes, yes! I love new panties, and I'm very sorry if that is TMI. I want new panties every month, honestly I do. There's just something so awesome about a new pair of panties. And if they are pretty and lacy, its ten times better. And if you can get two pairs for $12……well that's better still.
I have to be honest. I've had my eye on BootayBag for quite some time. Their packaging is the CUTEST and their styles are gorgeous. Don't want to take my word for it? Just check out their Instagram page. Prettiness overload!!
Enough rambling though. Let's talk details. Things are pretty straightforward. Sign up for a subscription, let them know your size, let them know if you like thongs, no thongs, or a mixture. AND……you can add-on a bralette for $13! Badda bing, badda boom……panties in the mail and a smile on your face. And I'm totally aware of how cheesy that sounds.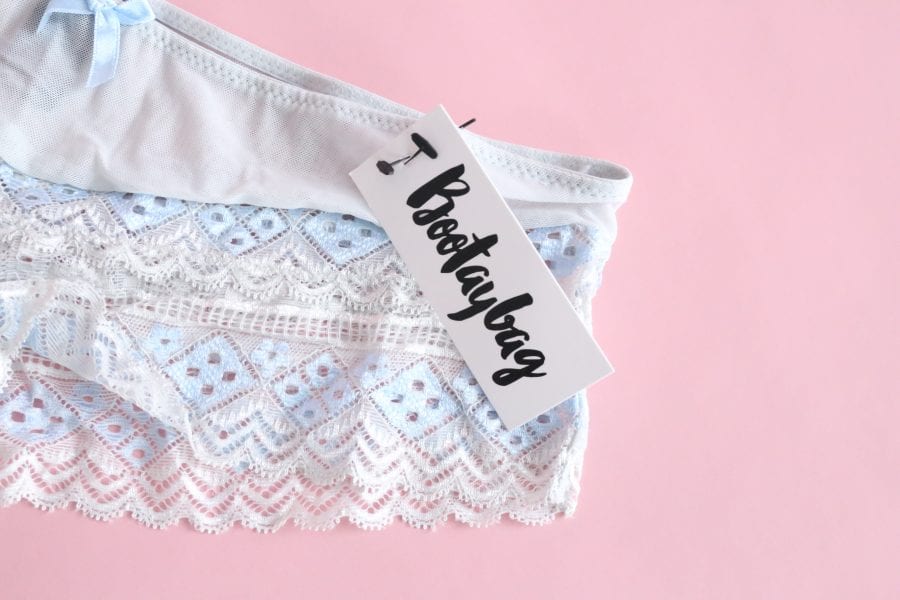 Lace Hipster
This color is gorgeous and the two-tone lace is so dang pretty. Pretty and feminine – that's the best way to describe these. I don't typically wear hipster style panties. I stick to my thongs. But these will be a nice little addition to my panty drawer. Spice things up a bit.
Lace Thong
These are amazing!! Everything I look for in a pair of panties. Nude is a panty drawer must-have, the thong style is my preference when it comes to panties, and lace waistbands are flattering on everyone (meaning they don't cut in). I love these and want a pair in every color of the rainbow!!
Bralette
I LOVE bralettes! So imagine how excited I was when I saw them on the website. You can add one on to your monthly delivery for only $13. Choose from red, nude, white or black. I want all 4!!
BootayBag Review January 2017 – Final Thoughts
I am in LOVE with my first BootayBag delivery. The packaging is adorable, the styles are gorgeous, and the price point is extremely reasonable. Normally I like to review 3 months of a subscription service before making a final decision. But I don't need to with BootayBag. I am sold!! It's just the cutest little subscription ever. Hopefully there's a few men reading this review because I want to give you some advice. Get your lady a year subscription to BootayBag and she will love you forever! Trust me!
XOXO
Explore.
Save.
Enjoy!
Sign up for a free account on A Year of Boxes to receive exclusive offers, be added to our monthly mailing list, and much more! We are always adding features to improve the experience for our users, from their valuable feedback!
Join Today!