BootayBag Review July 2020
BootayBag is a monthly women's underwear subscription that delivers new undies straight to your door! Update your underwear drawer each month with cute new pieces and styles, starting at only $10 a month including free shipping in the USA. They kindly sent me July's bag to review.
Box Details: Refresh your underwear drawer each month with BootayBag! Subscribers can choose their style preferences to include a combination of cheeky and thong styles (Mix It Up), Always Thongs, or Never Thongs. There's something for everyone! Sizes range from XS to XL.
BootayBag Subscription Plans:
1 pair: $10/month
2 pair: $15/month
4 pair: $20/month
Bra add-ons are available for Members with prices ranging from $10-$14 depending on the styles. For non-members, bra add-on prices range from $14-$18.
Shipping: Free Shipping in the US. For elsewhere, international shipping charges apply.
This month I received two pairs of undies from the BootayBag Mix It Up style, which includes a combination of cheeky panties and thongs. I'm currently subscribed as an XS and most styles seem to fit pretty well!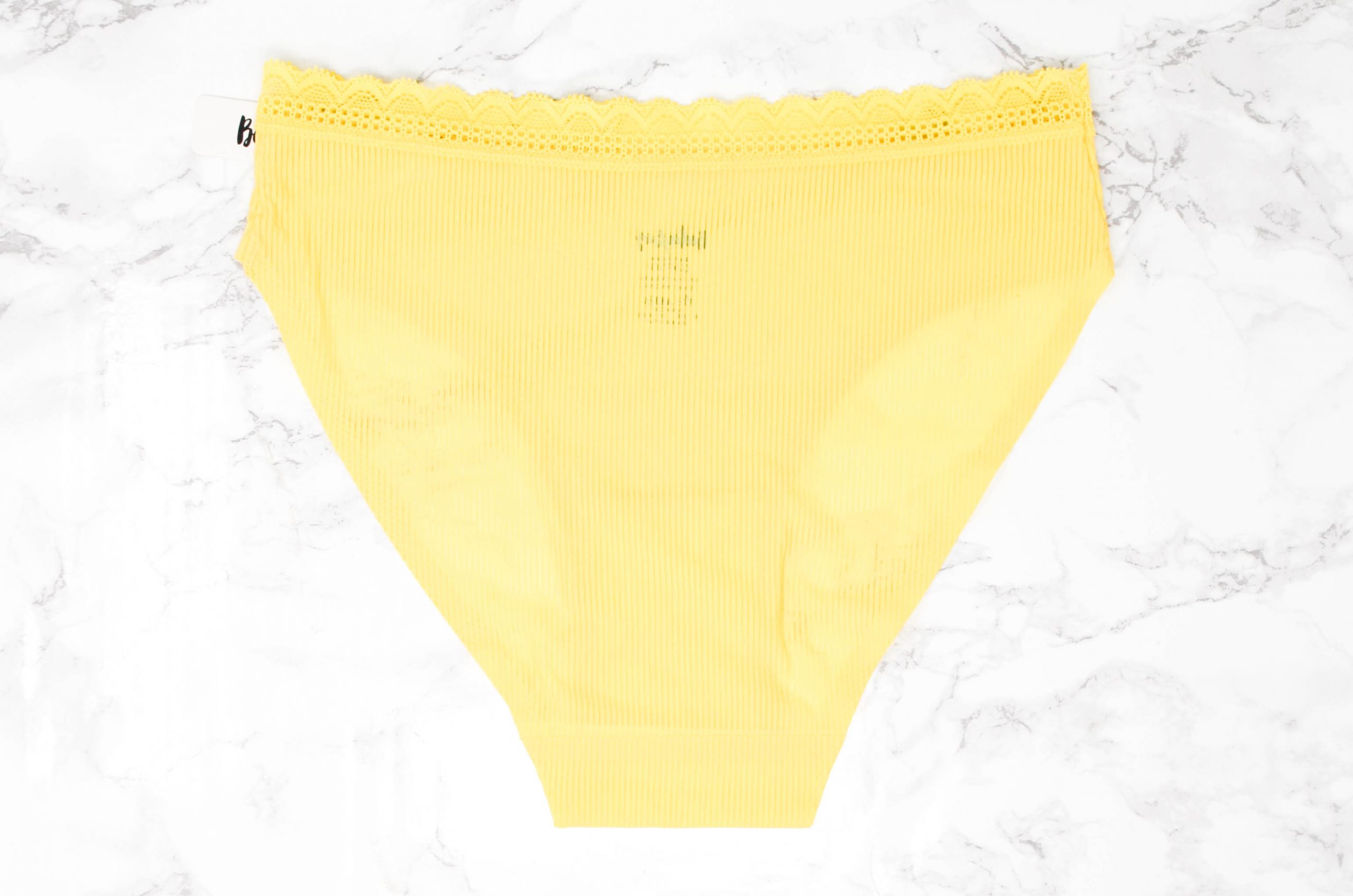 The first pair this month is a cheery light yellow panty with a cheeky cut. This pair features BootayBag's popular ribbed no-show fabric. We've received several pairs in this fabric before, and it's seriously the best! It's so incredibly comfortable with a barely-there, smooth feel.
If you're subbed to BootayBag or have been following along in reviews, you may notice that this looks like a previous design. Well, you're right! BootayBag does bring back popular styles in new shades/prints. However, this particular style features a major life-changing tweak (at least for me)… There's no more raw hem!
Previously, I liked the raw hem because it made all lines completely invisible under clothes, but the undies were much more fragile. Now, they last longer and stay in place with extra comfort!
The second pair this month is a baby pink thong with a g-string back. This pair is very sexy and I adore the feminine lace design! I think the color and fabric combination is perfect and fits in with my personal tastes very well.
This style features a double lined front and a cotton gusset. Plus the lace has a decent amount of stretch for added comfort!
Lastly, the Real Nice Bralette is available as an add-on and matches the pink lace thong perfectly! It comes with thin adjustable straps and features a pullover style. There's a decent amount of stretch in the lace, so it wasn't difficult to put on or take off.
The front of the bralette comes lined, but there is no padding and very minimal coverage because the lace is sheer. It's one of the cutest designs that have been released, but this is definitely a bralette I would pair with stickies or a strapless bra.
BootayBag July 2020 Review – Final Thoughts
Wow – BootayBag continues to impress me each month! This month's Mix It Up selection is by far my favorite pairs of undies I've ever received. The new and improved cheeky style is THE most comfortable pair I own, and it doesn't hurt that it's super cute! I also love the look of the matching baby pink thong and bralette, though I wish the bralette had a little more coverage.
I'm very happy with the pairs I received this month and can't wait to see what's in store for next month!
Mary Vu – http://thepointofvu.blogspot.com