Bowzer Box Review February 2017
Bowzer Box it is a subscription service that delivers a box of doggy goodies every month. You sign up for a 1-, 3-, or 6-month subscription and will receive 5-6 items such as dog treats, toys, and accessories right at your door. Bowzer Box donates 10% of their profits to animals less fortunate & they try to choose products that are free from fillers and major allergens. They kindly sent us this box for review.
I look forward to my Bowzer Box delivery every month!  Owning a dog can be expensive, especially if you like to spoil them with treats and toys!  The world of pets has absolutely exploded in the past 5-10 years and it can almost feel like walking into a baby store when you walk into a pet store.  I find it pretty overwhelming at times, so to have a box delivered with choice items is such a great solution to the sensory overload of pet stores.
Happy Birthday
We know, we know, we should be celebrating Dental Health month and making sure all the pups out there get toothbrushes and paste, but we got a little sidetracked.  Why do you ask?  Because its our 3rd birthday, oohhh yaaa, and we are going to party all month long!
We could't have done it without the fine pups and their pup parents who love their Bowzer Boxes, so we dedicate this birthday to you.  We have some fine birthday digs for ya, a huge bag of treats, and  toy that will keep pup busy for days, we also threw in a dental chew just to cover all the bases.
We're glad you could all make it out the party and we hope to spend many more together… just make sure pup doesn't party too hard!
That's so exciting!  Three years is a huge deal for any new company!  Bentley will actually be three this year as well, so we celebrate with you Bowzer Box!
Bandanas Republic
Birthday Bandana – The Bandana Republic Dog Bandana will give your pet a splash of colour to show off!  These bandanas are ideal for wearing or for decoration.  Decorative, colourful, and fun, add these fashionable fabric bandanas to your pet accessories line up!
Cutest bandana ever!  And it's a perfect size for Bentley!  Bentley hates wearing pretty well anything, except his bow tie we got from a Bowzer Box a long time ago… But I can usually get away with a light bandana.  This one is going to get tucked away until Bentley's birthday in May!  So cute!
Broth Bowls – Fruitales
Fruitables Broth Bowls is the perfect compliment to your dogs everyday meal by adding the rich and savoury flavour of homemade stock.  Broth Bowls turn boring dry food into a culinary meal and supports digestion and hydration in the process.
So great!  I will purchase broth from just the grocery store from time to time to add to Bentley's meals.  I love that this broth is geared towards dogs!  Reading the ingredients it's only chicken and vegetable stock, no added salts or flavourings.  Can't wait to see what Bentley thinks!  It's been so cold lately too he could use a little more meat on his bones.
ZERO/G
Darford's new ZERO/G treats are made with real meat, it's the #1 ingredient and are rich in protein and flavour.  They contain a healthy and nutritious blend of superfoods that include quinoa, kelp, blueberries, cranberries and chia seeds.  And ZERO/G treats contain ZERO grains, ZERO gluten, ZERO GMO's and thy are low glycemic.  ZERO/G treats are the perfect addition to any dog's diet, and they're an excellent option for those dogs with food allergies and food intolerances,  thanks to their limited ingredient profiles.
These are perfect!  I was just talking with a co-worker last week about dog treats and their processing.  Apparently a lot of dog treats in the market are processed in all kinds of chemical baths.  Gross…. The first thing I saw when I pulled ZERO/G out of the box was "Oven Baked".  Winning!  When this bag is done I'll be sourcing where to buy ZERO/G in my town.
BARK! Dental Chew
An irresistible all natural dental chew rich in brown rice and oats to promote proper oral health and clean teeth.  The rugged exterior and chewy interior helps to fight plaque, tartar and gum disease for an all-mouth clean.
If Bentley get's his nose in the Bowzer Box he will always choose to pull out the dental chew and run away with it!  I'm not sure if that's because there is no packaging to it, or if it's because he just really likes them.  I like to think that he's super concerned about dental health and sees the priority in this treat.
Busy Buddy – Interactive Toy
As your dog plays, the treats fall randomly through the openings for hours of reward-filled fun.  Busy Buddy toys makes playtime fun by dispensing treats as your pet plays.  Redirect bad behaviours like chewing and jumping to positive play.
Ahhh!! Bowzer Box!  YES!  This is THE perfect toy!  There is nothing like a treat puzzle to keep a dog happy and occupied.  I'm not kidding when I say I have literally used this every day since receiving it!  It's the perfect toy to fill with Bentley's dinner.  This way he doesn't gobble it all down at once and it keeps him busy and entertained for a while.  When it's cold outside it's so nice to have options for indoor play.
We didn't waste any time with this one… I filled the Busy Buddy immediately and Bentley disappeared.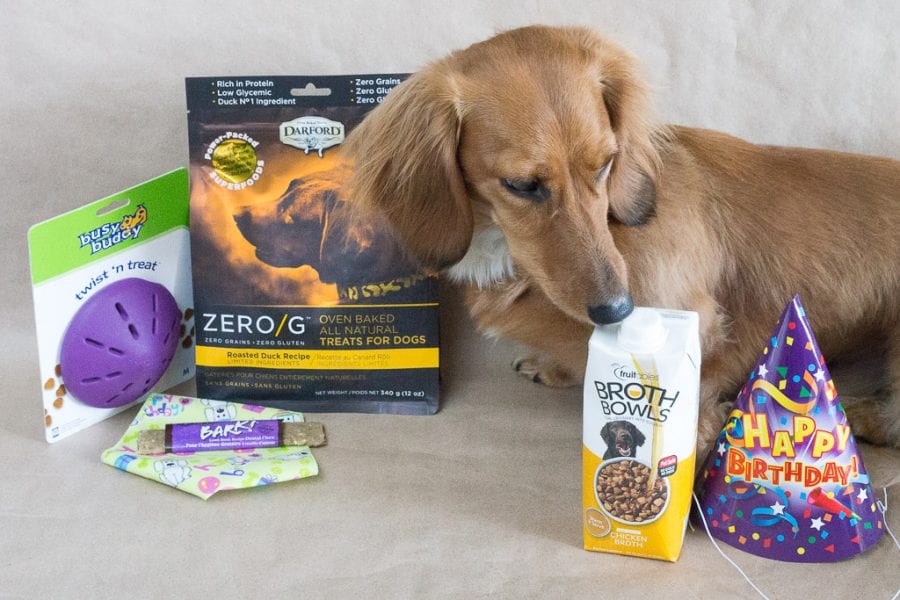 Bowzer Box February 2017 – Final Thoughts
Love, love love!  Every item was a hit out of the park!  The toy was perfection, the treats are perfect with no need to worry about chemical baths and bad ingredients, loved the broth as now I don't have to use my broth for Bentley or go purchase it.  The dental chews are always a good call and the bandana was all too cute!  The price point of this box is really an amazing deal!  You can easily spend $14-$30 on a good toy for your dog these days; one they won't chew apart in three minutes.  The treats are so beautifully sourced and I love the additional items I would never think to get.  Keep up the amazing work Bowzer Box, and Bentley and I will keep up the love!
Oh…. and Happy Birthday! 😉
-Shonah & Bentley
Explore.
Save.
Enjoy!
Sign up for a free account on A Year of Boxes to receive exclusive offers, be added to our monthly mailing list, and much more! We are always adding features to improve the experience for our users, from their valuable feedback!
Join Today!