Brika Subscription Gift Box Review July 2016
Brika Subscription Gift Box Review July 2016
Brika Subscription Gift Box Review July 2016 – I got to review my very first Brika Subscription Box last month, and there were definitely some mixed reactions to it. I happen to think this is a very pretty gift subscription box, while others thought that the value just wasn't there. I don't always look at subscriptions boxes as value purchases so I was pretty happy with the box. We have to keep in mind that the word "gift" is in the title, and this would definitely make a great gift. The packaging is gift worthy, the price is gift worthy and the subscription process is set up in a way to make gift giving convenient. Just a little something to keep in mind while we look at this month's box….
Brika Subscription Gift Box Details
If you aren't familiar with Brika Subscription Gift Box it is a subscription box service that features a handpicked selection of beautiful goods delivered to your doorstep. Their Gift Concierge tailors the box especially to your wants and needs to create a box of goodies that will both surprise and delight.
The Box: Brika Subscription Gift Box
Cost: 3 month subscription $75 ($25/box)
What You Get: Each box features a handpicked selection of high-quality, well-crafted goods delivered to your doorstep once a month, 3X or 6X a year. Each box is valued at a minimum of $30.
Ships to: US & Canada
Shipping Cost: for purchases up to $25 shipping is $7.95 to the US & $14.95 to Canada
Subscription Details
Here's a little quote from the Brika website – "Our Gift Concierge will work with you to design the perfect box for its recipient, whether they're your mom, a new mom, your sister or best friend." I wanted to point this out because it tells me that this subscription really is meant to be a gift box rather than a value box. When you purchase a gift subscription you will communicate with a gift concierge in order to let them know a little more about the gift recipient. I absolutely love this because I'm the worst at picking out gifts. I would much rather pass the info on to someone else and let them do the work for me.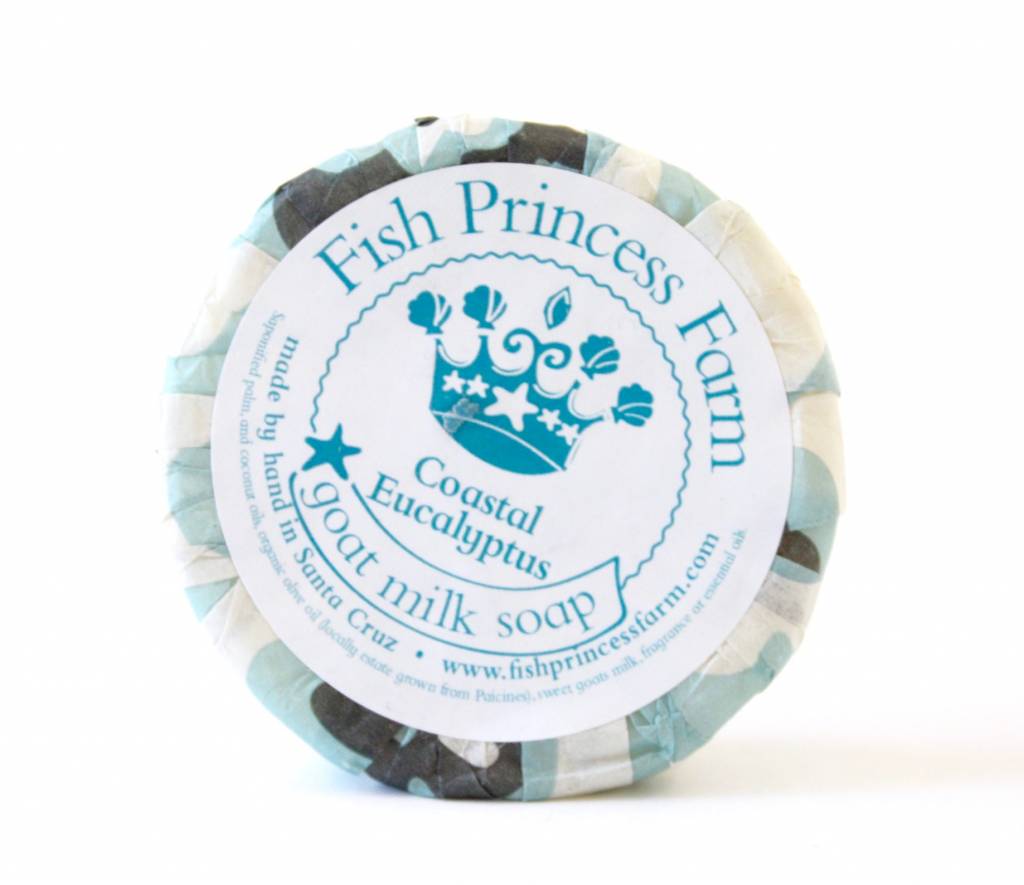 Fish Princess Farm Goat Milk Soap – Coastal Eucalyptus
Fight fatigue and stay invigorated with this refreshing blend of eucalyptus with notes of lavender. Handmade on a farm with milk from Swiss Alpine goats and organic olive oil, each bar is cut by hand and unique.
I absolutely love the smell of eucalyptus. It's definitely a favourite. I also really love lavender, so this little bar of soap is definitely appreciated. The vegan side of me doesn't like that it is made with Goat's Milk, but at no point in my conversation with the concierge did I mention I was vegan…….so that's my bad. I quickly had a look at the website and found out that they have a variety of scents – raspberry, white tea, sweet vanilla, and cucumber melon, just to name a few.
Flowie Bubbles Zipper Pouch
Simple zipper pouch that is great for many uses. Store jewelry, makeup, small art supplies and much more.
This is the cutest little pouch! You all know I love my makeup bags, so they nailed it with this one. The colors are bright, and the pattern is fun. I will definitely be using this. I'm tempted to switch out the makeup bag I currently have in my purse for this one……like A.S.A.P.
Brika Subscription Gift Box Review July 2016 – Final Thoughts
Time to get real…… At first glance this is a cute little box, and both items are something I definitely would have picked out on my own. The packaging is gorgeous, and the gifting aspect is convenient. But, I know that some of you are going to say the value isn't there, and that very well might be true.
For us Canadians, this subscription ends up being $40 per box, which means you are paying $20 per item. If you are ok with that, then I would definitely recommend this box. The items I received are items I probably couldn't go find at the mall, and if I sent this as a gift to someone, they would absolutely love it. The gifting aspect definitely adds value to the box. Your best friend, sister, or Mom would be so excited to see this in the mail. So for me personally, I think the value is there, but for some of you it won't be. That's the beauty of subscription boxes though, there's something for everyone……and every budget.
XOXO
Explore.
Save.
Enjoy!
Sign up for a free account on A Year of Boxes to receive exclusive offers, be added to our monthly mailing list, and much more! We are always adding features to improve the experience for our users, from their valuable feedback!
Join Today!