BuddhiBox Review December 2016
BuddhiBox it is a monthly care package filled with full-size yoga products that will inspire your life, workouts and community. They kindly sent me this box for review.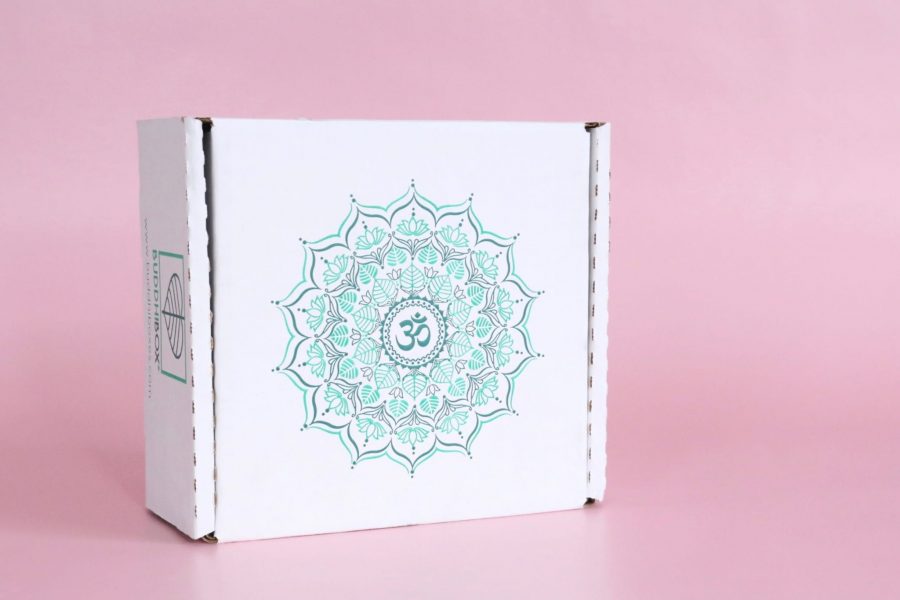 I started reviewing BuddhiBox again last month, and I'm actually pretty happy about it. BuddhiBox's mission is to deliver monthly mindfulness by sending you a box full of goodies that enhance your yoga practice and lifestyle. I don't practice yoga on a regular basis like I use to, but I definitely practice the yoga lifestyle. These are the kind of subscription box items I get most excited about, items like tea, natural beauty products, yoga accessories, etc…
Subscription Details
BuddhiBox offers 3 different subscriptions to choose from – Lifestyle, Jewelry, and Essential Oil. I have decided that I need all 3 boxes in my life!
Here's a look at the items we received in the December Box:
Orglamix – Lip & Cheek Tint
There's beauty in simplicity. Which is why this double duty lip and cheek tint is perfect. Made in small batches with minimal ingredients, the neutral pallet works for all skin types. And since it is made with all natural ingredients it won't clog pours when you sweat. So feel free to wear to your next yoga class or holiday dance party. 
I really like Orglamix products, but that should come as no surprise. I love all beauty products that are made with minimal ingredients. And I love the idea that there's "beauty in simplicity". I like to wear a few really great products, a good mascara, a pretty shadow and a neutral lip tint…….easy & effortless.
Bear's Beauty – Sugar Lips Peppermint Scrub
We added a little sweetness to your box, just in case you find yourself under the mistletoe this Holiday. Keep your pout soft and kissable with this all natural peppermint lip polish created with organic coconut oil, organic hemp seed oil, shea butter, non GMO vitamin E and essential oils. Place a teaspoon on your lips, rub in a circular motion, then gentle wipe off the excess. 
I started using lip scrub about a month ago, and I am hooked. I try to use it once a week, and it works wonders on my lips. This one in particular smells AMAZING. But then again, I love peppermint anything.
TeaPigs – Peppermint Tea
With the hustle and bustle of the holidays, take some time to slow down. Start or end your day with a bit of Zen by practicing a meditation while sipping on TeaPigs pure mint, whole leaf tea. Each herbal infusion even comes with its own tea "temple" – a biodegradable mesh bag that gives the whole leaves lots of room to maintain the integrity of the flavour. 
TeaPigs is a really great brand when it comes to quality tea. I have received their tea before and have always really enjoyed it. I also really love their branding, and their name. How can you not. This will be a good reminder for me to slow down this month. The box contains 15 tea bags, so every second day I will make an effort to relax for a few minutes with a cup of tea.
Pure Candle Company – Gratitude Candle
As yogis, we understand that pure gratitude creates abundance. The comforting blend of white spruce and rosewood essential oils create harmony, grounding and peace that lasts up to 30 hours. Light this candle, then pause, and take a moment to reflect on all the buddhiful blessings in your life. 
I love candles, and I receive a lot of them. That doesn't mean I don't like seeing them in subscription boxes though. I think candles are an awesome subscription box item, and I love it even more when they are quality candles. I like that this one last up to 30 hours. I hate it when they only last a few hours. I find it a complete waste. This candle will become part of my tea ritual, I'm really looking forward to it.
BuddhiBox – Sparkling Mala
Flow from your yoga mat to party ready in seconds. Add some sparkle and fun with our exclusively designed Male necklace. Created with faceted glass beads, it is a bit fancier than the traditional 108 males so that you keep your yogi vibe strong, when you attend parties where stretchy pants are not acceptable. 
Oh my goodness, I have been waiting for one of these beauties to show up in a subscription box, and here it is. This necklace is absolutely gorgeous! They get bonus points for including an item I rarely (if ever) see in subscription boxes. I have a feeling I will be wearing this a lot.
PS – For those of you who aren't familiar with Malas, here is a little more info:
A Mala is a string of beads used to count mantras (Sanskrit prayers) in sets of 108 repetitions. A mantra is a word or series of words chanted aloud or silently to invoke spiritual qualities. Chanting is used as a spiritual tool in virtually every cultural and religious tradition.
Amazing Grass – Chocolate Peanut Butter
Stay energized as you frolic to and fro, with this super food bar made for super yogis. Packed with 7 alkalizing greens and nutrient-dense superfoods, it is vegan, organic and non-GMO. 
Awe, my little vegan heart is happy right now. I love super food bars, and try to have them on hand at all times. Something like this is a really nice morning treat with your coffee. Yes, I know, it's chocolate, but sometimes I need to have chocolate in the morning. I can't help it.
BuddhiBox Bonus – SkinYoga Coffee Exfoliator
The caffeine enhances fat metabolism and removes liquid and fat from your skin, ultimately reducing the appearance of cellulite and stretch marks. The natural oil moisturizes and nourishes your skin. This scrub also treats inflammation and protects your skin from sun damage.
How nice is it that BuddhiBox included a bonus item this month! And a good one at that. I just love the little wooden box SkinYoga packs their coffee scrub in. And, if you've never experienced a good coffee scrub, I highly recommend it. It's a great way to start your day.
PS – They also include a yoga pose every month. I LOVE this little detail. I think I need to get myself a cute little box to keep these in.
BuddhiBox Review December 2016 – Final Thoughts
I am really happy with the December BuddhiBox. I found the November Box a little blah, but this one more than makes up for it. Overall we received really great value. The Mala alone is valued at $30, and the candle at $19. Normally I don't spend too much time figuring out value, but sometimes I like to point it out because high value boxes are very important to some consumers. BuddhiBox is a subscription that speaks to my heart. It is cruelty free, organic and vegan. Three qualities that make me very happy. This month I am particularly impressed with the Mala necklace. Not only is it GORGEOUS, but it is an item I rarely see in subscription boxes. And, how nice is it that they included a bonus item for us this month. BuddhiBox nailed it with their December box. I would love to see more boxes like this in the future.
XOXO
Explore.
Save.
Enjoy!
Sign up for a free account on A Year of Boxes to receive exclusive offers, be added to our monthly mailing list, and much more! We are always adding features to improve the experience for our users, from their valuable feedback!
Join Today!