BURST Oral Care Review January 2019
BURST Oral Care is a superior, subscription sonic oral care company brought to you by your most trusted dental professionals. It is the brainchild of two eccentrics who share a love all things dental. Hamish Khayat and Brittany Stewart are on a mission to improve everyone's oral health. Together they make high quality oral care available to everyone at the most affordable prices. It's a passion they're proud of, even if their friends sometimes wished they would talk about something else! They kindly sent us this box for review.
When you sign up for a BURST Oral Care subscription you will begin with the Starter Kit which starts at $69.99 + FREE shipping! From then on you will pay $6 per replacement head, you can cancel at any time, and replacement heads are shipped quarterly!
So….you know how I go on and on and on about my love for convenience subscription boxes?! Well here's another one for you. It doesn't get more convenient than a gorgeous toothbrush in the mail followed by replacement heads every quarter. Not only will this brush make you want to brush your teeth (it's that cute) but the regular delivery of replacement heads is the perfect reminder to do just that……replace the toothbrush head.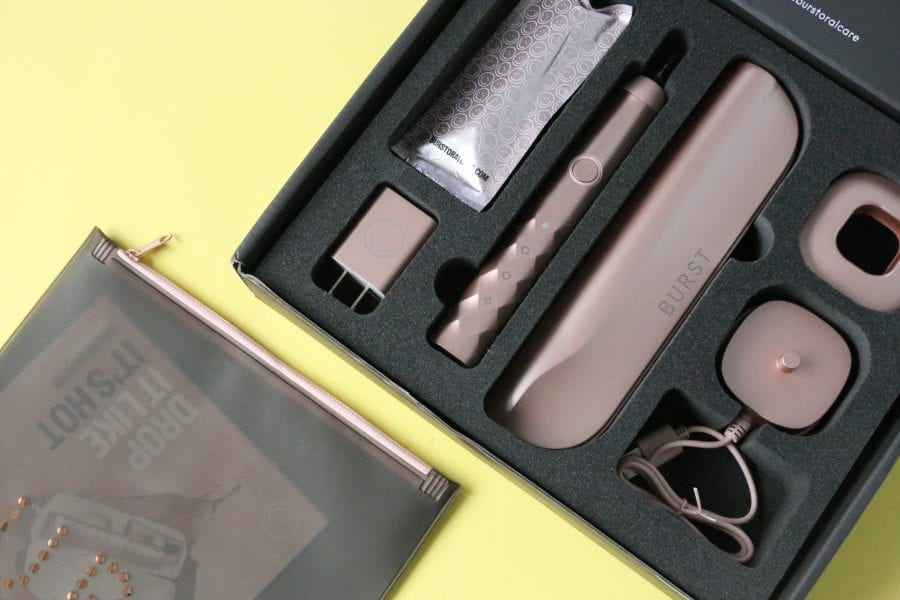 Here's a closer look at the Rose Gold Starter Kit. Can we just take a moment to enjoy how beautiful it looks?! I haven't even used the brush yet and I am in love!
Here's what you'll find inside your starter box:
1 BURST Sonic Toothbrush
Here are some things you should know about the BURST Oral Care brush…..
Longest Battery Life on the Market
There is a whopping 700mh Lithium Ion battery in our brush so that a single charge can give you 4 weeks brushing. So never worry about a charger when you TRAVEL.
3 Brushing Modes
Find your perfect partner with our 3 brushing modes – whitening, sensitive and massage.
The Most Powerful Brush on the Market
At 33,000 sonic vibrations per minute, nothing can beat us to give you the PERFECT clean.
Quadpacer Timer
Every 30 seconds you'll feel a gentle pause to remind you to move on to another part of your mouth.
2 Minute Timer
After brushing for the dentist- approved 2 minutes, your brush will automatically switch off – now that's one smart brush.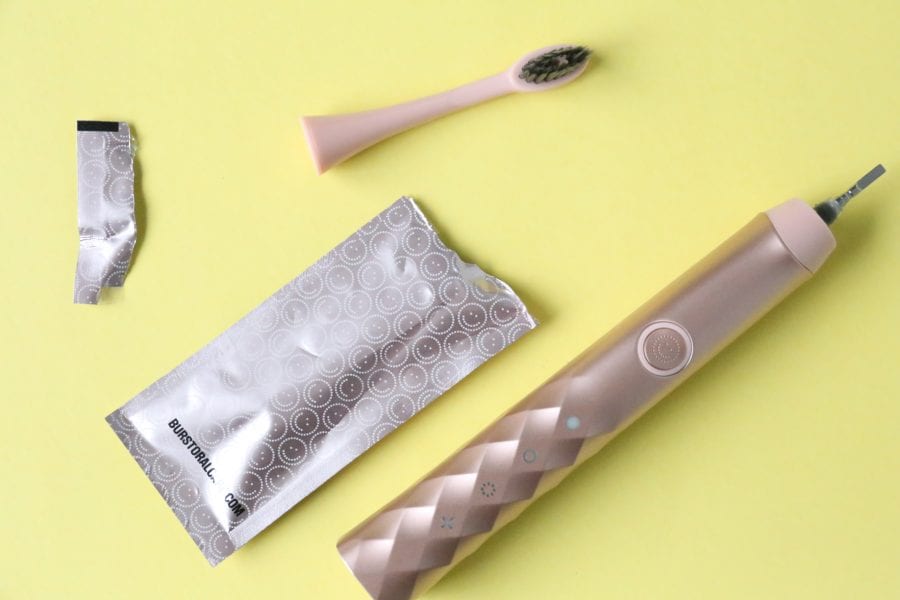 1 Toothbrush Head
Here's some interesting info about the brush head…….hello charcoal bristles…..
Whitening Charcoal Bristles
Super soft charcoal infused PBT nylon bristles: charcoal removes surface stains to WHITEN YOUR TEETH and is naturally antimicrobial which helps to keep the bristles hygienic for the lifetime of the brush head.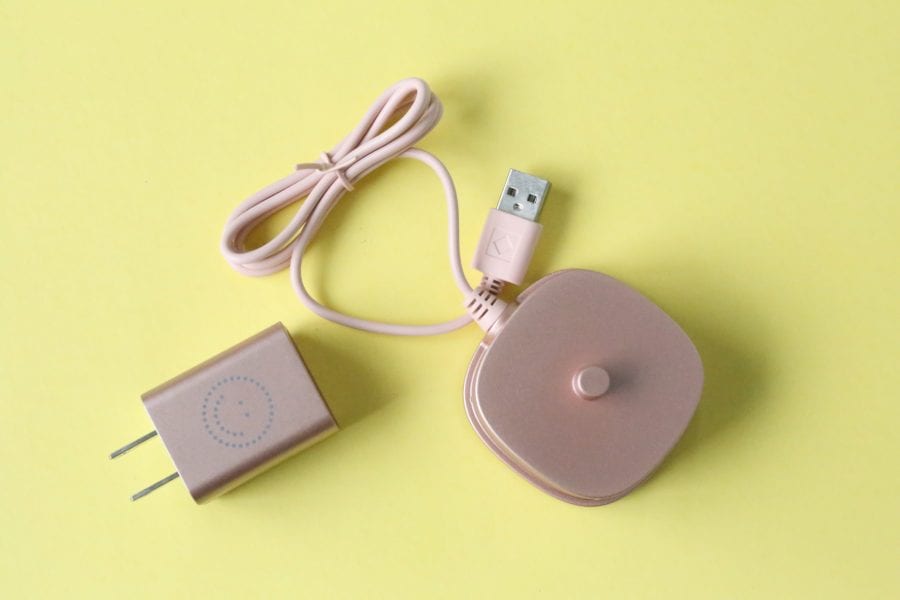 1 USB Charger & 1 Wall Socket
As we now live in a modern world, we thought we'd best keep up with the times. We've included a super cute little USB charger as standard to keep you topped up at home, on the move or even at your desk. There's also a plug for extra convenience. so, just slot your sonic baby in for a couple hours and you'll get a whole four weeks charge – and that's with brushing twice a day!
Love, love, love that the BURST Oral Care brush comes with a USB charger and wall socket. This is genius, it is current and it convenient. I ALWAYS have my computer with me so this really is a selling feature…..in my personal opinion.
Travel Case
Can we just talk about this travel case!! This is making me so happy. Not only is it cute and stylish, it's also very convenient. I currently have a sonic brush (which I will be replacing with my new BURST Oral Care brush) but it didn't come with a travel case so I would leave it at home anytime I went on vacation. BURST Oral Care has thought of everything. This gorgeous little gem will be coming with me everywhere from now on.
BURST Oral Care Review January 2019 – Final Thoughts
Ummmmm…….so impressed!! My BURST Oral Care starter kit is everything I hoped it would be and more. It's super cute, it was fun to unbox, it comes with a travel case, brush heads are sent every 3 months, and you charge it via USB.
I have tried some other toothbrush subscriptions, but they just don't compare to BURST Oral Care. I really am so impressed with my starter box, I am seriously considering getting one for the Hubby. He has also tried some of the other toothbrush subscriptions but he wasn't a fan so he is currently usually a regular old toothbrush. It's time to get him something better and I think this just might be it.
XOXO