California Found Review April 2018
California Found is a monthly collection of expertly curated, beautifully crafted small-batch and handmade goods from California's most talented artisans. They kindly set us this box for review.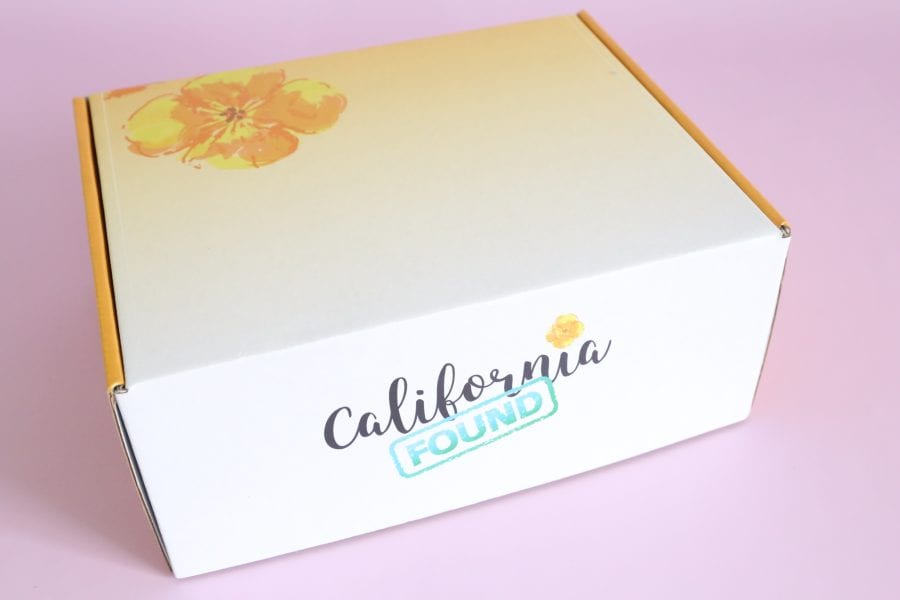 California Found is one of the most gorgeous boxes I have the pleasure of reviewing, and I say pleasure because it truly is. I appreciate all the time and effort that goes in to this box. It truly means a lot to me when subscription box owners/companies go the extra mile, and California Found is doing more than that……they are running a marathon:)
Subscription Details
California Found is a subscription service that delivers a sunny box of beautifully crafted California artisan products to your door. Every month, California Found subscribers receive a collection of expertly curated items that may include gourmet, spa & beauty, home goods, jewelry, stationery and more, beautifully packaged and with a retail value of at least $90.
Cost: Month-to-month subscriptions cost $49.00 and ship for free in the US.
Three-month subscriptions cost $144.00
Six-month subscriptions cost $270.00
Shipping Schedule: The current month's box subscription closes on the 30th of the month. If you subscribe after the 30th, your subscription will begin with the next month's shipment. If we are sold out of boxes the month you subscribe, you will be notified and your subscription will begin the following month.
California Found April Collection
Welcome to the California Found April, 2018 Collection!
This month we curated the perfect spring gift collection, with pretty fragrant and yummy and thoughtful throughout! Learn a little about each artisan we worked with in April on the product cards. Then visit their online stores and use the discount code on each card to shop their entire collection. 
Crunchy Beauty Lavender & Lemongrass Moisturizing Cream ($12)
First up we have a lovely moisturizer. I love discovering and testing out handmade, artisan skincare. When it is made by a local artisan I know that I don't need to worry about nasty or questionable ingredients. The founder of Crunchy Beauty started making her own products when she wasn't able to find the natural products she was looking for.
Four Points Trading Co. Soy Candle in Magnolia ($11.95)
I could smell this before I even opened the box. It has the most amazing scent. I can't quite figure out exactly what it reminds me of, but trust me when I say, it is wonderful!
Craft and Copper Mini Quartz Hoops ($36)
These gorgeous little earrings aren't really my style but they are going to make a beautiful gift. Craft and Copper seeks to create simple, clean designs that allow the natural beauty of the gemstones and metals to be the focus of each piece.
Olive Alchemy Two-Pack Sampler ($10)
Yes, yes, yes!!! I don't know how they do it, but California Found manages to find the most amazing food products month after month. I have honestly loved every single food item they have presented us with and this month is no exception. I love, love, love artisan oils. I like to have oil and vinegar on hand for dinner parties. It makes for a quick and easy appie. Pick up some fresh bread and mix together some oil and vinegar as a dip…….easy peasy.
Fiber & Dye Note Book & Gift Tags ($14)
I absolutely love it when my boxes include a beautiful notebook. This is the kind of thing I love to have on hand but rarely purchase for myself. I make lists and take notes all day every day, so this will definitely come in handy. And…..I am in desperate need of gift tags.
Urban Sacs Water & Wine Bottle Sac ($39)
Oh my goodness!! How amazing is this bag?! At first glance it reminded me of the apple picking bags I used growing up. We had an apple orchard and every September we would get out the bags and pick apples. My second thought was…..this would make the BEST water bottle bag, and that was before I read the product card and discovered that's exactly what it is meant for. I am absolutely, 100% in LOVE with this bag!!
California Found Review April 2018 – Final Thoughts
Wow, wow, wow!! What a gorgeous box! California Found has done it again. They have put together a beautiful box full of amazing finds!! We received the perfect mixture of products – jewelry, food, home decor, skincare, stationery and an accessory. I really couldn't ask for more. Here's what I love about California Found and why it's at the top of my list…..
the box itself is beautiful, as is the packaging
the price point is reasonable for what we receive
the value is ah-mazing
the items are handmade and unique
I get to discover items I never would have found on my own
the attention to detail is like none other
the product cards are gorgeous and informative
Need I go on?? I think not……
XOXO