California Found Review August 2018
This box just keeps getting better and better! Every time it arrives on my door step I squeal with delight!
You ever have those items that you want to buy for yourself? But the little nagging person at the back of your brain says that you shouldn't?
This box has all of the things that you could possible want and it's at amazing price of $49!
Let's dive in!
BonBlissity Candy Scrub
I know that when I have guests in the house I go that EXTRA mile to make sure that there are clean towels, clean sheets, and that the room is vacuumed!
These moisturizing candy scrubs by Bon Blissity is something that is magic!
They look like little wrapped candies that you unwrap! You put them under the water and scrub your hands with it! It exfoliates, cleanses, and moisturizes all at once! This is such a treat for you and your guests!
Greeting Cards
One item that I also wish I bought but never seem to have on hand is a greeting card! Sometimes your friends and family just need an uplifting message. Something that always brings a smile to my face is when I get snail mail! I love knowing that someone took the time out to think of me and send a note. These are perfect for this!
Ready-Made Water Infusion
Now I love WATER! A lot. I drink anywhere from 60-80 ounces of water a day. However, sometimes you want a little flavor with your water but you don't want to make it too sweet of tea, you just need a little flavor.
These Ready-Made Water Infusers are the perfect remedy for this! I have tried the Lemon & Mint and fell in love with it. I can't wait to try out the Watermelon & Rosemary!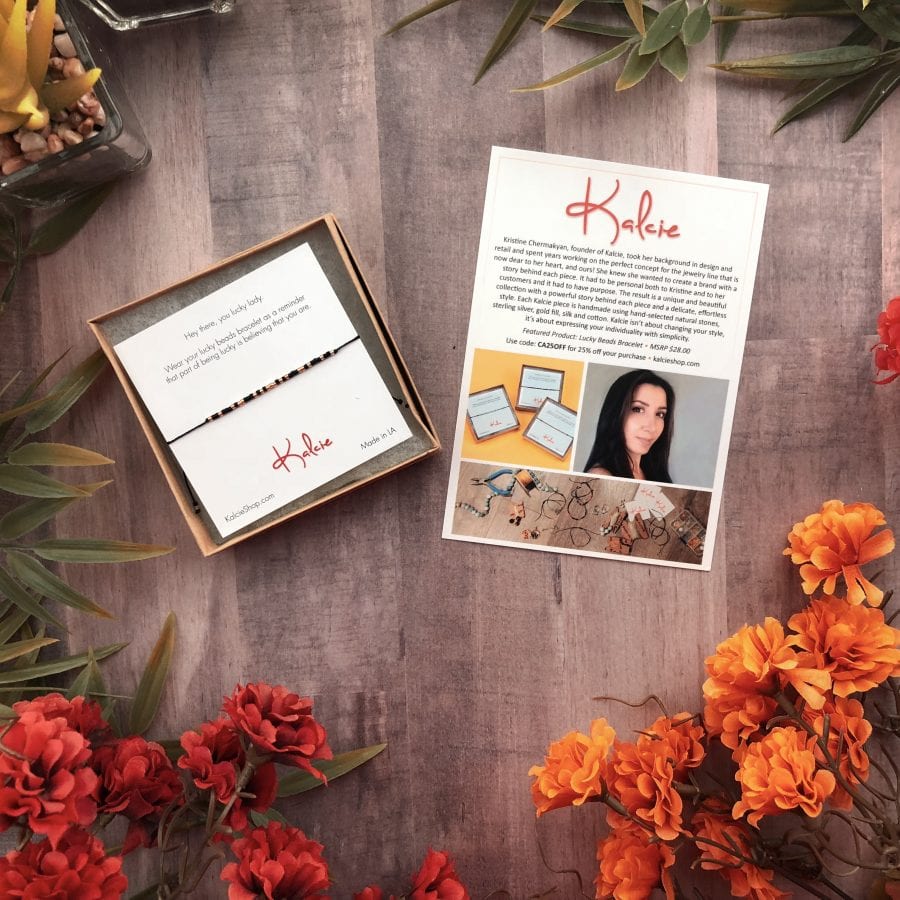 Kalcie Bracelet
This is probably my most favorite item in the box! The simplicity of Kalcie's bracelets are enough to take your breath away.
I'm not going to fib, I am not a person who normally wears gold, but this bracelet was too beautiful to pass up! I actually wore it for a week straight without taking it off and I love it!
I am going to be checking out her site and getting more!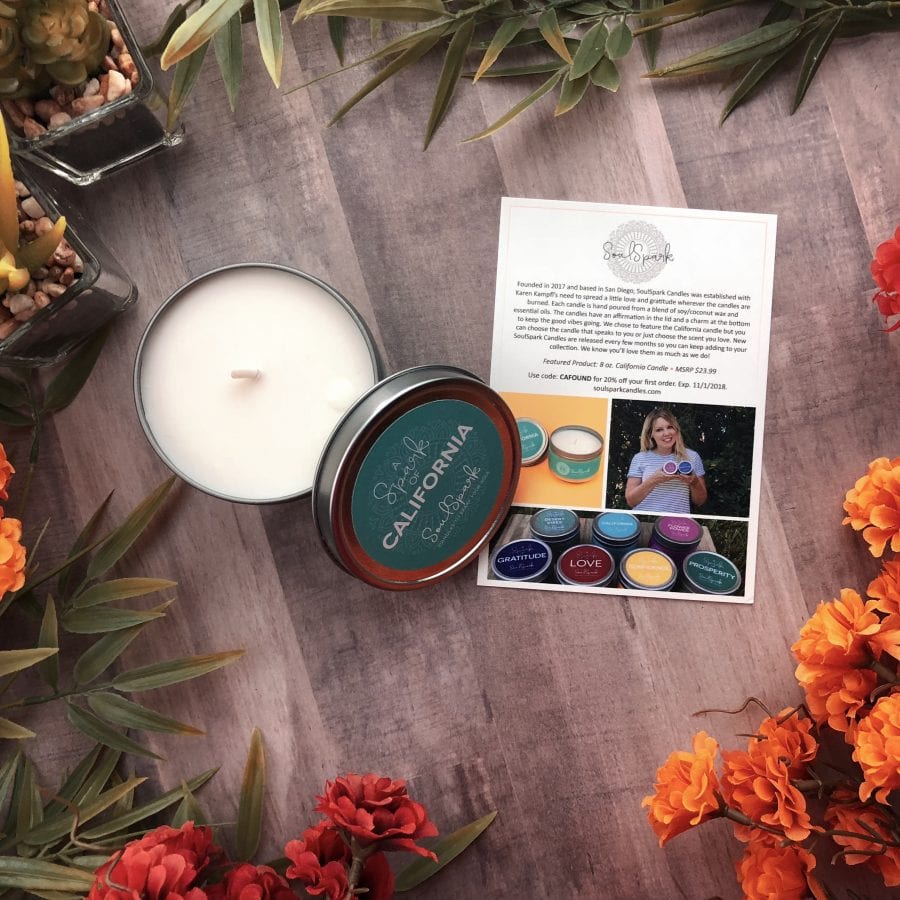 Soul Sparkle Candle
There is nothing better than getting an amazing smelling candle in a box. This is something that I love in subscription boxes.
A candle can change the whole entire feel of a room. Your sense of smell can change your mood, bring memories to the forefront, and they lift your spirit.
This candle did just that. It made my mother-in-law smile when she walked into the room!
California Found Review August 2018 – Final Thoughts
The California Found box is the perfect escape to the ocean and relaxation, to perpetual summer! I loved getting this box and can't wait to see what next month has in store!
Monthly Subscription – $49.00
Free shipping
Ships between the 28th and 30th of each month
Prepaid
Renews monthly, cancel anytime
Thank you to California Found for sending me this amazing box! You should all check this monthly box out! It is fantastic!
Until next time…
XOXO
Courtny – https://courtagonist.wordpress.com