California Found Review February 2018
California Found is a monthly collection of expertly curated, beautifully crafted small-batch and handmade goods from California's most talented artisans. They kindly set us this box for review.
California Found is such treat. I have really been loving this box the last couple months. It's a new discovery and a new fave. I fell in love with it immediately. It's absolutely gorgeous from beginning to end. If you want to treat yourself, this box is a must.
Subscription Details
California Found is a subscription service that delivers a sunny box of beautifully crafted California artisan products to your door. Every month, California Found subscribers receive a collection of expertly curated items that may include gourmet, spa & beauty, home goods, jewelry, stationery and more, beautifully packaged and with a retail value of at least $90.
Cost: Month-to-month subscriptions cost $49.00 and ship for free in the US.
Three-month subscriptions cost $144.00
Six-month subscriptions cost $270.00
Shipping Schedule: The current month's box subscription closes on the 30th of the month. If you subscribe after the 30th, your subscription will begin with the next month's shipment. If we are sold out of boxes the month you subscribe, you will be notified and your subscription will begin the following month.
California Found February Collection
This month is a beautiful blend off sparkle, sass, surf, bohemia and spice that you are going to absolutely love! Learn a little about each artisan we worked with in February on the products cards provided.
Here's a closer look at the items we received in the February box…..
Burnin' Beak Pepper Jelly ($10.95)
Burnin' Beak Hot Habanero Pepper Jelly (Hot Habanero Marmalade) is Sweet, Tangy and Spicy, filled with fresh red bell peppers and a medium amount of habanero peppers. Some people say it has the perfect ratio of sweet to heat. The ultimate Hot Pepper Jelly! If you have some experience with hot peppers, the Hot Habanero Pepper Jelly is for you!
Yes! We are off to a great start. First up we have this adorable little jar of pepper jelly. I'm a huge fan of spicy jelly, it feels like a special treat. I will be enjoying this with some herb crackers and vegan cream cheese. California Found is proving to be a great subscription box for foodies.
The January box provided me with the most amazing Applewood Smoked Salt (of which I have already finished) and now I have a jar of pepper jelly. I'm pretty excited.
Kindred Feather: The Wren ($16)
The Wren coin purse in a pretty black and white ikat print. This little pouch can be used for so many things! Use it as a money holder, small make-up bag or sunglasses case.
Next up we have a cute little coin purse. I love the compact size and the fun design. It will be perfect as a catch-all bag for my purse. I like to keep all my tiny purse accessories organized and this will do the trick. Think lip balm, gum, hair elastics, nail file, hand cream…..etc.
ArtSea Inc. Hand-drawn Greeting Cards ($15)
ArtSea, Inc. was born in the notebooks, doodles and scribbles of Chelsea Wilder. A hobby turned business, ArtSea features designs inspired by an undying love for the ocean and the desire to constantly be covered in salt water and paint. The hand-drawn detailed line work shows the passion she has towards her work.
So far we have received cards in all three boxes we have reviewed. I am thinking we can expect to see some sort of stationery item in each box but don't quote me on that. These ones are very pretty. The designs are intricate and the colours are gorgeous.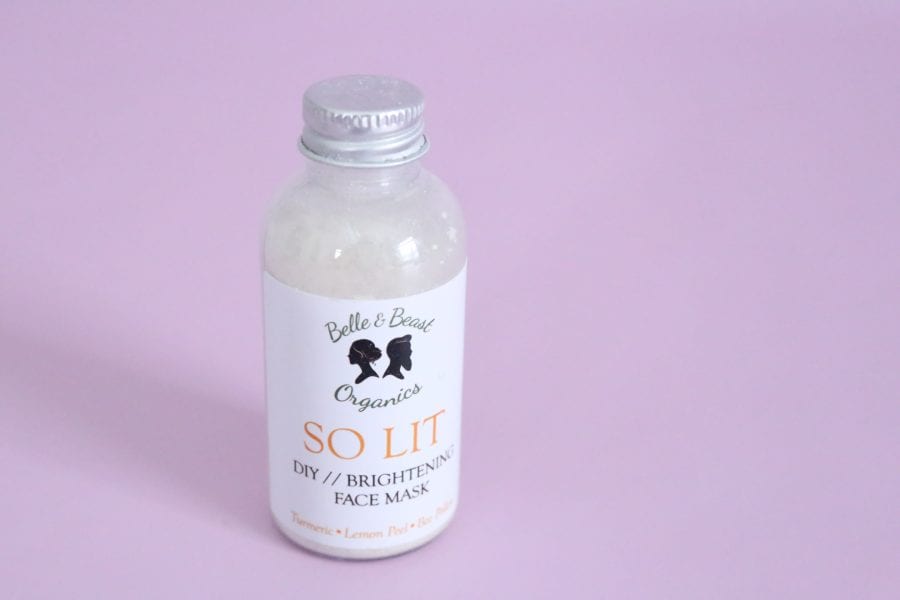 Belle & Beast So Lit Face Mask ($26.50)
To feel LIT – combine equal parts mask powder with liquid of your choice: water, apple cider vinegar for extra brightening power or vegan milk until a paste forms. Apply evenly on face, avoiding sensitive eye area. Leave for 10-20 mins then rinse with warm water. Revel in your glowing complexion. Each 2oz bottle contains enough powder for 6-10+ masks.
We received two beauty products this month. The face mask shown here and the toner shown below. Both are from the same company which is kind of nice because it will allow me to get a good feel for their products.
Belle & Beast Organics The Struggle is Real Facial Toner
Your new best friend to fight facial struggles, THE STRUGGLE IS REAL is formulated with oil regulating, acne fighting Lavender, Tea Tree and Lemon Essential oils to combat skin woes.
Momma Pots Shooter Mini Concrete Planter & Air Plant ($10)
Oh my goodness, how cute is this little air plant?! The concrete planter fits my decor preferences perfectly, and the fact that we received a plant in a box is kind of fun. And, it just so happens that I can't keep regular plants alive, even if I wanted to, so I'm thinking a low-maintenance air plant just might be the perfect plant for me.
Here's how to care for your plant:
Every one to two weeks, soak your air plant in room temperature tap water (or rain/pond water if you can find it) for 5-10 minutes. After soaking gently shake excess water from your plant. Turn it upside down and place it on a towel in a bright space.
SilverWillow Studio Opal and 14k Gold Filled Studs ($43)
Simple and elegant 14K gold filled natural opal stud earrings! These natural ethiopian opals have sweet rays of rainbow colours. The stones are round 4mm in closed back bezel cups.
Lastly we have the cutest little pair of earrings ever. I love the size and the simplicity. Not to mention the gorgeous opal. This is another item we have received in every box – jewelry. I LOVE that they send us a little bit of everything. It makes for a very well-rounded box.
California Found Review February 2018 – Final Thoughts
The February California Found box is absolutely perfect. There is nothing I would change about this subscription; nothing at all. I love everything about it and they continue to impress me month after month. I mentioned this in a previous review, but it's worth mentioning again. I had a good feeling about this box from the very beginning. You can tell that a lot of time and energy goes in to each and every box, and that's not always the case. Some new subscription boxes put in little time and hope for great results while some put in all that they have. Those are the boxes that appeal to me most and those are the ones I want to support. California Found is one of this boxes. They put in all they have and it shows in every little detail. That's why this box is such a pleasure to receive. I'm a HUGE fan and always will be.
XOXO