California Found Review January 2018
California Found is a monthly collection of expertly curated, beautifully crafted small-batch and handmade goods from California's most talented artisans. They kindly set us this box for review.
I had a lot of reviews to get through these last few days and it was very important to me that I save this one for last. California Found is a new box in our marketplace, one that captured our attention right off the bat. Last month was our first time reviewing CA and both Shonah and I were blown away. I felt the need to spend a little extra time going through the January box so as not to miss any of the details.
Subscription Details
California Found is a subscription service that delivers a sunny box of beautifully crafted California artisan products to your door. Every month, California Found subscribers receive a collection of expertly curated items that may include gourmet, spa & beauty, home goods, jewelry, stationery and more, beautifully packaged and with a retail value of at least $90.
Cost: Month-to-month subscriptions cost $49.00 and ship for free in the US and for $7.95 per month to Canada.
Three-month subscriptions cost $144.00
Six-month subscriptions cost $270.00
Shipping Schedule: The current month's box subscription closes on the 30th of the month. If you subscribe after the 30th, your subscription will begin with the next month's shipment. If we are sold out of boxes the month you subscribe, you will be notified and your subscription will begin the following month.
Here's a closer look at the items we received in the January box…..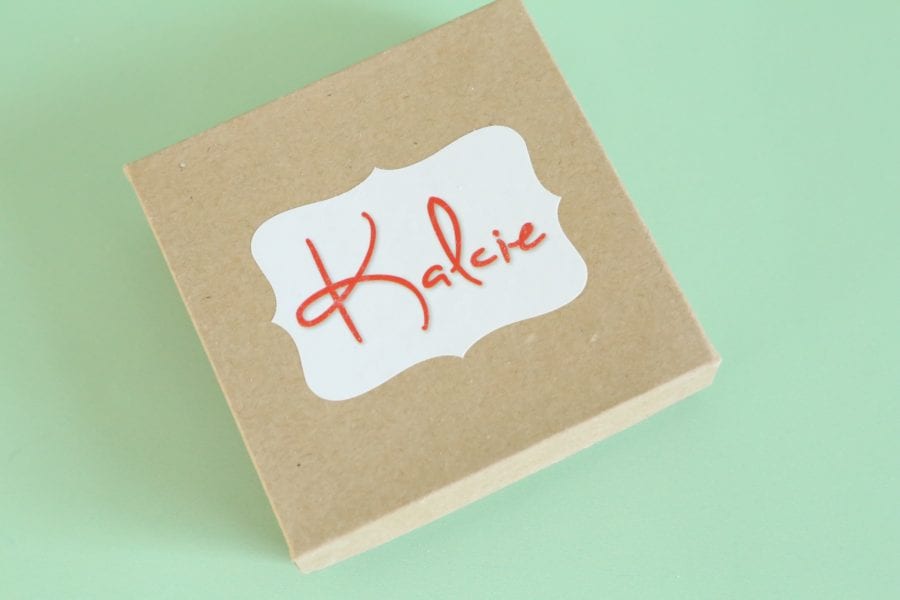 Kalcie Healing Stone Necklace ($36)
This beautiful natural aquamarine stone necklace carries within itself the ability to help release anger and reduce stress to allow you to make positive decisions throughout your day.
Now this is my kind of necklace. It's simple and classic. I love the gold chain and the aquamarine stone. This is the kind of necklace you could wear with a cute little dress or jeans and a tee.
The Wee Tree Co. Handmade Greeting Cards ($14.25)
Roses – I have always had a passion for craft, design and photography and I am able to express this through my card making. I snapped these lovely colorful roses from a beautiful arrangement and they make a perfect card for many occasions or as a simple thank you.
Gregory – I loved bringing Gregory, our beloved family cat, back to life and producing this new line of cards – perfect for my fellow feline lovers! These ones can be used for any occasion.
Donuts – This scrumptious donut card is perfect for many occasions (birthday, thank you, get well soon etc). I mean, who doesn't like donuts?!
Greeting cards are something I like to have on hand at all times. I keep a box of them beside my desk for last-minute gifts or when I forget to pick up a b-day card. The nice thing about the designs we received is the fact that they are simple and versatile. All of these could be used for a number of different occasions.
La Luna Salt Pacific Flake & Applewood Smoked Sea Salts ($14)
Pacific Flake – Light and flakey in texture, this Kosher sea salt is made through the ancient and natural process of slowly evaporating Pacific Sea water to collect its salt. Making it the perfect natural flavor enhancer.
Applewood Smoked – This smoked salt resembles a sweet applewood smoked bacon flavor. Because of its bigger granules, this salt is great mixed in stews, marinades, or in your slow cooker.
California Found has a really great little blog as part of their website. Each month they do features on some of the makers from that month's box. I spent some time snooping around and found the blog post they did on these wonderful salts. In the post the suggest sprinkling the Applewood Smoked Salt on avocado toast. Let's just say that it was hard not to jump out of my office chair and go make some toast right then and there. I have been living on avocado toast as of late and the thought of enjoying it topped with Applewood Smoked Salt was just too much to bear. If that doesn't sound good I don't know what does.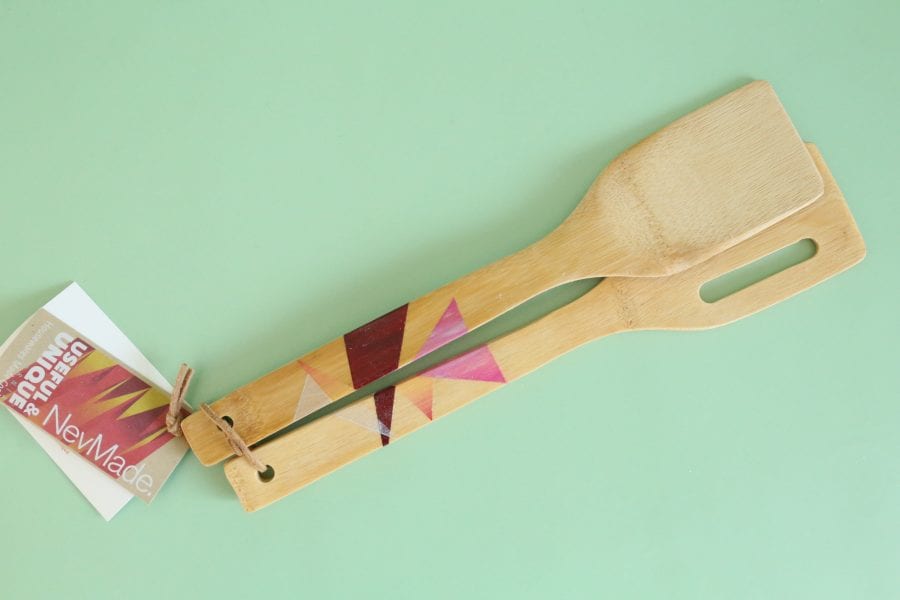 NevMade Hand-Painted Utensil Set ($38)
These one-of-a-kind hand-painted wooden utensils bring a funky modern design twist and pop of color to your serving ware.
I love receiving items like this. Kitchen tools are a necessity, for me at least, and it's something we rarely receive in subscription boxes. I love that California Found includes items for the home. It's something that sets them apart from other subscription boxes.
Naked Scrubs Naked Bath Tea ($15)
Rose and lavender bath tea great for relaxing your body and calming the senses.
Bath & Body products are a great addition to any subscription box. This is the kind of item I love to have on hand but rarely purchase for myself. This would also make a really great gift but I recommend keeping it for yourself and setting aside some time each week for a bath/spa night.
MidiQueen Handbags The Girl Friday ($44)
Slim down with the Girl Friday phone carrier. Its streamline design and slender silhouette make it the perfect partner for your favorite phone. Leather tote with contrast stitching fits up to iPhone 6 Plus. Cross body leather strap, snap closure and multi purpose pocket round out the features of this fashionable lightweight phone carrier. With a rainbow of colors to choose from, it's your call!
I am in love with this crossbody! They rounded the box out nicely with this item and the provided us with another product we rarely receive in subscription boxes. Fashion accessories like this are few and far between. I love the simplicity of this purse and the compact size. It would be the perfect travel companion as it would hardly take up any space in your suitcase and is perfect for a day of touring. I don't know about you but I'm over the big purse trend. I want something small and lightweight that I can throw over my shoulder and tuck under my jacket if need be.
California Found Review January 2018 – Final Thoughts
Wow, what a gorgeous box! Now do you see why Shonah and I are so impressed with this new subscription box? California Found has only been shipping since November but by the looks of things you would think they had been around for years. I love everything about this box – the packaging, the gorgeous product cards, the seed paper wrapped around the product cards, the fact that they focus on handmade items, the product mix and the price point. They feature local artisans which means the items we receive each month are handmade and unique. They put together a really great product mix and send us a little bit of everything – stationery, household items, food items, beauty, jewelry and fashion accessories. I can see myself using every single item we received this month, each and every one of them is gorgeous.
PS – I took a break from writing this review to go snack on some avocado toast which I topped with the Applewood Smoked Salt……..OMG…..it was heaven. It was hard not to go back for seconds and thirds and…………you get the point.
XOXO